There aren't many shows that are willing to drag their title character through the mud of a moral obstacle course the way that Ramy has. Ramy Hassan (the fictional alter ego of creator Ramy Youssef) is hot off season one, where he was a selfish, misled twenty-something eager to get the most out of his life and live it in a way that is in line with his faith.
That's not a bad thing.
In season two, which debuts on Hulu May 29, Ramy doubles down on being a niche show exploring what it's like to be a first-generation Egyptian-American who grew up in New Jersey. The series is aware that it can't be a voice for all Muslims. Youssef can't dissect the experiences of women, or black Muslims, or queer Arabs, or those who recently immigrated to the U.S. with the same degree of precision he does with his own experience. But he knows how to get a conversation started, and sometimes that's what's most important.
The new season finds Ramy alone and searching for himself. After the failed romance he half-heartedly got into with his cousin at the end of season one, his heart is now broken, he's depressed, and no amount of tough love from his friends can put him back on track. It's only when he meets Sheikh Ali Malik (played beautifully by Oscar winner Mahershala Ali) and his daughter Zainab (MaameYaa Boafo) that Ramy is able to embark on a journey to greater self-fulfillment and less self-absorption.
Sort of. Sheikh Ali stands for everything that Ramy aspires to be spiritually: he's soft-spoken, wise, and progressive. As Ramy's mentor, he asks for accountability—a challenge for Ramy, since he confuses the devotion to his faith with the betterment of his character. Throughout the new season, Ramy proves time after time that despite his desire to fill the void in himself, he has a nasty habit of judging others critically without ever looking at himself, which makes it hard for us to like him. And that's exactly the point.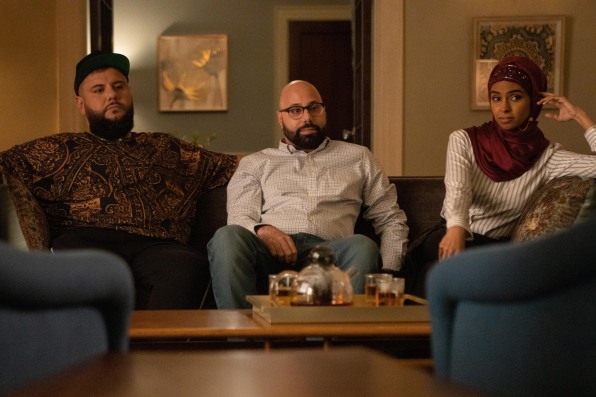 Familiar characters from the first season return for another go-around, including Steve (Steve Way), Ramy's childhood friend, and Mo (Mohammad Amer) and Ahmed (Dave Merheje), the Shakespearean fools who crack jokes that seem designed specifically for the diaspora audience. For instance, Mo has someone make Umrah, a pilgrimage to Mecca, for him while he tags along from the comfort of a strip club via a VR headset so that he can indulge in what he calls his last night of debauchery before his sins are washed away and he plans to live a more halal life.
I wish there were more moments like these and fewer attempts at absurdist humor, like the bizarre plot in which Ramy and an Emirati donor to a Sufi Center drink adult film actress Mia Khalifa's (the personification of Ramy's porn addiction) breast milk in an attempt to conquer their sexual urges. These moments are all the more glaring when compared to the episodes that focus on Ramy's family members. During these instances of more stark realism and sincerity, Ramy opens up to explore aspects of a specific community that go beyond the title character's selfishness.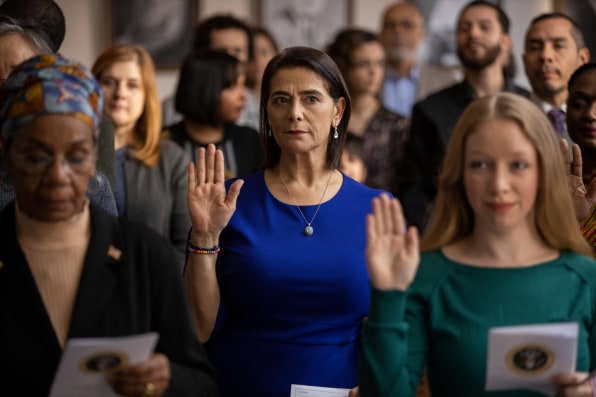 In one anxiety-producing episode, Ramy's mother, Maysa (Hiam Abbass), is taken aback when she's suspended as a Lyft driver. She tracks down—stalks, actually—the nonbinary rider she so cluelessly insulted by misgendering them and asking probing questions as to why they're wearing a dress. In short, she finds every boundary and crosses it. Maysa asks the rider for forgiveness, but she's really there to confess what's probably the hardest to admit: her own cultural ignorance. We discover that Maysa is frightened that this encounter might interfere with her U.S. citizenship test. Yearning to be part of the voting process while taking an oath in front of the presidential portrait of Donald Trump (whom she reminds everyone she despises), Maysa vows to be an agent of change and to embrace things that she doesn't fully understand.
Exploring cultural differences and challenging stereotypes are the core of Ramy's second season. As the title character's moral compass, Sheikh Ali has hurdles to get over when he meets Ramy's family because he's a black American Muslim—a difference that the angry mob protesting outside his mosque doesn't grasp, since they lump all Muslims into one group. Ramy's brash uncle Naseem (Laith Nakli) tries to provoke Sheikh Ali, taking him to task for converting to the faith as if it were fashionable. But he's hardly infallible: Later, we learn that Naseem is living a double life behind closed doors. Confronting these thorny issues cracks the surface of prejudice that pervades the Muslim community in the States.
Interweaving questions of culture, sexuality, race, and gender throughout the narrative is what makes Ramy a thought-provoking show. Its ability to consistently ask complex questions about established convention are topics that the diaspora to which Ramy belongs—the same one Youssef is trying to reach with his series—has been asking for so long.