In the earliest days of the pandemic, a consortium of executives and creatives realized they could technically still make episodes of TV in quarantine.
Late-night talk shows continued. Saturday Night Live returned. And Amy Schumer's cooking show launched, for better or worse. Last month's Parks and Rec reunion episode even proved it was possible to cobble together perfectly pleasant narrative TV during this time. Up until now, though, what these shows have mainly been good for is generating charitable contributions and spreading good cheer. Apple TV Plus's Mythic Quest is the first narrative show that truly has something to say about this era and manages to get it across in its own unique voice.
Far more than a tide-you-over tidbit, the quarantine episode of Mythic Quest is a seamless continuation for fans, a great jumping-off point for potential converts, and a pitch-perfect encapsulation of what it's like to live through this moment.
Mythic Quest: Raven's Banquet, the show's unfortunate full title, got off to a promising start when it premiered back in February. Created by the team behind It's Always Sunny in Philadelphia, with its sights set on a broader audience, the deeply researched series examines the inner workings of the gaming world from every angle. Although at times the show seemed more concerned with authenticity than laughs, it had all the elements to become Apple TV Plus's breakout comedy. (Well, if you don't count Dickinson, which is a very different kind of comedy.)
With its quarantine episode, the show has already made good on its potential and might even have hit its stride.
The most remarkable thing about the episode is that it mostly feels like any other installment of the show. Cocreator and star Rob McElhenney spent a whole season with his creative team (Charlie Day, Megan Ganz, and David Hornsby) sketching out various dynamics—between the titular game's creator, Ian (McElhenney), and its lead developer, Poppy (Charlotte Nicdao); between the put-upon cofounder, David (Hornsby), and the shameless CFO, Brad (Danny Pudi); and between lovestruck Rachel (Ashly Burch) and her fellow game tester, Dana (Imani Hakim)—not to mention a deep bench of side characters. The new episode nimbly toggles between all those plotlines in mini-vignettes that are so organic, the Zoom format feels almost incidental at times. (Except for a running bit about making spatial illusions in Zoom that culminates in a grand payoff.)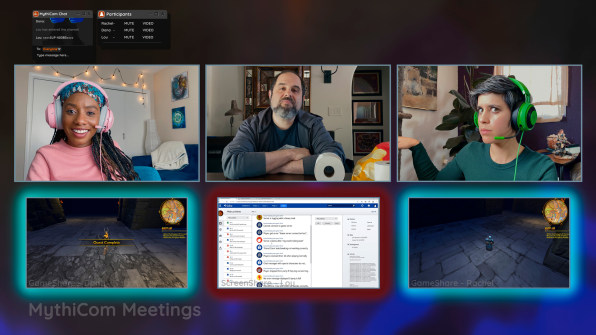 Of course, this isn't just another episode—it's the coronavirus one, and the show nicely taps into topicality for material.
"Obviously, the quarantine has been tough on everyone, but our industry is thriving," David says early on, setting up a subplot about the company donating money for COVID-19 relief. (In real life, the creators of the show raised exactly the same amount of money as their characters, $600K, during the making of the episode.)
Much like how Parks and Rec's Ron Swanson (Nick Offerman) seems built to thrive through a pandemic, each of the Mythic Quest characters deals with quarantine in ways that are consistent with what we know about them. Ian exists in a performative, intensely vacation-like state in his palatial estate. Aside from using McElhenney's actual home for Ian's scenes, the creators mine other natural resources to similar plot effect, such as Rachel's newly shaggy, undyed locks. Workaholic Poppy, meanwhile, is deeply unshowered, caught in a manic fit to solve the problem of having released a disease into the world of the game (a "blood ocean") just before the pandemic. And of course the George R.R. Martin-like C.W. Longbottom (F. Murray Abraham) would end up being the one person in the bunch who can't figure out Zoom.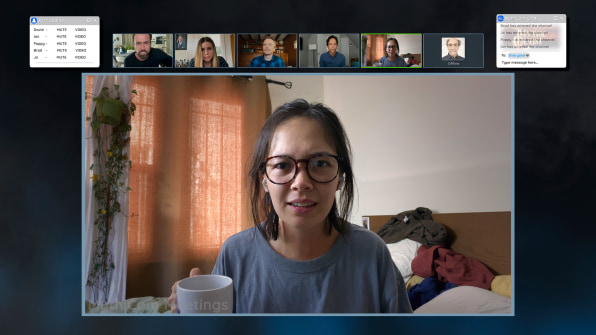 Aside from the major subplots, the show sprinkles urgent commentary about this moment into just about every scene. It approaches the fallacy of "We're all in this together" from multiple angles, pokes fun at the pitfalls of toilet paper hoarding, and cracks jokes about the hell on Earth that is raising and educating kids in what is now also one's workspace. But as much humor as the episode mines out of the pandemic, it gets an admirable amount of pathos by revealing that two of the main characters are struggling with loneliness. The episode ends on a grace note about the importance of reaching out, and letting someone else reach in.
What goes unspoken is that a large segment of the show's target demo, gamers, may similarly not know what to do with themselves after finishing their latest fetch quest, the same way Poppy becomes unmoored once she fixes the blood ocean and is left without a new task to focus one. The idea comes across powerfully enough that the viewers who most need to see it won't be able to miss it.
With its latest episode, the team behind Mythic Quest has cracked the code on integrating a timely message in an entertaining package using remote resources, and they've advanced quarantine TV to the next level.