As Coronavirus cases skyrocket around the country, everyone should be more aware of their hygiene habits. While we all know by now how essential it is to wear a mask and carry hand sanitizer, when was the last time you thought about cleaning your grimy phone? While it's unlikely that you'll catch COVID-19 from a surface, your phone is one of the closest contact surfaces in your life—you take it in the car, the bathroom, out exercising, into your bed—and is sometimes pressed right up to your face. Which means that for as much as you're lathering up your hands with soap and sanitizer, you should probably be cleaning your phone just as frequently.
Since wiping your phone down with a disinfectant wipe produces inconsistent results, many companies are responding by manufacturing UV sanitizing cases and bags—which are able to kill up to 99.9% of microorganisms (including germs and viruses) that are living on your phone. Although there are several types of UV light (categorized according to wavelength), it's the short-wavelength UV light (UV-C) that is known as "germicidal UV" light. According to studies, these short wavelengths of light—measuring between 200 nm and 300 nm—are strongly absorbed by the nucleic acid of microorganisms. And just like how stronger UV rays damage your skin cells that results in sunburns, UV-C light similarly damages and kills microorganisms on a cellular level—destroying the nucleic acids and disrupting the germs' DNA.
Scientists have been using UV light to kill bacteria and viruses since Niels Finsen discovered its effectiveness against tuberculosis (a discovery which earned him a Nobel Prize in 1903). These days, anyone—not just award-winning scientists—can use light to combat germs. Each of these products uses UV-C light to sanitize your most used household items—including your phone. All you have to do is put them in and turn it on. Oh, and don't forget to wash your hands.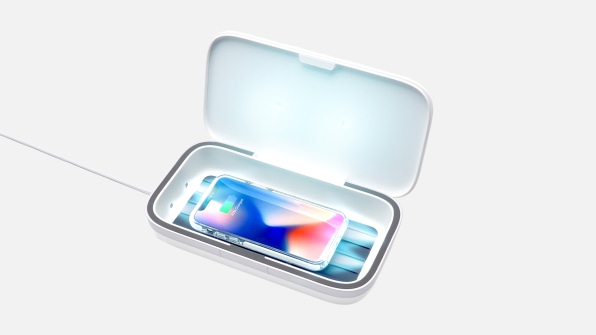 Casetify UV Sanitizer
Casetify's UV Sanitizer ($120) utilizes six Mercury-free UV-C LED lamps inside its shell to sanitize. This little case can hold any smartphone model and is also big enough to separately sanitize credit cards, IDs (like your passport), your face mask, and keys. The sterilization process takes three minutes—but because of the placement of the six small lamps, you need to flip your phone over and run the sanitization process again to ensure that both sides are clean. If you do want to employ a deeper clean, pressing the circular button for 3-5 seconds activates a 15-min intensive sanitization process. Another cool feature Casetify's sanitizer boasts is wireless charging, so you can give your phone some extra battery life while sanitizing.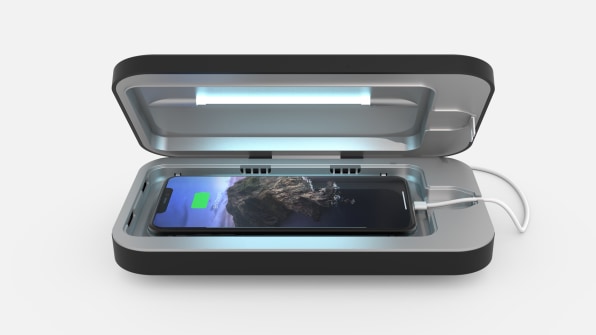 PhoneSoap
PhoneSoap is a brand that's completely dedicated to manufacturing devices that sanitize your other devices. The PhoneSoap 3 ($80) sanitizer utilizes elongated UC-C light bulbs (not LEDs) that can achieve 360-degree disinfection—so no need to flip your phone over. The PhoneSoap Pro ($120) ups the ante by using additional UV-C bulbs and a vacuum-plated aluminum inner shell that gives the interior of the case additional reflectivity that can reach into every crevice and bezel of your phone and case. Both the PhoneSoap Pro and the PhoneSoap 3 feature two charging ports (compatible with any smartphone) and an acoustic audio amplifier—which allows you to hear alarms and notifications while your phone is in the case. The PhoneSoap Pro is large enough to fit any smartphone and phone case combo, but the largest device PhoneSoap currently has for sale is the HomeSoap ($200), which is large enough for all of your items: keys, tablets, phones, glasses, wallets, bottles—you name it.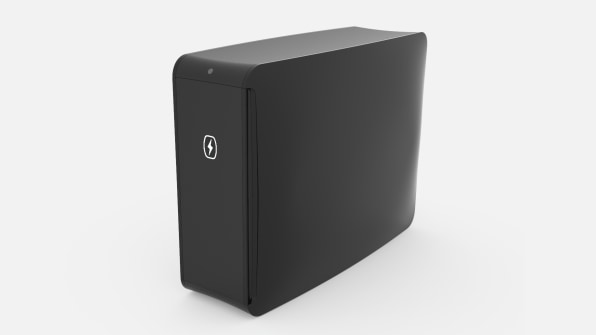 Testing has shown that PhoneSoap devices are effective at killing specific viruses and bacteria, including E. Coli, Salmonella, Staph, MRSA, Influenza A H1N1, and the Rhinovirus (aka the common cold). You can find community tests here, as well as a test from Time here.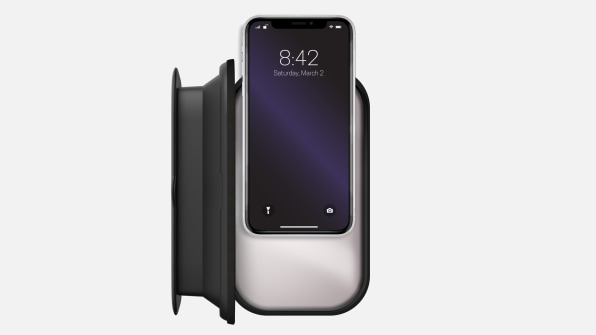 HoMedics UV-CLEAN Portable Sanitizer Bag and Phone Sanitizer
HoMedics has outfitted its UV-sanitizing products with long-lasting, nontoxic UV-C LED lamps, and feature the shortest sanitizing process time on this list, with each sanitizing cycle lasting only one minute. The Phone Sanitizer ($80) features a pop-up design that allows you to collapse the case when not in use, making it extremely portable. And since it holds up to 70 uses per charge, it's perfect for taking with you in your purse or car for frequent sanitization. If you're looking for a larger capacity sanitizer that you can keep at home, the Sanitizer Bag ($100) can fit larger items (like remotes, jewelry, glasses, and the like).
Looking for more recommendations? Check out our other handpicked suggestions.
Fast Company may receive revenue for some links to products on our site.