Familiarity is baked right into the premise of The Trip to Greece, the final film in the decade-spanning franchise of funny culinary travelogues.
"I think as you get older, it's inevitable that you repeat yourself," Steve Coogan says to his costar, Rob Brydon, both beloved British comedians playing slightly exaggerated versions of themselves. "This is the fourth time we've been on one of these jaunts."
For fans of the other three Trips—in which the exhaustively entertaining pair go restaurant-hopping in exotic locales—the reportedly final Greece iteration will feel like coming home. It has all the playful tableside bickering that has come to define the series, with this batch's competitive impersonation being Brando-as-Alexander the Great. What's different now is that current events have conspired to make this film, and indeed the whole series, feel painfully familiar to neophytes as well, who may miss the very concept of traveling, being with friends, and eating food that doesn't require self-assembly.
In other words, it's the perfect time to either discover or complete The Trip, a quartet of films begging for you to live vicariously through them.
The Trip began in 2010 as an unscripted British TV show, directed by Michael Winterbottom, in which Coogan and Brydon hit the road in northern England, with the ostensible task of writing about restaurants for The Observer. (The director and his leads had previously collaborated on the even-more-meta A Cock and Bull Story back in 2005.) The following year, Winterbottom trimmed down the show's six half-hour episodes into a relatively tight 107-minute film. It was a critical smash, spawning three sequels that together function as kind of a middle-age Boyhood.
The core of the series' charm is the friendship between Brydon and Coogan, which has always been fun to watch unfold in long form, but now feels downright soul-nurturing. It's just two funny pals hanging out without Zoom, their easy, lived-in banter refreshingly devoid of the stilted, "waiting for your turn to talk" rhythm of video chats. Their bits unfold organically, often touching on real-life events such as Coogan's BAFTA nomination for 2018's Stan and Ollie, and the pair genuinely laugh with gusto at each other's jokes. Their conversations have the loose, rollicking feel of a podcast, but since the film is gorgeously shot, it feels as though the viewer has a silent seat at their table.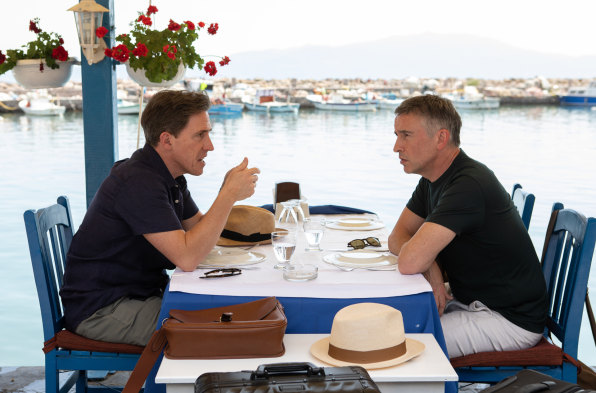 Like its predecessors, Greece serves viewers an immersive simulation of going out to eat. The sublime art of delicious food. The bustling theater of choreographed service. The lazy pace of a well-enjoyed meal.
At one point, a server and a captain interrupt the two comedians riffing, each removing a dish's chrome covering in perfect synchronicity. The captain announces what edible elegance lies before them. ("Mussels on smoked pine needles with parmesan cheese, green asparagus, a little bit of cider, and espresso powder.") The two diners exchange glances and discuss.
"Espresso powder dust. That's, uh, an ingredient I wasn't expecting," Coogan says. "But it's also piqued my curiosity."
They then take cautious first bites, and their eyebrows fly involuntarily skyward. The verdict? It's divine.
What the Trip movies fully capture in moments such as these is the sense of discovery that is the essence of not only eating out but travel itself. The two leads drive twisty uphill roads while discussing the destination they're about to tour, before ultimately concluding that Macedonia is not what they pictured. Having one's expectations of the world either met, upended, or exceeded is what travel is all about, the letdowns just as clarifying as the most inspiring vistas.
At a time when every vacation is, by nature, a staycation, having these movies on as sonic wallpaper in one's apartment is perhaps the next best thing to an actual expedition.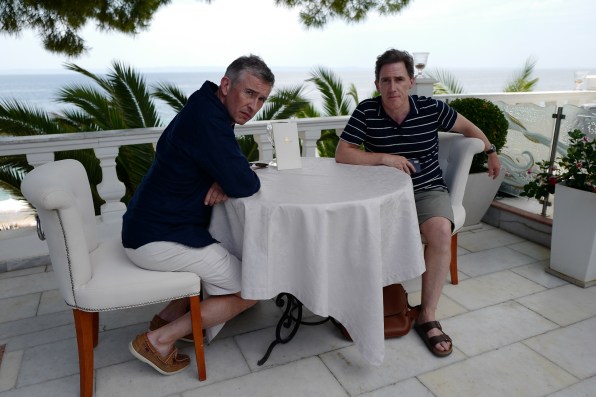 As beautiful, funny, and satisfying as The Trip to Greece may be, there's also a sadness lurking. The film starts with Coogan recounting a bad dream he had, "a portent," as though he and Brydon have a sense of what's just around the corner for the world. A great many jokes involve Coogan's eventual death, and several conversations are marked by a sense of finality. ("What would you say is the thing you're most proud of?" Brydon asks at one point.) In real life, Coogan lost his father two years ago, and his barely fictitious counterpart is dealing with an ailing patriarch, mostly in the background, throughout the runtime.
These morbid elements only reinforce the film's perhaps unintended message of enjoying the best of what life has to offer—friendship, food, travel, love—while you still have the chance.
It might make viewers sad that they can't physically enjoy a similar experience any time soon, but seeing the contrast between Greece's sturdily built coliseums and its modern restaurants, ancient foods and newfangled delights coexisting, should also reassure those viewers that the world has been around for a very long time and there will almost certainly soon come a day when they can fully enjoy it again.