---
As if her career doesn't already speak for itself, Janet Mock is ready to show you what she can really do.
From her early days as an editor at People magazine, Mock has used her skills as a storyteller to springboard into becoming a New York Times best-selling author of two memoirs (Redefining Realness and Surpassing Certainty) and, in her most recent pivot, a budding force in TV and film.
With mega-producer Ryan Murphy as her mentor, Mock has written for, directed, and produced a variety of projects, including Pose, The Politician, and Hollywood. With her three-year overall deal at Netflix that was announced last year, Mock is stepping out on her own—but at her own pace.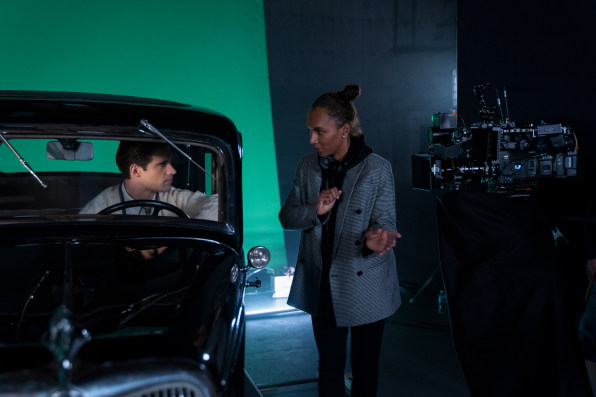 "I think the writing, directing, and producing has helped me tell fuller stories that are actually possible to pull off," Mock says in the latest episode of Fast Company's podcast Creative Conversation. "I have my dream show that I know I won't probably do until five years down the road in my career. That's a period piece, and it's going to have this and that. I can't tell that story right now. I can tell that later on when I've gained the credibility and the clout because I don't want to compromise that vision."
Even with a major cosigner like Netflix and being a household name at this point, Mock hasn't wavered from her methodical approach to her creative endeavors, which have shaped her career—and should maybe shape yours.
In this episode of Creative Conversation, Mock explains . . .
. . . how working on Pose set the tone for her career in TV and film
"My job was to be my sister's keeper, and so a lot of the battles that I fought in the room largely were about story. [. . .] Where I truly found my voice was targeting that and staying in that lane. Through doing that, you build your credibility in a sense. Before you can make these bigger swings, at least for myself, it was like I needed to show that I was an expert at this."
. . . how she learned to love (or at least like) collaboration
"When I was younger, I was never the person that was good at group projects. I would always take it over, do it, and say, 'You guys go home and rest and then I will do the project and we will all get an A.' I think over the years I developed that skill to be able to collaborate and to realize that I don't have to have all the answers."
. . . and why she chose disgraced journalist Janet Cooke as the subject of her debut solo project
"It's a story about ambition. At the end of the day, Janet Cooke did everything she could to be noticed, to be great, to be seen. Her decisions may not have been ones that I would make, but I can understand, as a human being and as a black woman at these majority white publications, what that isolation and tokenization can look and feel like on a day-to-day basis."
Listen to the latest episode of Fast Company's podcast Creative Conversation on Apple Podcasts, Spotify, RadioPublic, Google Play, or Stitcher.