The repair-manual site iFixit unveiled a database of more than 13,000 repair manuals for medical devices on Tuesday, citing a shortage of information for hospital technicians looking to fix the often-critical equipment.
It's a problem that's only been exacerbated by the coronavirus pandemic, which has made it difficult for manufacturer technicians to visit hospitals to do maintenance and kept hospital specialists working hard to ensure limited supplies of devices such as ventilators are up and running. The wiki-style database contains official repair guides for everything from ventilators to hospital beds, crowdsourced by iFixit amid the fight against the virus.
>The project formalizes a longtime practice at hospitals: biomedical technicians who use repair guides to maintain hospital equipment often informally trade manuals with each other, says iFixit CEO Kyle Wiens, or scour internet forums for links to necessary guides.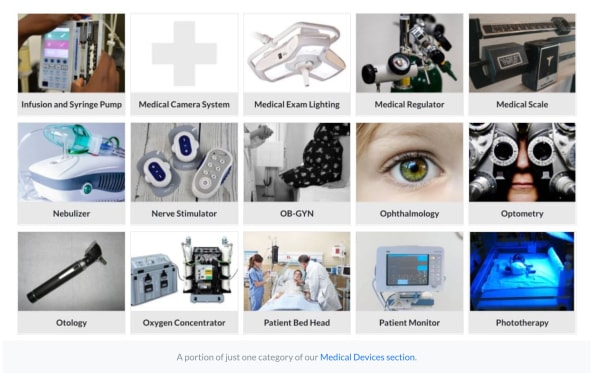 "They've got a folder on their computer with all the service manuals they've been able to collect over the years, and when they meet, they swap files," he says.
They've got a folder on their computer with all the service manuals they've been able to collect over the years."
Kyle Wiens
The company worked with a team of archivists and librarians—many of them stuck at home and looking for work to do during the coronavirus pandemic—to organize contributed repair guides into logical groupings, Wiens says. "We're taking this from a static resource that was trapped in file folders around hospitals around the country and putting it on central place as a wiki," he says.
Getting access to repair manuals has long been a struggle for hospital technicians charged with maintaining equipment, Wiens says. Some manufacturers do make manuals freely available: Wiens points to the manufacturers Mindray, which circulates service manuals, and Fisher & Paykel, which provided some to iFixit. Others have released certain information in the wake of the pandemic. But many make it difficult for hospital techs to find the information they need to do their jobs and keep equipment operating, he says.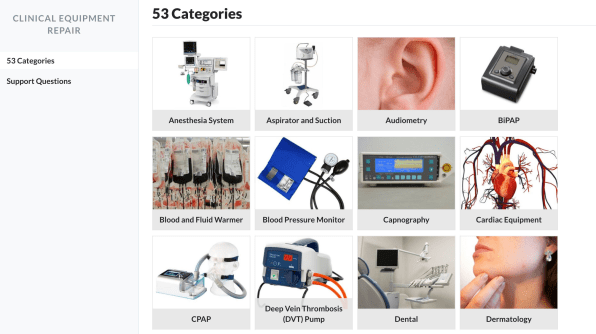 Some device manufacturers try to require that maintenance be done by their own authorized technicians, which can lead to higher costs and delays for hospitals looking to keep equipment online, Wiens says. That's only become more of an issue during the virus outbreak, as hospitals deal with shortages of critical gear such as ventilators. Even for equipment not directly related to the fight against COVID-19, travel restrictions and hospital safety procedures set up hurdles for outside technicians trying to visit medical facilities to do repairs.
Hospital technicians' problems with getting the information to repair medical devices echo the issues of many consumers who try to fix electronics and other equipment. The Digital Millennium Copyright Act, a 1998 anti-piracy law that restricts tools that can circumvent access to copyrighted materials, is also sometimes used as a legal barrier by manufacturers to restrict people's ability to use aftermarket parts or make basic repairs.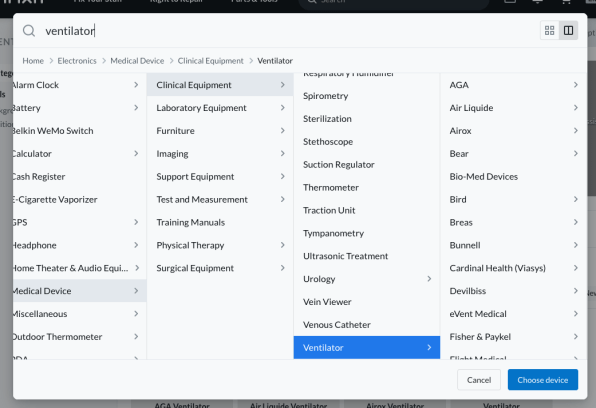 Wiens and iFixit, which publishes repair guides for a wide variety of products, have long advocated for what's called "right to repair" legislation. These bills have been proposed around the country to make it easier for consumers and businesses to repair equipment, from computers to farm machinery. Often, proponents say, these devices can be maintained effectively by trained users or technicians. But restrictions on service information and parts can mean equipment owners need to turn to manufacturers for fixes that they could have performed themselves.
"It's even more important to have the service manual for medical equipment than it is for other types of equipment," Wiens says. "With medical equipment, you have to do regular preventative maintenance, and you have to have a documented procedure for doing that maintenance."
Makers of hardware, including medical equipment, have often countered that repairs not supervised by device makers can limit device lifetime and even be dangerous.
"Medical technology is regulated by the FDA, and servicing of these devices is highly sensitive as it relates to patient safety and device system security," wrote Fielding Greaves, the director of state government and regional affairs for the Advanced Medical Technology Association, in a letter to Hawaii State Representative Roy Takumi last year as the state was considering a right-to-repair bill. "Medical technology manufacturers maintain their own devices or provide repair information to third-party servicers they contract with for device servicing."
AdvaMed, as the association is known, didn't respond to an inquiry from Fast Company.
Wiens said that iFixit is hosting and helping to organize the medical repair manuals for free, and isn't running advertising alongside them. The organization is hoping that people in the biomed tech community will ultimately be the ones to manage the collection. Already, iFixit is connecting with people in the field about ways to moderate submissions of new manuals and updates to existing ones. The ultimate goal, he says, is to give facilities more power to maintain their medical equipment.
"Hospitals should have a range of options," he says.