On Amazon, the listing for a webcam from "ZILINK" looks promising. The USB camera supports 1080p resolution, has a built-in mounting bracket, and includes a microphone with "Double Noise Reduction" technology. It even comes with a snap-on privacy shutter to cover up the lens.
Reality is harsher. While the camera produces sharp-enough video, the picture is so washed out that it gives me a ghastly appearance, and its microphone only produces quiet, muffled audio on the left audio channel. Its sole power indicator light is also on all the time, so unlike with most webcams there's no way to tell when the camera is active.
In normal times, no one would pay $60 for a webcam such as this. But as the coronavirus crisis has forced millions of people to work from home, demand for webcams has surged, and big brands such as Logitech, which dominates the stand-alone webcam business, can't keep up. On eBay and Amazon, Logitech's excellent C920S has been selling for nearly $200, more than doubling its list price.
That's created an opportunity for cheap, generic alternatives, priced in the range of $40 to $70 on Amazon. The brand names are unrecognizable and in some cases barely pronounceable—vcloo, Youlisn, YVELINES, LILIONGTH—but compared to Logitech's webcams, they have one major advantage: You can actually have them delivered in a reasonable amount of time. That doesn't mean you should.
Why the best webcams are sold out
As you might expect, Logitech was caught off guard by the spike in webcam demand and didn't have nearly enough supply to match.
"Our factories are well-positioned to meet the 'normal' demands of our business," Scott Wharton, Logitech's general manager and vice president of video collaboration, says via email. "However, the events of the last few months have significantly changed that demand and we are increasing production to meet those needs."
Still, ramping up production isn't simple for a major vendor such as Logitech. Stephen Baker, a tech industry analyst for NPD Group, says webcams were a low-volume market. Pumping out more cameras means acquiring all the necessary components and finding the time for a factory to start building, then shipping the products in bulk to retail partners. Manufacturing shutdowns in China in January and February likely compounded the difficulties.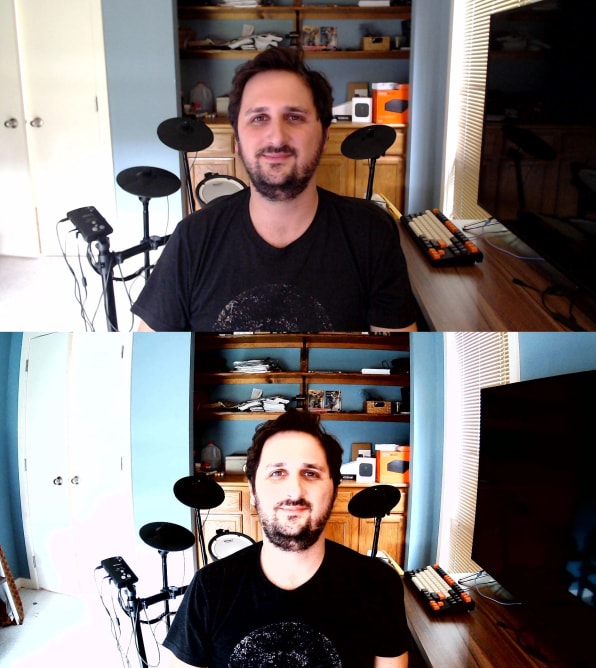 "It isn't likely that there is just an assembly line in-waiting for Logitech webcam orders," Baker says via email. "They may only typically build them a couple of times a year to get some efficiencies."
By comparison, cheap webcam vendors in China can run a much nimbler operation. They can gather up a small number of components, produce a limited quantity of products, then ship small batches to local warehouses (or direct to customers) for sale through the Amazon Marketplace.
"When there is a shortage, there is often times the capability in the factories to produce limited quantities and ship them one at a time," Baker says. That's not feasible for a major vendor such as Logitech.
Where cheap webcams fall short
Baker estimates that before the pandemic, the webcams that have flooded Amazon would've sold for about half their current prices, but there's no easy way to know for sure. Most of these cameras have only been popping up on Amazon over the last month or two, which means you can't use the Amazon price-tracking site CamelCamelCamel to see what they would have cost a year ago.
But even at $30, I would have felt ripped off by the ZILINK webcam I bought last week. Fortunately, I don't need it, having bought a Logitech C920S last year. I only purchased the cheaper webcam out of curiosity after hearing from people who've struggled to find good webcams for their Zoom calls. With so many generic brands popping up on Amazon, I wanted to see if they were decent-enough alternatives.
Going back and forth between the two cameras, I found the difference was stark. The Logitech camera is much better at compensating for the room's lighting conditions—no more ghastly whiteness—and its microphones produced clear audio, so no external mic was necessary. The camera also clearly indicates when it's active with blue light rings on either side of the camera enclosure.
Just to make sure this wasn't a fluke, I bought another camera on Amazon after testing the first one, this time from a vendor named Trobing. Although this camera has a five-star rating with six reviews as of this writing, the picture quality was even worse than the ZILINK camera, adding a bluish hue on top of its overexposure. While the microphone doesn't have the same single-channel audio issue as the ZILINK camera, it's equally muffled and quiet, and it has no light indicator at all.
Logitech's Scott Wharton points to several advantages for its cameras: The company manufactures its own lenses instead of using generic components, and its software has built-in autofocus and light correction, so it can compensate for tough lighting situations in ways that cheap webcams can't.
None of this will be much consolation for folks who plan to work from home for the long haul and want a better camera. While Wharton says that Logitech hasn't increased its recommended pricing, it also doesn't control the prices that retailers set. And of course, it can't stop third-party Amazon vendors or eBay sellers from charging desperate workers close to $200 per camera.
The good news is that Logitech says it's turning a corner on hardware production in general. Wharton points to recent remarks by CEO Bracken Darrell, saying the company's supply chain is now working well after having to play catch-up from late March.
"We have aggressively increased production to focus on more quantities of webcams in order to meet the demand," Wharton says. "We are utilizing every distribution option to improve supply."
In the meantime, stay away from those Amazon cameras, and if you're on a desktop computer, consider just using your phone as an external webcam instead.