On the evening of March 13, Neighborhood Goods opened its boutique in Austin, Texas, as part of a planned 2020 expansion. The startup brings together digital brands such as Dollar Shave Club, Rockets of Awesome, and Rec Room, and the next day, its store was filled with customers even as CEO Matt Alexander was getting news alerts of the coronavirus's spread in the United States. By lunchtime, after less than a day in business, he decided to shutter the store.
All three Neighborhood Goods locations have now stood dark and empty for six weeks. For a business built on brick-and-mortar stores, this has meant watching revenues decline. But Texas is now among a group of states that are allowing nonessential businesses to reopen, so Alexander must decide what that means for Neighborhood Goods' Austin and Plano stores. "In many ways, Texas is a test case for the rest of the country," he says.
Alexander isn't alone in trying to navigate this new normal. Over the last few years, startups such as Warby Parker, Casper, Bandier, Outdoor Voices, Away, and Allbirds have invested heavily in physical stores, which is one reason many have taken such a big financial hit as a result of the coronavirus. Now, some states are giving them the green light to reopen, but many remain tentative about their plans. Alexander has chosen to keep Neighborhood Goods closed until there is data about whether reopening retail stores leads to a spike in new cases. Warby Parker, meanwhile, will provide the option to make appointments at some locations. Bandier has opened its Dallas location but expects to use it as a base from which to deliver products to local customers' homes.
But regardless of their game plan for reopening, founders know that retail won't look the same in a post-COVID-19 world. For now, they're focused on redesigning their stores and reimagining the shopping experience to prepare for the day when they're able to fully open their doors to the masses.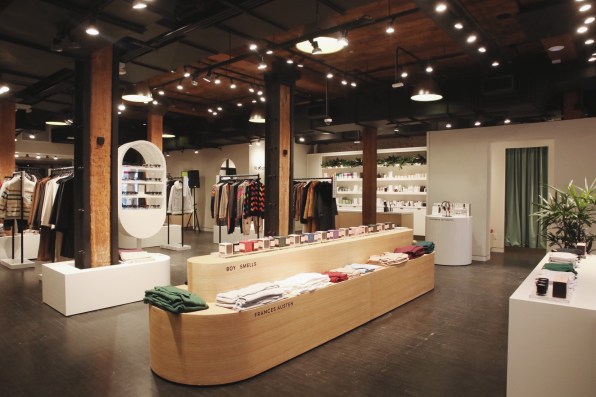 The post-coronavirus store
Part of the reason that customers choose to visit stores, instead of shopping online, is to touch and feel the product. This means brands will spend a lot of time sanitizing products as well as store fixtures, such as countertops and doors. At Warby Parker, associates will sanitize pieces of eyewear before and after a customer tries them on. Dave Gilboa, cofounder and co-CEO, believes that these shows of cleanliness are important not only for staying safe but also for giving customers peace of mind. After all, it's unclear whether customers will actually want to return to stores, even if they're legally allowed to do so. "We think being more visible around safety precautions is going to make people feel safer," he says. "That doesn't mean that everyone has to be in a full hazmat suit, but walking into a store where you can tell that everything is frequently disinfected will set people at ease."
But brands also think customers will be less inclined to casually browse. For many startups, this is a sea change from the recent past, when they tried to stand out by making their stores places where people wanted to linger and socialize. Instead, many are now redesigning the in-store shopping experience to make it as streamlined and efficient as possible, so customers can quickly pick up an item they've ordered online, return a product, or get assistance.
In Warby Parker's case, customers often come into the store to get fitted for glasses. Usually, this would involve sitting in front of a binocular-like machine that measures the distance between the customer's pupils. In response to COVID-19, Warby Parker's developers have built an app that allows store associates to get this measurement on an iPad or iPhone, without needing to touch the customer's face. The company is also implementing touchless payment systems.
Neighborhood Goods has seen a spike in online sales over the last six weeks. Customers were able to order online and do curbside pickup at stores, as well as order products to be delivered through Postmates. In the early stages of reopening, Alexander believes, stores will be a place where customers will pop in to make a quick exchange, then head right out. To facilitate this, the company is considering installing automatic doors at entrances.
For Bandier, a boutique fitness apparel startup, employees in the Dallas store had worked hard to develop close relationships with regular customers. Neil Boyarsky, Bandier's cofounder and CEO, believes that in a post-coronavirus world, these relationships will become even more important. Customers might talk about products with their local store associate over the phone, who would then send products for them to try on at home. "We're going back to old-fashioned clienteling," says Boyarsky.
Regarding customers who do choose to visit the store in person, brands are thinking about how to ensure they keep a safe distance from one another. Bandier is reducing the number of products displayed on shop floors to create more space. Warby Parker will offer appointment-based shopping at some locations, while others will have an employee at the door to regulate how many people are inside. "There might be lines out the door, so we're marking six-feet lines on the ground so customers can stand apart from one another," Gilboa says.
Neighborhood Goods is thinking about high-tech solutions to limiting traffic. It was already gathering real-time data for brands about when customers were visiting their section of the floor. Alexander is now thinking about offering customers live updates about how busy the store is to help them decide if they should stop by. "We will be limiting the number of customers in-store, to ensure their safety," says Alexander. "But this way, they can know exactly how empty the store is."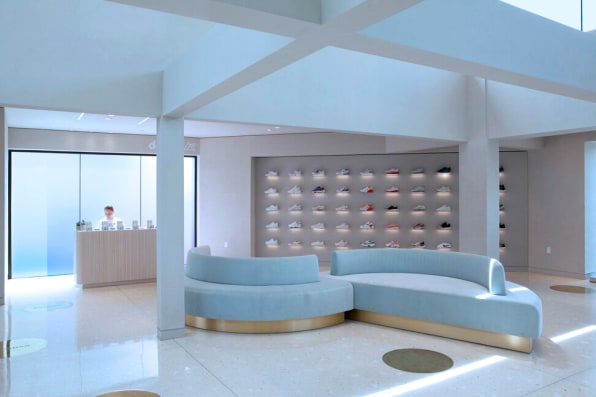 The perception of safety
Reopening is not just a matter of keeping customers safe; it's also about keeping employees safe. Warby Parker has a manufacturing facility in upstate New York that has remained open through the crisis, and Gilboa says it plans to bring many of the strategies from the factory to its retail stores.
For instance, the company redesigned its production facility so that equipment is farther apart, and it has divided workers into two groups who come through separate entrances and have no interactions with one another, so that if one person happens to have COVID-19, it doesn't spread through all the workers, but only that subset of the team. Workers have a temperature check when they arrive and are also asked to take a survey about possible symptoms or exposure. These approaches could easily be applied to retail associates as well.
Gilboa says Warby Parker has looked to countries in Asia to help craft a strategy for reopening. While it might feel unusual or invasive in the United States to take a worker's temperature or ask them to wear a mask, these measures have become the norm in places such as Hong Kong and China during disease outbreaks. Gilboa believes that these kinds of safety protocols will eventually become normalized in the United States, and it may even be a way for companies to communicate how seriously they take the safety of both workers and customers.
"We think the perception of safety is going to be a key differentiator in terms of where people want to work," says Gilboa. "Companies that take workplace safety seriously will be able to use that as a competitive advantage to attract and retain talent."