Seeing a two-word phrase in an app last week was enough to get me to grab my car key and a face mask and set out on a Costco run.
The phrase was "A Few," and it appeared under a toilet-paper icon in an app called OurStreets to indicate limited availability of this most prized of pandemic dry goods at the nearest Costco. That wholesale warehouse did, in fact, have 30-roll bundles of Charmin, and I returned home in moderate triumph with one pack.
That's not the use case the Washington, D.C., developers of OurStreets had in mind when they shipped it in January for Android and iOS as a way for pedestrians and cyclists to report bad behavior by drivers. But the novel coronavirus forced a rush reinvention of this free app as crowdsourced radar for grocery shoppers who don't want to wait days for a home-delivery slot.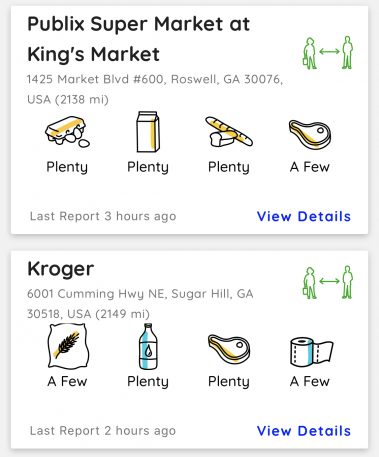 OurStreets still relies on users to report the whereabouts of round things—they're just rolls of TP instead of the wheels of cars, bicycles, and scooters. The app also collects and displays user-sourced data for shops stocked with such other scarcities as soap, eggs, bread, hand sanitizer, and flour.
It started with a request from the D.C. government agency that OurStreets' developers had dealt with during the app's first incarnation.
"I got a call from the D.C. Department of Public Works in mid-March asking if we could repurpose OurStreets to crowdsource the availability of essential supplies during the COVID-19 crisis," says CEO Mark Sussman. "We of course said yes, knowing already that this had to be a nationwide effort."
Sussman was enthusiastic about the idea even though it ruined his weekend. "It was a Friday evening, and we got to work that night," he explains. "We went from ideating and wireframing over the weekend to a full product launch in 11 days, or what is [normally] about two months of product development in less than two weeks."
The reinvented app—upgraded with help from about a dozen volunteers as well as two other D.C. shops, the data-science firm Data Society, and the food-services company Union Kitchen—remains refreshingly simple to use.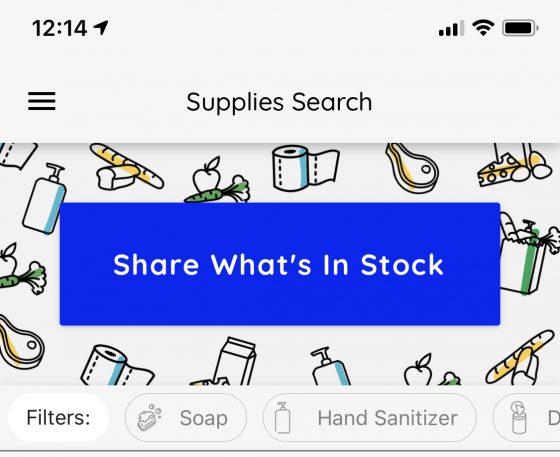 When you open the app and grant it location permission (only while in use), it shows a summary of user reports of inventory for each scarce item at nearby stores at three levels: "Plenty," "A Few," or "None." You can tap a "View Details" link below each store's heading to see a full report or tap one of the filter icons at the top of the screen to see which stores have a particular category of product.
If you're in a store or have just visited one, the big blue "Share What's In Stock" button allows you to report inventory there—along with the presence or absence of social-distancing enforcement.
The app also invites you to submit a photo or comments, but Sussman says that will soon vanish to streamline the reporting workflow. (If you happen to see cars parked in bike lanes on the way to a store, OurStreets' original safe-streets reporting feature remains intact under the menu icon at the top left.)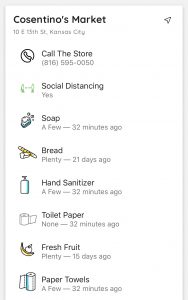 In the Washington area, the app includes a "Featured Listing" for Mountain Valley Spring Water—the sole nod to commercialization. Sussman says that happened when the Arkansas firm, which has a distribution center in the Washington area, asked about adding a sponsored listing.
"As a young company, we're open to revenue if it makes sense," he says. "We're actively exploring national sponsorship opportunities that align with our mission to create safer and healthier cities and that will generate enough income to cover our costs."
Hometown favorite
Washington remains OurStreets' top market, accounting for about 40% of usage, followed by Pittsburgh with about 15%. With user reports still coming in small volumes—1,200 users via the app Wednesday—you may not find OurStreets as useful outside of those core markets.
For example, while San Jose, Calif., mayor Sam Liccardo's tweeted endorsement led to about 2,000 downloads there, the app listed no reports for that city Friday afternoon. On Monday, however, there were five listings. Sussman notes that the app only lists updates shared in the last 24 hours—which makes sense given how quickly a throng of hoarders can clear out a store.
Wherever you open the app, however, you will not see a request for information beyond your location. Although the company does assign distinct identifiers to each phone, it does not ask for an email address or present a signup dialog at all, much less a button to link your Facebook or Google account.
Because some people are terrible, that raises the question: What if bad guys start to troll other users with fake reports?
Sussman pointed to Data Society's work in analyzing user input to spot patterns of mischief. "We can actually just reroute any malicious reports and not present them in the app without the user being the wiser," he says. "This way the user doesn't catch on and attempt to use another phone for their malicious behavior."
So far, however, the OurStreets community seems to be using the app in the public-spirited manner it was designed to encourage.