Of all the tools we're using to survive this time of social isolation, none has seen more explosive growth than videoconferencing. Zoom, which had 10 million users last December, now has 300 million. Houseparty, which lately felt like a fad whose time had passed, added 50 million users in a month and became a top download on both Apple and Google's app stores.
As for Facebook, it's seen video-call usage double in Messenger and WhatsApp in recent weeks. And now the company is introducing a service that's very much in the same ballpark as Zoom and Houseparty. Its name, Messenger Rooms—no relation to an earlier feature with the same moniker—suggests that it's part of Messenger. But it's really more of a full-fledged entity unto itself and will be reachable not only via Messenger but also through Facebook's feed and groups and (though not quite at launch) Instagram and WhatsApp. Accessible via the web, it won't require that users have Messenger installed—or even that they have an account with any of the company's services.
Though Rooms may be of particular interest to people cooped up during a pandemic, it's been in the works for a while. According to Stan Chudnovsky, Facebook's VP of Messenger, the company originally planned to release it sometime in the second half of 2020. Once it was obvious Rooms could serve a pressing need, Facebook put the development process into overdrive in order to get it out as soon as possible. "We were able to mobilize and work really hard to do a bunch of things that we'd already been working on," says Chudnovsky.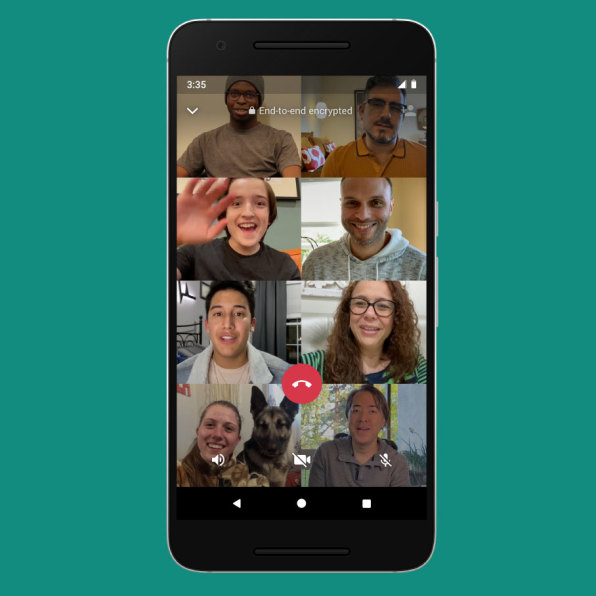 Also among that bunch of things are numerous other video-related updates to Facebook's portfolio of products, some of which will be available "soon" or "in the coming months" rather than immediately. WhatsApp, for example, will increase the number of people who can participate in its own video-call feature to eight, up from four. Facebook Live will revive "Live With," a previously available feature that lets you add a guest to your live stream. Instagram will allow for video watching and commenting from computers as well as smartphones. And Facebook Dating, which has been threatened with irrelevancy in a period of quarantine and shuttered local businesses, will get a Messenger-based "virtual date" video feature.
All of Facebook's myriad existing video communications features will continue to be available. Which means that Rooms will face internal competition for users' attention as well as entrenched third-party rivals such as Zoom, Houseparty, and Apple's FaceTime.
Old idea, new twists
Facebook has done video communications in various forms since all the way back in 2011, when it introduced a video-calling feature powered by Skype. Messenger has offered group video chat since 2016. The company reportedly twice flirted with acquiring Houseparty, and it launched and killed an experimental Houseparty rival without ever bringing it to the U.S.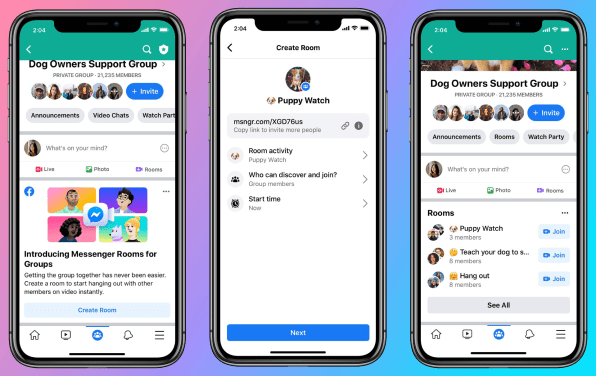 With Rooms, Facebook is bringing the idea up to current standards and going big. The service will "soon" let up to 50 people video-chat at a time, with a grid-style view akin to Zoom's familiar look. Rather than making you place a call—and hope that your friends are available right then to answer it—Rooms will allow people to enter and leave at any time; a room can stay open indefinitely. It has the requisite augmented-reality special effects such as virtual bunny ears, mood lighting, and 360-degree fake backgrounds that can transplant you from your living room to the beach.
As Zoom has seen explosive growth—and been adopted by consumers as well as its intended customer base of business users—its security and privacy travails have tarnished its sudden fame. Most notoriously, uninvited guests have been Zoombombing video session with trouble in mind. To help keep users in control of the rooms they create, Facebook is offering settings such as the ability to limit attendees to your friends or the members of a group you administer. Room creators will be able to bounce troublemakers, and rooms get locked when a creator leaves. "We obviously worked a lot on privacy controls, making sure people understand how the whole thing works," says Chudnovsky.
Still, a room can have a link that lets anyone in, including people who not only aren't your Facebook friends but aren't Facebook members at all. If such a link gets into the wrong hands—maybe because someone you shared it with shares it promiscuously—it could lead to Roombombing. Facebook knows that: Its introductory materials for Rooms explain that "It's important to know that if a room is unlocked, anyone with the link can join and share the link with others." But if people forget this and trolls take advantage, it seems likely that Facebook will get the blame.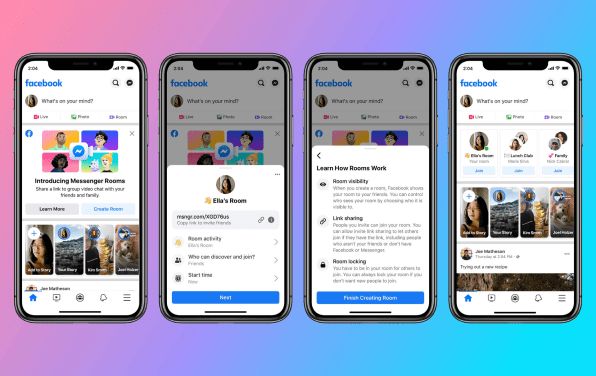 A sign of things to come?
To me, the most intriguing thing about Rooms is the fact that they'll be reachable not only from Messenger but also from Facebook, Instagram, and WhatsApp, as well as Facebook's Portal video-calling hardware. That sounded like an early glimmer of Facebook's dramatic plans—announced by Mark Zuckerberg in March 2019—to tie its services more closely together and emphasize more ephemeral, private forms of communications over the more permanent, public environs of the Facebook feed.
But when I asked Chudnovsky if Rooms was a major component of Facebook's "interoperability" initiative, he said that it isn't part of it at all. That project, he told me, involves reengineering Facebook's portfolio of apps to work together, a task with all sorts of intricacies relating to both technology and usability. The enormity of the undertaking presumably helps explain why Facebook hasn't had much to say about its plans in the almost 14 months since Zuckerberg posted his manifesto.
By contrast, Rooms is a new communications tool unto itself, connected to existing services in a looser way that doesn't necessitate any fundamental rethinking or reengineering. "This is just a new product," says Chudnovsky. "And once we are thinking about new products, we want to think about them across the board—what makes sense for people on all the platforms, versus focusing on just one."
Even if Rooms won't usher in Facebook's era of interoperability, it reflects a more holistic approach to product development than past efforts, which tended to be more fractured. That in itself is a sign that the company sees its multiple services, each with a massive user base of its own, as adding up to one coherent thing. Now we just need to see if all those users agree.