The San Francisco Bay Area is largely shut down due to the coronavirus, with nonessential businesses closed and residents advised to stay home whenever possible.
But those who miss the region's bustling streets and thriving tech scene now have a virtual way to stroll down Market Street or gaze at the Salesforce Tower: a shared creative environment called Stay at Home Valley, created in the collaborative online design tool Figma.
It's the brainchild of investor Brianne Kimmel, founder and managing partner at the venture firm Work Life Ventures. She, along with designer Fiona Carty, built out the initial layout of the map with a few key landmarks and invited businesses and residents to add their own important locations to the map. With offices closed, tech meetups canceled or moved to videoconferencing, and the press dominated by virus-related news, Kimmel envisioned a virtual environment where people in the tech community could build versions of their real-world haunts.
"The vision for Stay at Home Valley in particular was essentially to add a few points—create a few offices—and then hand it over to the design Twitter community to actually build on top of it," says Kimmel, who recalls her own programming experience beginning with computer-aided design software. "I really wanted to create a space for more serendipitous interaction."
We missed the serendipitous moments that happen in Silicon Valley, so we built a new universe in Figma. Add your office, share news and make new friends ????https://t.co/SptaHCu7Tj pic.twitter.com/RR8YMJPTNO

— brianne kimmel (@briannekimmel) April 8, 2020
The cartoon aesthetic is similar to the animated opening sequence for HBO's Silicon Valley—Kimmel says she brought it to the attention of some of the show's writers and creator Mike Judge—and many of the landmarks visible are decidedly tech-centric. Firms like Uber and Lyft, Cisco, and Symantec dot an interactive map of San Francisco's streets, and rental scooters are sprinkled across a few intersections, which visitors can view by panning and zooming through an interactive map. It's accessible to anyone who opens the link to the shared file in Figma, a cloud-based tool that allows for collective image editing the way Google Docs allows for collaborative typing.
While actual travel is done by panning and zooming with a mouse or touchscreen, the map is decorated with transportation options including autonomous vehicles positioned by a designer from Cruise, the General Motors-owned self-driving-car unit, along with a Caltrain commuter train and the city's iconic trolley cars. A note near the headquarters of Square and Twitter points to a (probably) fictional "secret tunnel for Jack Dorsey travel between meetings," referring to the cofounder who serves as CEO of both companies. Other additions were more aspirational, such as an imagined location of the trendy streetwear outlet Supreme. Detail-oriented visitors can also spot quirky Easter eggs such as a pod of dolphins seeming to dine on fast food and offshore wind turbines mounted on giant rubber duckies.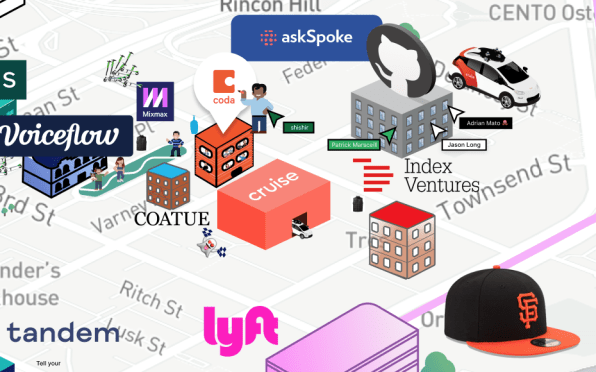 Dining and recreation opportunities are also present, perhaps also reflecting the priorities of the city's tech workers.
"We reopened all of the Boba Guys throughout the city," says Kimmel, referring to a chain of bubble tea shops popular for tech worker breaks. "You'll notice that climbing gyms are open for business."
Figma is ultimately a design tool, not a gaming environment, so options for actual interactivity are somewhat limited. There are text boxes scattered across the virtual world greeting people and offering instructions. One advises visitors not to accidentally relocate the map within the Figma layout. Another suggests activating a chat feature, allowing for more immediate conversations.
Many companies have also used the map to highlight achievements and new projects: After Stripe announced a new $600 million funding round last week, the map grew a depiction of board member Diane Greene sailing in a moat surrounded by unicorns, the traditional symbol of startups valued at at least $1 billion. And Spotify CEO Daniel Ek is depicted DJing outside the company's offices in support of the Spotify COVID-19 Music Relief charitable initiative.
The virtual world has even attracted some individuals to celebrate their own personal milestones.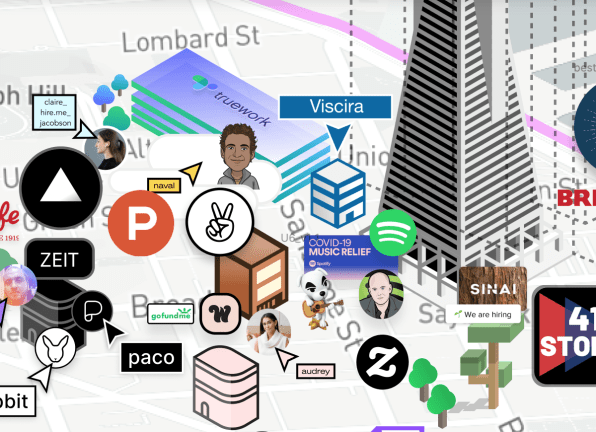 "Close to the Stripe office and across from Dropbox, a couple had added themselves, a kissy-face emoji, and an engagement ring," says Kimmel. "Oftentimes [with] people that went on a first date, or a team that went on an offsite, people are reopening buildings that are important to them."
Some outside the Bay Area also quickly added their own communities and important locations to additional maps within the Figma environment, showing other cities around the world with a bustling tech scene.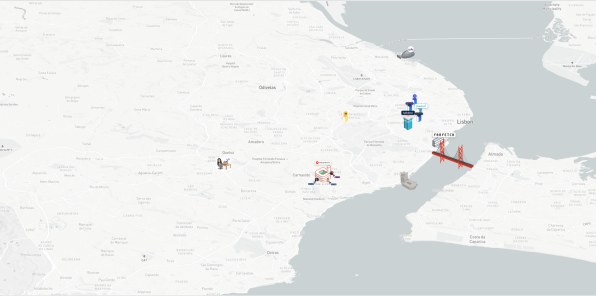 "Within 24 hours, the world expanded to Los Angeles, Seattle, internationally to Lisbon and London," Kimmel says.
She has been taking regular snapshots of how the map has been evolving and plans to leave it open for modifications for perhaps a couple more weeks.
There's no doubt that the map captures a certain spirit of Silicon Valley, whose denizens, now trapped indoors, have built a virtual world replete with fast food, quirky PR stunts, and inside jokes about Jack Dorsey. It's not the fully immersive virtual setting long envisioned by tech prognosticators including science fiction writers like William Gibson, Neal Stephenson, and Ready Player One author Ernest Cline. But it may bring such thinkers confirmation that tech workers and early digital adopters—as well as their employers who are seeking to stand out in a crowded real world news landscape—might be ready to jump into such a setting if and when technology allows.