There is a moment in the new documentary Beastie Boys Story, which hits Apple TV Plus today, where Adam Horovitz—aka Adrock—sheepishly reads the lyrics to a song off the band's smash-hit debut album License to Ill called "Girls." There's no backing music, the camera's close up, and there's a slight spotlight on him as he starts to recite it.
Now, if you know the words to this one, and you know this is the year 2020, you also know that it's cringeworthy enough to practically turn your face inside out.
It's one of a few moments in this stage show-slash-walk down Beastie memory lane, in which the two remaining bandmates earnestly reflect on their role in shaping culture. The documentary was shot during—and adapted from—a series of live stage shows Michael ("Mike D") Diamond and Horovitz put on last year at Brooklyn's Kings Theater, and the vibe is like a charming Beastie TED Talk or PowerPoint presentation. With self-deprecating humor, a mix of scripted and spontaneous banter, and a rapport built over a lifetime of making music together, the two now middle-aged Beasties at times charmingly channel their inner Gil Faizon and George St. Geegland (think of it as Yo, Hello!) while walking us through the group's history.
Ultimately, it's also an appropriately fun, and at times emotional, paean to their best friend and bandmate Adam Yauch, who passed away from cancer in 2012 at the age of 47.
Spike Jonze (who any fan knows shot several Beasties Boys music videos, including the iconic and infamous cop parody for "Sabotage," and is a longtime Beastie collaborator) is the director, but Jonze is more curator than cinematographer. This is less about how Jonze chose the camera angles in Beastie Boys Story and more about how the award-winning director somehow managed to get Horovitz and Diamond to distill the 592 pages of 2018's stunning, hilarious, and creatively comprehensive Beastie Boys Book into a two-hour, two-man stage show.
The Beastie Boys are one of the best, and unlikely, success stories in modern music history. The TLDR version being, a group of early '80s New York City punk kids fall in love with rap music, somehow meet the biggest producers in the still underground genre (Rick Rubin and Russell Simmons), who turn them into a white boy cash cow that toured with Madonna and crashed MTV, thanks to frat-bro party anthems like "Fight for Your Right (to Party)." The band then rejects the novelty label and bro reputation to make a critically acclaimed but commercial bomb (Paul's Boutique) then uses that experience to fuel a creative renaissance with records like Check Your Head, Ill Communication, and Hello Nasty, fusing the music, culture, and styles of skateboarding, hip-hop, punk, and funk. In the process, they made groundbreaking concert films like Awesome; I Fuckin' Shot That (2006),  founding the influential record label and magazine Grand Royal, and embraced causes like Tibetan freedom.
That's how you become one of the biggest bands of all time.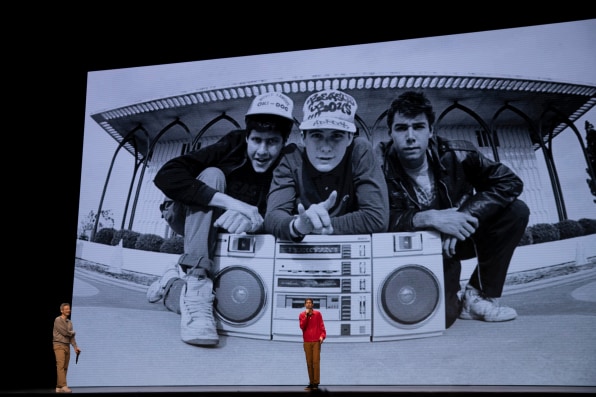 It's a lot to cover. The book is a work of art in its own right: a concept piece that manages to combine the inside story from Diamond and Horovitz's perspective, and the cultural and fan context of those experiencing Beastie Boys through a pair of headphones. There's the rambling oral-history format, the funny footnotes, chapters written by former member Kate Schellenbach, a fan's note from Amy Poehler—and a freakin' mini-cookbook from Roy Choi. Even the audiobook features guest readers such as Chuck D, Elvis Costello, Poehler, Wanda Sykes, Ben Stiller, Jon Stewart, Rachel Maddow, and more.
Beastie Boys Story is a perfect companion piece to the book that any fan is sure to love, but you can't help but wonder what might have been if Horovitz, Diamond, and Jonze had applied a similar artistic ambition to the film.
Throughout the new flick there are references to tours with Run DMC, Madonna, Public Enemy, and more. We hear the story behind "Sabotage." The Beasties were part, and in the midst, of a golden era of music and culture, and it's tough not to think how much fun a more comprehensive documentary approach would be. This fan's conundrum came to life in a Jimmy Fallon segment earlier this month, when Questlove talked to Diamond and Horovitz about Paul's Boutique.
"I know it's hard for you to brag and talk about what an artistic achievement it was, but I just have to say that Paul's Boutique really changed lives creatively," he said. "And I feel like you guys don't give yourselves enough credit for that record. . . . That record was everything. That record was your magnum opus. I taught college about that record."
Diamond responded, "All we can do is tell our story within that."
But Questlove went on to reference the year between mid-1988 and mid-1989 when three of that era's best—and most influential—albums were released: Public Enemy's It Takes a Nation of Millions to Hold Us Back, De La Soul's Three Feet High and Rising, and Paul's Boutique. "I see Nation, Three Feet High, and Paul's Boutique as one life-changing, three-headed monster," said Questlove. "At the time I heard Prince Paul talk about it, members of the Bomb Squad, those million people who bought that record, they changed their lives to that. Me alone, that album really made me want to create music."
Even this week, also on Fallon, LL Cool J talked about how Horovitz actually discovered his first demo tape. It's anecdotes like these that add to an appetite to hear from people like Schellenbach—the lone girl in the group who was unceremoniously turfed when they went from punk to rap—or longtime collaborators like producer Mario Caldato and keyboardist "Money" Mark Nishita (as seen in this short 2019 Amazon doc on Ill Communication), as well as some of the other cultural voices in the book, not entirely sated by the stage telling.
.@adrock laid the beat for @llcoolj's first song "I Need A Beat" https://t.co/eTrjFc7VWg #FallonAtHome pic.twitter.com/dZrE8IybNi

— The Tonight Show (@FallonTonight) April 23, 2020
The missing Yauch always looms large in the new film, as both a central character in a lot of the tales told, but also as the emotional core of the whole endeavor. You can't help but wonder what the same show would be like with both his presence and creative mind behind it. Beyond just Horovitz and Diamond's memories, Jonze does sparingly use old MTV interview footage to allow Yauch to speak for himself, in a way. In a Zoom interview earlier this week, Jonze told me that had been a goal from the start.
"Most of the interviews were of the three of them together, and a lot of times it's hard to get a straight answer from them," he laughed. "There were only one or two interviews with them separately, and it was very exciting when we found that footage, because we didn't know it existed. Even before we had that footage, Mike and Adam and I talked about wanting to have Yauch onstage with them, wanting to feel his presence onstage in the storytelling."
This again is one of those things that fans of the band and the book will lament not seeing more of. But maybe that's the point, that old showbiz chestnut of always leaving the crowd wanting more.
If that's the case, Beastie Boys Story is a wild success.