We're more than a month into the new norm of working from our kitchen tables and couches, trading button-downs for what basically count as daytime pajamas, and living in joggers and leggings. And there is one essential piece of quarantine uniform that is crucial for keeping feet warm and comfy whether you're on the couch or taking a spin around the block: house shoes. House shoes are more than your average slipper. They're comfy but never sloppy. And despite their name, house shoes can handle a quick trip to the backyard or a walk around the block. If you aren't wearing house shoes yet—or you aren't totally in love with the pair you have on right now (assuming—probably correctly—that you are at home)—we've got some suggestions for you.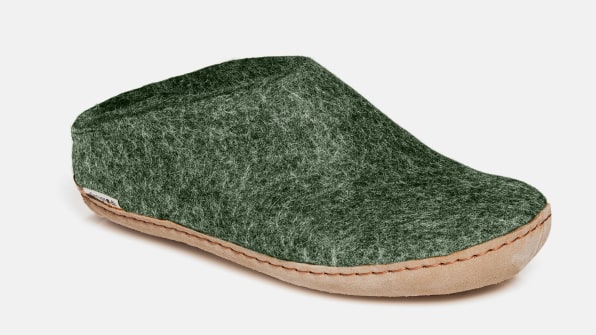 Glerups The Slip-On
If you hate the idea of wearing your house shoes anywhere but under the sanctity of your own roof (and if that's you, hats off—because your hygiene is next level), then these are your perfect match. These cult-favorite slippers are made of steam-felted wool that is formed into socks for a perfect fit before it is stitched onto a soft, thin, quiet leather sole (that is very much akin to a traditional moccasin), so they're perfect for wearing exclusively in the home. They're unisex (so make sure you order the right size!) and are surprisingly breathable for something made of wool. Additionally, the Glerups wool construction means they have naturally-occurring anti-stink and antimicrobial properties, so they are fresh for year-round wear with or without socks.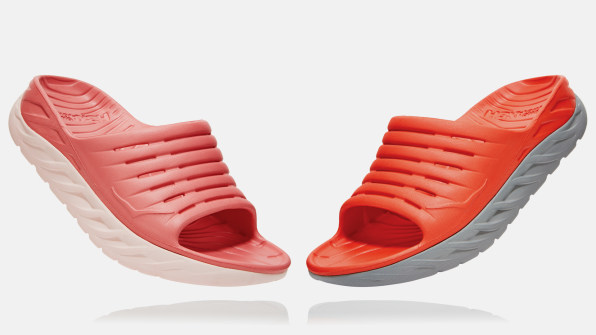 Hoka One One Ora Slide
These plush, featherweight, bouncy foam slides from Hoka are perfect for anyone who loves sandals. Sure, they were designed with folks who run a lot or who have injuries in mind, but they do feel extra nice squishing beneath your feet while you sit at your computer or lounge outside. They have a higher, more structured arch support than what you would find in nearly any other sandal. And because they are open-toed with no fluff or insulation stuff, they can't be beat if your feet tend to run warm. Hoka has also pledged to donate 5,000 pairs of shoes to those who are on the front lines working to fight COVID-19.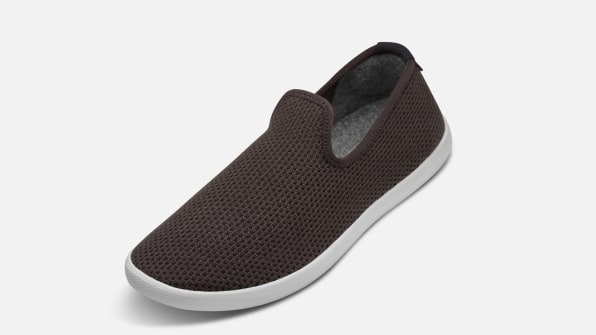 Allbirds Tree Loungers
The Tree Loungers from the do-gooders at Allbirds are not only sustainably made, but they're incredibly comfy (like the take-them-as-your-only-pair-of-shoes-on-an-international-trip-when-all-this-is-over cozy). They're lighter and more nimble than wool shoes, thanks to the super breathable eucalyptus pulp knit that they're made from. And to give them just a touch more durability and a plush feel, Allbirds topped off the Tree Loungers with odor-reducing merino wool insoles and a low-density foam outsole.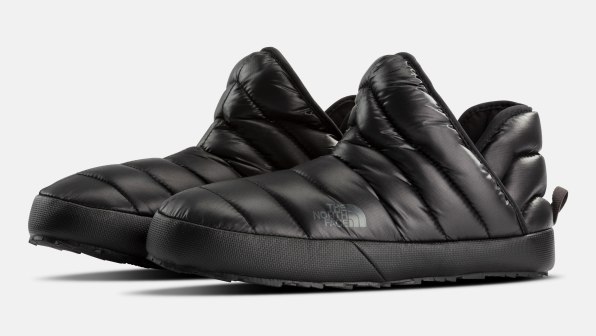 The North Face Thermoball Traction Bootie
Have cold feet? With the Thermoball Traction Bootie,  the experts at the North Face created a soft, moldable slip-on bootie that's ultrawarm and has a covert-but-durable sole that's perfect for those small excursions outside of the house. They're a style that I can only dub half-high-fashion, half-trash-bag—and they're all the more lovable for it. Plus, these booties are made from recycled P.E.T. ripstop nylon and recycled rubber. Oh, and they're water-resistant. Pretty sweet, eh?
Ugg Scuff and Scuffette II
The most iconic house shoes of our time (this is an almost undebatable opinion) are the Ugg Scuffette and Scuff shoe. These lightweight slippers are much more durable than they might appear at first glance (thanks to the rubber sole and quality construction), and the mule style allows enough airflow that they don't get too stuffy—even with the shearling lining. Folks who invest in these tend to get hooked on how practical and wearable they truly are. One Fast Company editor recently told me she put these on in mid-March and hasn't yet taken them off. Yeah, they're really, really comfy.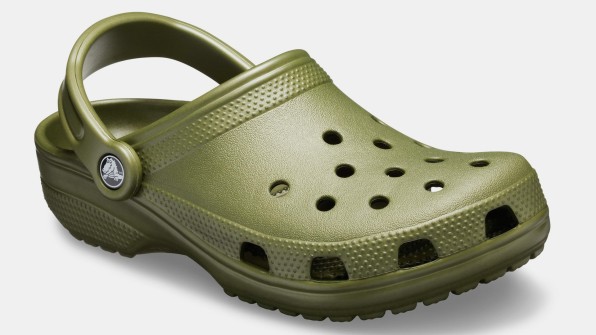 Crocs Classic Clog
Ah, the ever-divisive Croc clog. Those who wear them love them. And those who don't wear them . . . don't get it. These roomy, comfy, and (yes) somewhat ugly shoes are a footwear miracle—that can only be appreciated by the person wearing them. (Such as the FC editor who tells me she hasn't taken off hers since she started working remotely.) One of the biggest selling points of Crocs as house shoes is their adaptability. They're cushy and supportive, they're light as hell, and they come clean with a quick rinse or wipe—which makes them perfect as transitional indoor/outdoor shoes. And they come in basically any color you could imagine wanting. Another bonus: Crocs has currently pledged to donate 10,000 pairs of shoes per day to healthcare workers.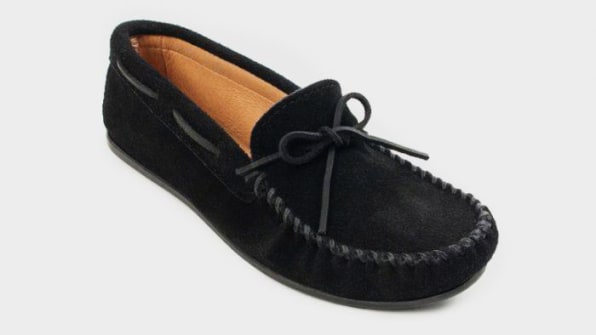 Minnetonka Moccasins
Living at the intersection of a refined loafer and comfy slipper is the Minnetonka Moccasin. Beloved as a classic and made of soft suede leather, this moccasin is adaptable–ready to be slipped on as you kick back and lounge all day or go out for a quick neighborhood spin. The padded insole melts into your feet, and the leather never uncomfortably rubs or chafes—so the break-in period is painless. And if you're looking for a beefier option that can handle everyday wear outdoors, Minnetonka has released the Kilty Plus for women, which has deeply-lugged rubber soles, a cushy midsole, and water-resistant leather.
Looking for more recommendations? Check out our other handpicked suggestions.
Fast Company may receive revenue for some links to products on our site.