It's been a little more than a month since social distancing guidelines became a part of our everyday lives. Barber shops and hair salons have been closed for weeks—and chances are, you're probably thinking about taking matters into your own hands and coloring or cutting your hair at home (if you haven't already). You're not alone. One search of the hashtag "quarantine hair" on social media and you'll see just how amazing, wild (we're looking at you, Hilary Duff), and regrettable doing your own hair at home can be. But to keep you out of the regrettable category, there are plenty of resources from big name hairstylists and pros out there that walk you through (step-by-step) cutting your hair at home.
There are so many great YouTube tutorials on trimming your own natural hair, cutting yourself a lob (long bob) if you have straight hair, trimming your own curly hair at home, and cutting fade yourself. Even celebrity stylists are offering their insights for your at-home haircuts. Chris Appleton (the man responsible for Jennifer Lopez and Jennifer Aniston's locks) has posted a how-to for cutting bangs at home, as well as a step-by-step guide for an at-home men's cut during quarantine. Stylist Brad Mondo posted a tutorial on how to achieve a long, layered fresh cut that you can do all by yourself (no partner needed!) just a few weeks ago that has saved countless (including myself) from split ends. And the video already has nearly two million views.
But quarantine hair is about more than taking the scissors into your own hands. It's about having the tools to make you feel your best during these weird times. Whether you're covering your roots (more on that here), investing in styling products that promote stronger, more manageable hair, or giving yourself a trim, these products are FC tested and approved to help you reach your hair goals, even in isolation.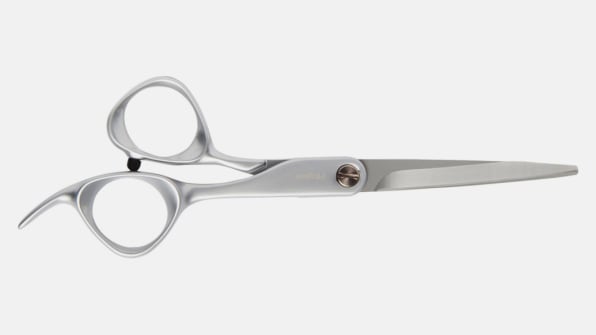 Fromm Transform Shear
If you're going to cut or trim your hair at home, please for the love of your hair do not use kitchen scissors. Traditional kitchen scissors and multipurpose shears do not have a sharp enough or thin enough blade to offer a clean cut to your hair—which can end up resulting in even more split ends. These haircutting shears work wonders on both wet and dry hair, are perfect for trims, and have a long-lasting beveled blade made with Japanese steel that stays super sharp for a more precise cut.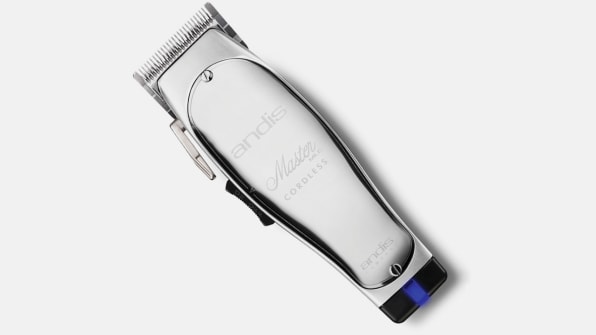 Andis Master Cordless Clipper
If you don't already have a clipper set at home, good luck. The internet is nearly sold out of the at-home clipper kits. But there is one particularly impressive model that is still available. So before you buy pet grooming clippers out of complete desperation, take a gander at the Master Cordless Clipper from barber-shop staple Andis. These cordless clippers can run for 90 minutes on a single charge and are praised for their precision. And whether you prefer a longer cut or you live and die by a good fade, these clippers are compatible with whatever guards you have.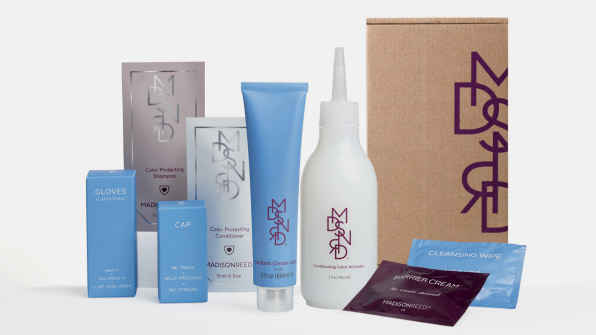 Madison Reed and Color&Co hair dye
If you're used to getting your hair colored in a salon, diving into coloring it yourself can be intimidating. Thankfully, we have two tried-and-true options for you to guide you through your at-home transformation. If you're into clean beauty (or, perhaps, if you live in a small apartment with bad ventilation in the bathroom), Madison Reed's beautiful range of colors will help you freshen up, without exposing you to any harsh chemicals (read more about that here). Their beautiful colors will get shipped right to your door.
Got a more complex hue, tough-to-cover grays, tricky texture, or just need a little extra guidance overall? L'Oreal's Color&Co will connect you with a living, breathing colorist to answer all your questions and create a bespoke dye formula to be shipped right to your house, with instructions included. If you need a pep talk or tips, you can connect with a colorist any time—even after your color has been created.
Olaplex works to repair damaged hair (read: hair that has been colored) by creating synthetic versions of the disulfide bonds that hold the proteins in our hair together. With regular use, Olaplex bonds your damaged hair back together to make it stronger, healthier, and less compromised from the stress that comes with coloring and heat styling. Long story long, this stuff can make your hair stronger and reverses the damage done from that box dye.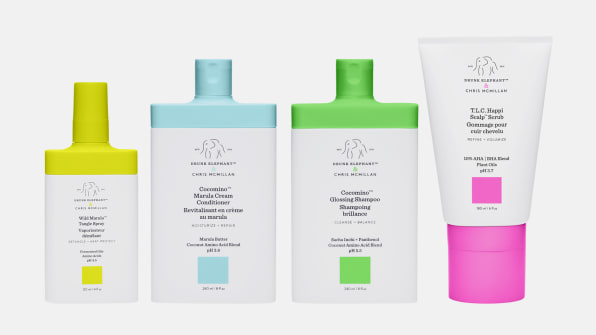 Drunk Elephant Hair Care 
The skincare sensei team over at Drunk Elephant has a haircare line–and it's just as good as you'd expect. Stylist Chris McMillan uses the Wild Marula Tangle Spray on Jennifer Aniston's hair to give it that beachy, healthy texture. And the T.L.C. Happy Scalp Scrub (which is safe for all hair types) helps prevent flakiness and gets rid of product buildup that may be clogging your hair follicles. Using along with Drunk Elephant's Cocomino Glossing Shampoo and Cocomino Marula Cream Conditioner is a surefire mix to get your hair looking (and feeling) softer and healthier, without a trip to the salon.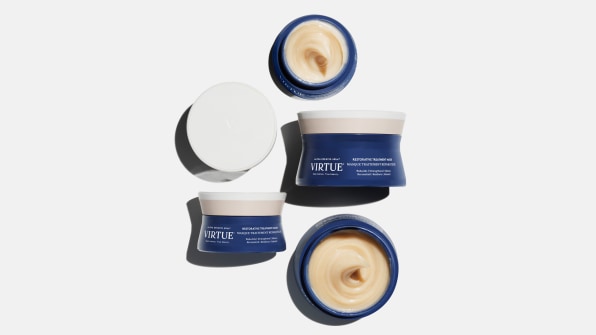 Virtue Labs Restorative Treatment Mask
If there's one hair mask you decide to splurge on, let this one be it. Made with whole Alpha Keratin 60–which is identical to the keratin that your hair is made of–this mask from Virtue Labs literally builds your hair strand by strand to make it stronger, shinier, and healthier. And just as impressively, this mask only needs three minutes to be effective–so you can factor it into your shower time.
Looking for more recommendations? Check out our other handpicked suggestions.
Fast Company may receive revenue for some links to products on our site.