While lots of us are staying off the roads right now, Waze is updating its maps for those who still need to drive.
Starting today, the Google-owned mapping app will show the locations of COVID-19 testing centers and more than 30,000 food pantries across the United States. Waze is also leaning into its community maps editors to highlight areas with new driving restrictions, and later this month it will roll out badges for restaurants that offer drive-through or curbside pickup.
The Waze app has also recently been displaying a pop up that tells users to only drive when necessary. Compared to daily averages in February, Waze says users have reduced their miles driven by 60%.
"We want to make sure that we are discouraging unnecessary driving, but making it easy and simple for people who really do need to take that trip," says Dani Simons, Waze's head of public partnerships.
For emergency food site listings, Waze is working with Why Hunger and No Kid Hungry. The former maintains a national database of food pantries across the United States, and runs a program that connects parents or caregivers with free meal sites for kids.
Simons doesn't expect that Waze will be the first place people look for free meal sites, but she believes the feature may spread by word of mouth as people look for directions.
"I think families will tell families that you can actually go and look for it in Waze," Simons says.
Waze is also currently listing more than 450 COVID-19 testing centers globally, with 35 of those in the United States. Again, the app probably won't be anyone's first stop for this information, especially in the United States where most testing centers require an appointment. Still, Simons says Waze will include operating hours and a link to the centers' website when possible so users can make sure they have the right information before leaving. Government agencies can report additional testing centers through a landing page on Waze's website.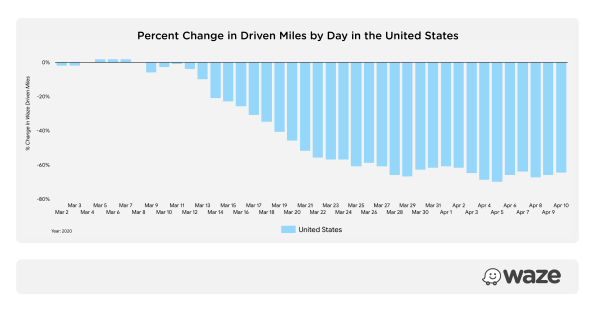 Meanwhile, Waze is leaning on its 30,000 volunteer map editors to mark road closures, and it has adapted its previous work on hurricane evacuation zones to let users report "red zones," where vehicle access may be restricted. As we're seeing in cities like Oakland and Denver, some local governments are starting to shut down roads in response to dwindling traffic, in turn giving people more space to walk, run, or bike. Waze says it has been encouraging users around the world to mark closures after volunteers in Italy began proactively making changes.
"This is like our normal community response, but on steroids," Simons says.
As for food listings, Waze will soon let restaurants advertise safe pickup options, and will roll out map icons that indicate drive-through or curbside pickup. (Those icons will be available even to business that don't advertise in Waze.)
Two apps, two approaches
It's worth noting that although Israel-based Waze was acquired by Google in 2013, it continues to operate with significant independence. Consequently, Waze and Google Maps are responding to the pandemic in distinct ways. Google recently made its own takeout and delivery filters more prominent in Maps, for instance, but Waze's will be even clearer, with badges that appear directly on the map. And while Google is working on a COVID-19 screening website with directions to nearby testing centers—seemingly prompted by a surprise announcement by President Trump—it isn't yet directing users to test centers in Maps or listing food-pantry data like Waze.
That could change in the future, though, as Simons notes that Waze's terms and conditions for submitting information allow for sharing data with Google.
"We want to make sure that if Google thinks that information is valuable, they have access to it as well," Simons says. "Obviously it's up to Google to decide what they're going to use and put into their different services."