Killing Eve, the hit BBC thriller series, returns for a third season on Sunday, April 12, and you know what that means: more soaring shots of Villanelle (Jodie Comer) strutting through gorgeous European locales in amazing outfits with a vintage 1960's biker girl soundtrack.
It also, of course, means more of the tainted love between absurdly lethal assassin Villanelle and former MI6 agent Eve Polastri (Sandra Oh). Theirs is the central dynamic at play in the show, and it is more fraught than any other relationship currently on TV.
"What do you want from me, Eve?" Villanelle asked, in the back half of season two. "Do you want me to love you, or do you want me to frighten you?"
Eve's answer, which probably didn't surprise anyone who'd been paying attention, was "I don't know."
In season three, however, the rotating game of cat and mouse has changed. Before diving back in on Sunday night, here are three things to know before catching up.
How the second season ended
The second season of the show created an enticing new villain in Aaron Peel (Henry Lloyd-Hughes), head of a Google-like tech giant hellbent on weaponizing information. After Eve's attempt to use Villanelle as bait to catch Peel in evil action ends with Villanelle slitting Peel's throat—which may have been Carolyn Martens's (Fiona Shaw) plan all along—the pair goes on the run in Rome.
"Everything is going to be perfect, trust me," Villanelle says to Eve, while leading her through a shady tunnel in the Italian capital.
Trust Villanelle at your own peril, though. When Eve rebuffs Villanelle's plan for the two of them to hide out together in Alaska, Villanelle shoots her in the back, ostensibly fulfilling the show title's prophecy.
Of course, if you think that on the other side of this cliffhanger lies a deceased Sandra Oh, let me introduce you to this new thing called How Television Works. You're in for a treat!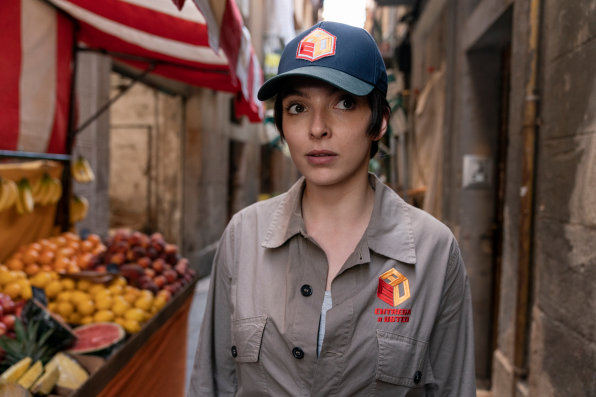 All the loose threads from season two
We know that Carolyn Martens engineered the situation in which Villanelle killed Aaron Peel, with an assist from Villanelle's handler, Konstantin (Kim Bodia), but we have no idea how the result is going to go over for her with the top brass at MI6. As for Konstantin, he and Villanelle part ways with the assassin swearing vengeance upon him and his whole family.
But what of the hunky young dudes on the show?
Kenny Stowton (Jamie Delaney), the MI6 ex-hacker son of Carolyn Martens, is last seen whispering a prophetic warning to Eve: "Do not go to Rome." When Eve did go to Rome, however, she ended up sleeping with dashing young agent Hugo (Edward Bluemel) and then ignoring his pleas for help after he is later shot on the stomach.
At the end of season two, his fate is unknown.
Finally, there is Niko Polastri (Owen McDonnell), Eve's long-suffering school teacher husband who finally snapped and decided a separation was in order. At the end of the season, Eve has no idea that Villanelle has beaten up Niko and asphyxiated to death his new love interest, Gemma (Emma Pierson).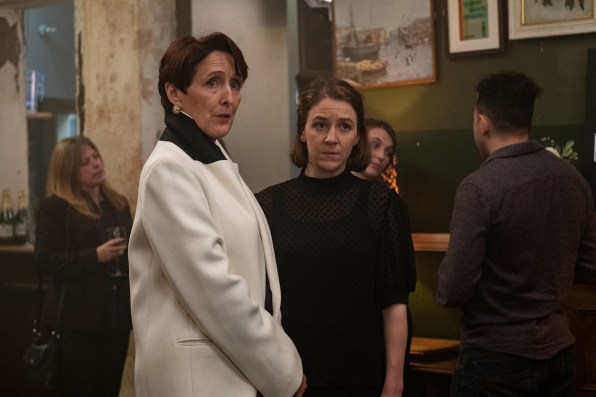 Who is at the helm
Killing Eve is the rare series that's found a different showrunner at the helm for each season. Originally based on the Villanelle series of books by Luke Jennings, the show was first adapted by unstoppable renaissance person Phoebe Waller-Bridge, who handed the reins over to Emerald Fennel in season two.
Being the showrunner of Killing Eve seems to be quite the career boost, based on Waller-Bridge's subsequent Emmy wins for Fleabag season two and recruitment to write for the new Bond movie, not to mention Fennel going on to create the much-hyped forthcoming film Promising Young Woman.
Next up is Suzanne Heathcote, a British playwright residing in America, who has worked on Fear the Walking Dead and Apple TV Plus's See. All I can say from having seen a handful of the new episodes is that Heathcote appears to be a big fan of Villanelle, which should be good news if you are too.