The coronavirus has plenty of small businesses, from local restaurants to music teachers, looking to move their operations online fast.
To make that transition a little easier, Mailchimp, the Atlanta-based online marketing service, is offering free domain-name registration for five years to businesses using its site-building tool—launched last year and just emerged from beta, and also free—to set up their web presences. Other site-builder companies such as Squarespace and Wix offer one year of domain registration to businesses that sign up for paid hosting, but Mailchimp's offer is notable for its length and lack of obligation to pay for anything at all. (Presumably some of the new customers the company finds will end up subscribing to paid tiers for other services such as email marketing, which start at $10 a month.)
Setting up a domain name, such as fastcompany.com or example.biz, can be a sticking point for businesses just setting up online, says Mailchimp chief product officer John Foreman. That's because unlike other online services like email or a social-media presence, it generally costs money to register and host the domain, before the business even has time to test whether it's worthwhile operating a website.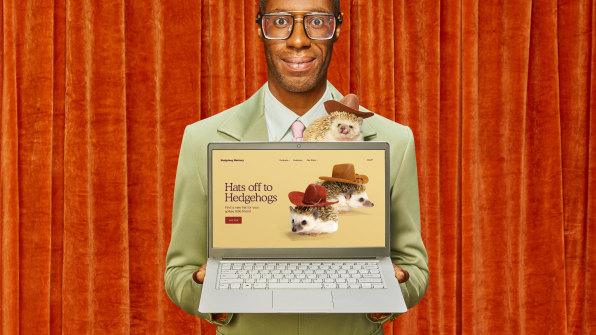 "There's sort of this internet tax you pay right at the outset before you know if this thing you're going to do is going to work," he says.
Once companies have set up a domain name with Mailchimp, they can use it for whatever they like, including other services not hosted by Mailchimp such as email. It remains free for up to five years—a value of up to $125–as long as they continue to use Mailchimp's website hosting, If they decide to move away from Mailchimp, they can transfer the domain to another, generally paid registration service.
"It's their domain," Foreman says. "It can be used for all the things that a domain can be used for."
Beyond the inbox
Mailchimp in recent years expanded beyond its roots as an email marketing service to offer additional services such as the website builder, a customer relationship management system, and social media advertising tools, primarily aimed at small businesses. The idea for a free domain registration for customers building websites was already in the works when the company began thinking about ways to help new and existing customers through the pandemic, Foreman says.
In addition to setting up websites where people can learn about business and buy services, Foreman says he sees Mailchimp customers using the company's services in other ways, too, as they cope with the virus outbreak and resulting storefront closures. Lots of businesses are emailing their customers to explain what services they can offer during stay-at-home orders, whether that's online shopping or gift card sales, streaming classes, or offering curbside meal pickup for customers who can't dine inside a restaurant. They're also using Mailchimp's survey-building tools to poll customers on what offerings might actually be useful. And Mailchimp itself is holding Zoom sessions to understand what its users now need.
Mailchimp has also instituted several programs aimed at helping businesses weather the pandemic, including dedicating up to $10 million to give free services to small businesses in need of financial relief. It's also temporarily giving free service to local governments, schools, nonprofits, and other similar organizations that are sending public health-related information using Mailchimp, and has set up a website with guidance on reaching customers during the pandemic.
While the virus emergency is temporary, Foreman says he expects that some brick-and-mortar or in-home businesses that hop online during the pandemic will end up being more fully virtual even once the situation passes. At least one martial-arts studio the company works with has reported boosted profitability after switching to online instruction, he says.
"For some, it's not a good fit," he says. "For others it is. It may actually be an improved fit."