For Fast Company's Restaurant Diaries, we're asking chefs, restaurateurs, and food-world employees to take readers inside their businesses and lives at this critical moment for the industry. 
---
Andrew and Peggy Cherng, co-founders and co-CEOs of the Panda Restaurant Group, have been serving up American Chinese comfort food since they opened their first Panda Express in Glendale, California, in 1983. Today, they operate some 2,200 restaurants in the United States and employ more than 40,000 people. In the past month, they have had to find new ways to operate their restaurants and protect their employees—all amid an atmosphere of rising racism. Here's what they've been doing. 
There is fear that we hear in the voices of our people—a fear that comes with the simple question: "Why me?" Each Panda associate is worrying about their families, friends, and coworkers. Each is wondering why their jobs have been declared an essential service, and why they are now counted on as members of the frontline. In a way, their paychecks are the source of their fears. Do they risk their health to get one? Knowing that this crisis is not a matter of 14 days but of the many months to come, all we can do as their leaders is reassure them that we will do everything we can to understand how they feel—and that as a company, we will create the safest and steadiest way for them to do their work.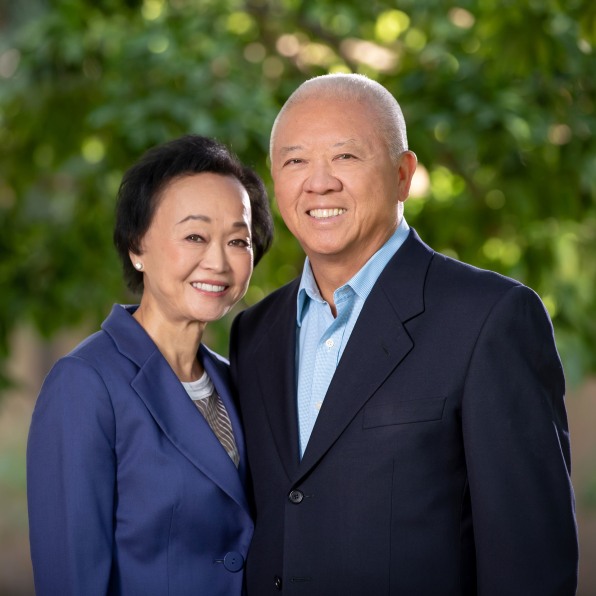 At the beginning of this crisis, so many questions flooded our minds, but they all boiled down to: How can we help our guests and associates feel and be safe? Over the course of a few short weeks, our Panda COVID-19 Task Force has been implementing solutions. We shifted our business model, closing our dining rooms early nationwide as a precautionary measure and launching a simpler menu to keep orders streamlined for our operations teams on the ground. We rolled out contactless pick-up for locations that can seamlessly make that happen, and worked to drive a steady (but not overwhelming) amount of traffic to online orders, drive-through, and pick-up, so our associates can get the hours they need for themselves and their families. 
We got our associates the gloves, masks, and hand sanitizers they need, and we established new benefits for them, including health and safety pay, change of operations pay, store closure pay, and appreciation pay. We also expanded our health insurance and paid sick leave and established dedicated hotlines for associates to address mental and emotional stress and COVID-19 medical questions with specialized crisis care nurses. Finally, we advocated for the federal relief bill that will provide aid to the restaurant industry and its workers.
The shifts and pivots will no doubt continue. Every morning, there is a new ordinance, new report, or new issue that seemingly puts us back to new starting blocks. Two weeks ago, for example, our New York operations leaders had to make a hard choice to temporarily close all 11 locations as the situation was getting worse in Manhattan. Before these restaurants closed, our frontline associates cooked up hundreds of hot meals and donated them to healthcare workers at local hospitals. With our new policies, these associates will have health insurance and be paid for up to six weeks. We must anticipate store closures and modified operations throughout the nation as the wave of city lockdowns continue.
We won't deny that business has been impacted in a way that we have never before experienced at Panda. But it is not just the financial struggle that brings fear; it is something darker: a heightened form of xenophobia. Being an American Chinese company at this time, albeit one beloved by so many, has highlighted the misunderstanding of culture and ethnic identity in the most unfortunate of ways.
When we hear about our people being bombarded with racist heckles because they are of Asian descent or simply because their company cars bear the name "Panda Express," we shake our heads in deep disappointment. The most heartbreaking part is seeing the rising violence against the Asian community. When we are all fighting against the same "invisible enemy" and literally fighting for our lives, why is there a need to place blame on the innocent? What will the hate do? It is an old story to label things that look foreign or seem foreign as dangerously foreign. And it is a destructive mistruth to revive fears about good people as a "yellow peril."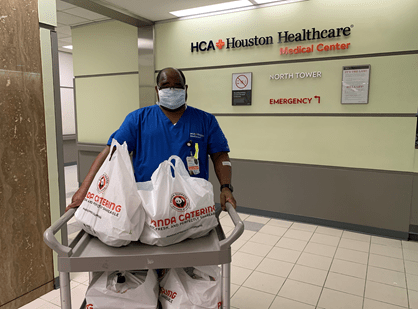 Our company is unapologetically American Chinese and unapologetically made of people of all colors and backgrounds. The beauty of Panda is that we have a nearly 50-year-long history of introducing Chinese flavors and traditions and bridging cultures. We like to think that we've used food to make what may seem foreign more familiar and, ultimately, create an appreciation of cultural difference. 
We take very seriously the responsibility to bring comfort to the communities that crave it most right now. As many of our kitchens as possible will stay open so we can feed the healthcare workers, supply drivers, teachers, first responders, and the essential workers who are tirelessly trying to keep America going. And across our U.S. locations across, our associates are fundraising to support the healthcare community through our Panda Cares box program, which encourages guests to give. All funds raised between March 25 and April 18 will go toward sourcing and donating personal protective equipment (PPE) to healthcare workers in COVID-19 hotbeds like Washington, California, New York, and New Jersey. We will personally contribute to the fund as well.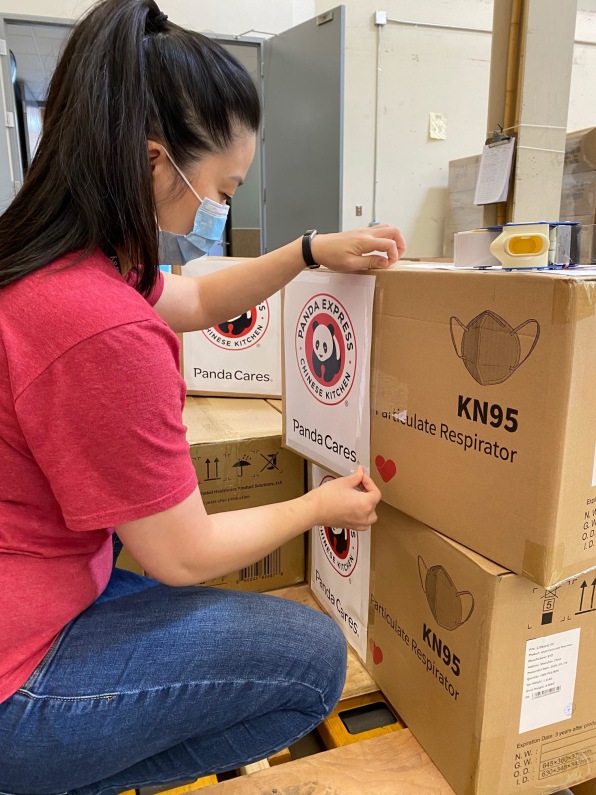 Sourcing KN95 respirator masks to donate—and providing single-use masks for our frontline associates—has proven to be one of our biggest challenges. With the nation's supply shortage, we are pulling out all the stops, leveraging long-time relationships with friends and partners in Asia to supply masks, gloves, face shields, and gowns. All this gear—hundreds of thousands of items and counting—are being hand-delivered by our people, frontline to frontline. The first batch, about $2 million worth of face masks and gloves, is already on its way to hospitals in Los Angeles. 
This pandemic has impacted the whole of humanity. And all humans need to dig deep and give in ways that we never imagined before. The most beautiful thing is seeing our associates meet the needs of the people around them. One of our teams recently delivered meals and PPE to a hospital in Los Angeles. Afterward, one of the doctors sent through a thank-you note to the team, which read, "At a time when it would have been far easier and understandable to hunker down and focus solely on your own, Panda lived its mission of bringing hope to others . . . It is great to know that someone has your back in a crisis like this." Upon reading this, an associate texted her supervisor saying, "When is the next one? Count me in #PandaStrong #PandaProud." 
More from Fast Company's Restaurant Diaries: