If your social media feeds are filled with photos of banana bread, rudimentary watercolor paintings, and beginner sewing projects, it may be more than just people acting out of boredom. They're likely getting other benefits from those efforts, too.
Creative practices can offer a buffer against stress and anxiety, says Girija Kaimal, an associate professor in Drexel University's creative arts therapies PhD program and president-elect of the American Art Therapy Association. Creating things, especially in the face of uncertainty, fear, or other distressing and unsettling emotions, is an innate drive, she says.
"It speaks to our own individual identity and our need to have a sense of agency and control over our lives and over our time," Kaimal adds.
How it helps
There's never been a better time for that sense of control, as anxiety about getting sick and/or losing income pervades our lives. Finding a way to alleviate those worries can have positive effects on both mental and physical health. As I previously wrote for Fast Company, researchers have found that creative pursuits can be mindfulness exercises.
Practicing simple creative acts on a regular basis can give you a psychological boost, according to a 2016 study in the Journal of Positive Psychology. A 2010 review of more than 100 studies of art's impact on health revealed that pursuits like music, writing, dance, painting, pottery, drawing, and photography improved medical outcomes, mental health, social networks, and positive identity. It was published in the American Journal of Public Health.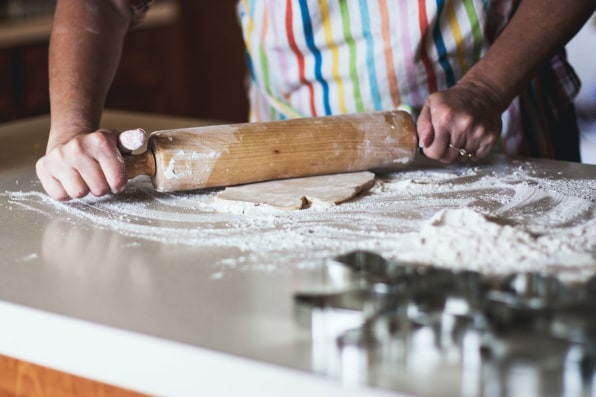 And it's not just art: Activities like cooking, baking, and gardening were linked to more positive well-being, according to research published in the Journal of Happiness in 2018.
Other research found that a creative practice is the gift that keeps on giving: In 2016 research, Kaimal and her team found that, after 45 minutes of making art, subjects reported feeling more relaxed and their cortisol levels were lower. And they also, said the practice gave them a desire to make more art.
A call to art
Grief counselor Mary Potter Kenyon coordinates programs for the Shalom Spirituality Center in Dubuque, Iowa, and describes achieving a sense of "flow" when she's writing. She's organized two creativity groups and integrated creative practices into her grief retreats. The thing that stops many people from embracing a creative practice is a fear of starting or not being good at it, she says. At one of her creativity group sessions during a painting session, a woman stood up to leave because she didn't think she could do it. Kenyon and the woman's friend had to coax her to stay.
"It doesn't matter what it looks like. We're just here to have fun. But it's so hard for us to tell ourselves that because we look at the word 'creativity' and what you are thinking of is Michelangelo," she says. "That's not what being create creative is."
So, it doesn't matter if your watercolors run or the cake is lopsided. The point is to find a way to use your hands and your mind to create something. And, chances are, you'll get better with practice," she says.
Getting started
Where should you start? Think about the different disciplines and what's appealing to you, Kaimal says. Start doing things you enjoy. If you can, make a small space for them in your home, so that you can practice them when you have time.
Or start with something simple, like drawing, says Emily Shepard, founder The Graphic Distillery in Berkeley, California, is an illustrator, artist, and graphic facilitator who has taught visual thinking workshops at the UC Berkeley and Stanford University, among others. Drawing slowly can be meditative, she says and suggests grabbing a few blue markers and turning a piece of paper into a landscape, as she does in this video. Or, make a collage of notes on a photo to create a "reminder image" of calming images, words, and graphics.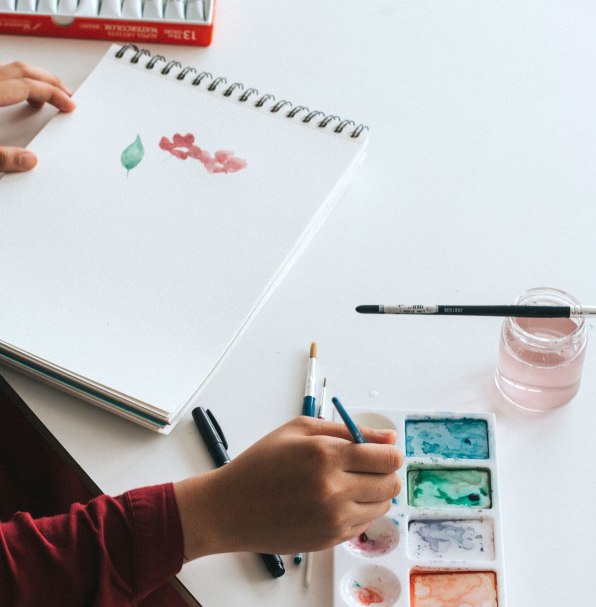 The COVID-19 quarantine has also led to a number of interesting opportunities to learn various arts disciplines. You could get a kick-start from a book. Some famous illustrators are offering free drawing classes. Learn to develop a video game. Or even participate in something like the Getty Museum's viral social media challenge to re-create famous works of art using items found in your home. And, of course, you can find online videos about most creative pursuits on YouTube.
Clearly, many of the challenges we face won't be cured by painting, baking, or playing with clay. However, spending time making something you enjoy can be a welcome reprieve from an onslaught of challenging news and circumstances.