Nursing homes have long been seen as grim and sterile, but during the COVID-19 pandemic, they've also been fatal. While elderly people and those with preexisting conditions are high-risk populations, the infection's rapid rate of spread is also due to the way nursing homes are designed. Most rooms have two or four beds that are placed in close proximity; sinks and windows can be hard to access; and dated systems require surfaces to be frequently touched. In the face of coronavirus, it's time to rethink how nursing homes are designed. Here's what experts suggest.
Give residents more space
As it stands, "cluster neighborhood design" is the standard for nursing homes around the world, which often has 40 to 50 residents living in a single wing, with two to four people per room. Reducing these clusters to 12 people maximum, each with their own room, would help limit virus transmission while allowing for more targeted and intimate care. "Within that cluster, they have their rooms but [there's a] living room, dining room, [and a] nurse station [with] administrative support," according to Bryan Langlands, a principal at NBBJ who focuses on the design of healthcare spaces. "The easiest way to help mitigate prevention and spread of COVID-19 is certainly to no longer build any double-bedded, semi-private rooms."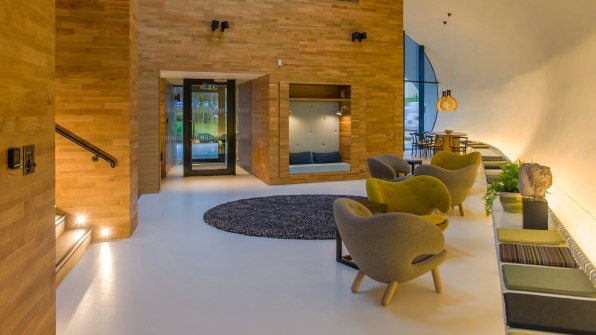 Maggie's Cancer Caring Center, a post-cancer treatment center in Scotland, uses a similar approach. The transitional space is designed for patients who no longer need to be in the hospital but aren't ready to fully integrate back into independent living. The pavilion of individual rooms allows family members to visit patients, primarily elderly people, while they receive medical treatment. The goal is to provide patients with continuing care without exposing them to infections and viruses at hospitals, as well as to offer a more restful space that promotes healing.
That was also the idea behind Oslo's Outdoor Care Retreats, a cluster of outdoor cottages where hospitalized patients can recuperate in a more secluded setting while still socializing with friends and family. The patients are under the supervision of the nearby Oslo University Hospital, located only 100 meters away.
"Isolation seems to be working [to prevent infection], but on the other hand, will generate a lot of loneliness and maybe a separation of families," says Kjetil Thorsen, founding partner of Oslo-based architecture firm Snøhetta, which designed both Maggie's Cancer Caring Center and the Outdoor Care Retreats. During a pandemic like COVID-19, isolating elderly people in cottages that select relatives are able to visit could prevent the spread of the virus while mitigating the isolation that comes from the nursing home lockdowns.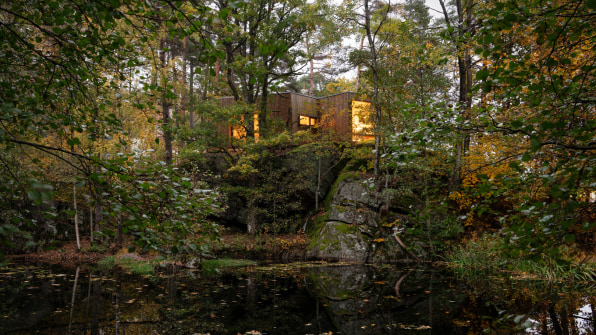 Create healthy environments
Artificial, fluorescent light is known to decrease levels of melatonin, which controls our circadian rhythms. When this "body clock" is interrupted, it affects sleep, hormones levels, and blood pressure; compromises the immune system; and can increase the risk of developing illnesses like depression and diabetes. Using design to boost the psychological health of nursing home residents could be more of a priority at many of these spaces.
Thorsen promotes taking what he calls an "archiceutical" approach to nursing home design. He believes architecture itself can have positive effects, much like pharmaceuticals do; "healthy" design choices, like providing light therapy through an abundance of windows, placing structures in natural landscapes, and decorating with mood-enhancing colors like blue or yellow can all contribute to healing.
For nursing homes that are already built, it's not easy to restructure the space—the best solution may be to rethink how these facilities are designed moving forward. In the meantime, Thorsen suggests removing unhealthy elements from these buildings. Materials that generate gases, like glues and paints, should be eliminated so residents aren't inhaling toxins (particularly since COVID-19 attacks the lungs). Heating systems that overproduce static ionic electricity in the air are another concern, as they harbor pathogens and affect breathing.
Redefine community
COVID-19 has laid bare just how problematic current nursing home design standards are. But if we want to make truly meaningful changes, we might have to rethink the entire model. Langlands sees a future where populations of all ages live together in a blended community environment. "There's a really progressive thought about nursing homes and elderly care, which is having housing that mixes the elderly with the young. where you have kindergartens and daycares and reduced rents for younger people," Langlands explains. "The elderly will spend time with the daycare during the day; the children love it and the elderly love it. It makes the mental acuity better."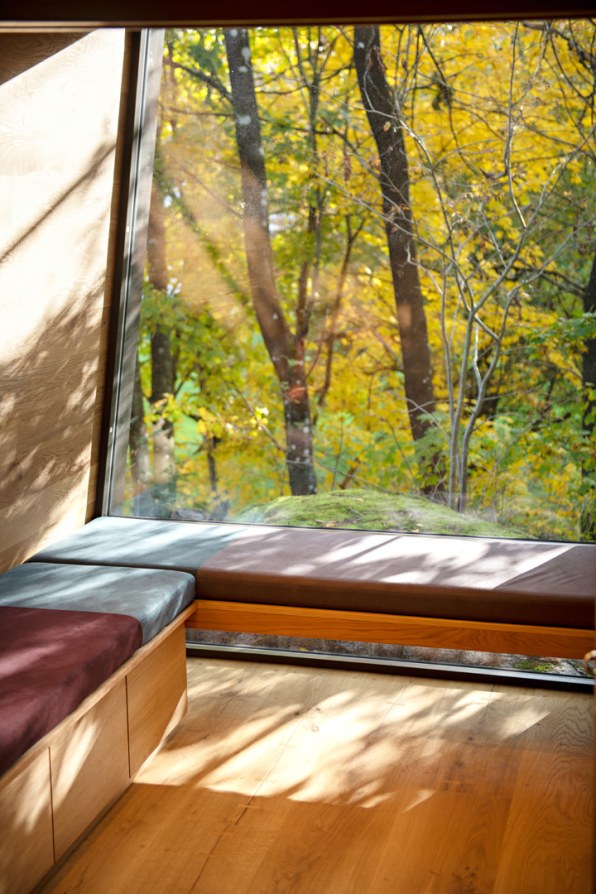 This solution doesn't necessarily guard against infection spread, but it does address some of the more systemic issues of eldercare: isolation, loneliness, and mental health, which can be detrimental to physical health as well. Snøhetta's Thorsen also believes that an ideal setup would integrate different generations to help build community. One piece of that is designing spaces that are more flexible so that during a crisis they could be reconfigured to best serve that moment (for instance, putting all infected patients in one wing to limit the virus's spread).
Of course, none of these changes come cheap, and, as The New York Times reported, many nursing homes already operate on "razor-thin profit margins." Implementing wide-scale changes to the industry would mean acknowledging the importance of design on mental health—and of mental health on overall wellness. It would mean reprioritizing the elderly and their role in a vibrant community. And, most significantly, it would require a massive overhaul of the healthcare system. It's a heavy lift, to be sure, but if anything is going to jump-start a revolution in our approach to eldercare, it's a disaster.
This article has been updated to better reflect the impact of COVID-19 on nursing home residents.