Long shipping times got you down? Everything seems to be out of stock? Just don't want to be utterly dependent on one monolithic company for all your shopping needs? Here are online retailers—some old, some new—that you can use to get what you need while we all ride the current crisis out together.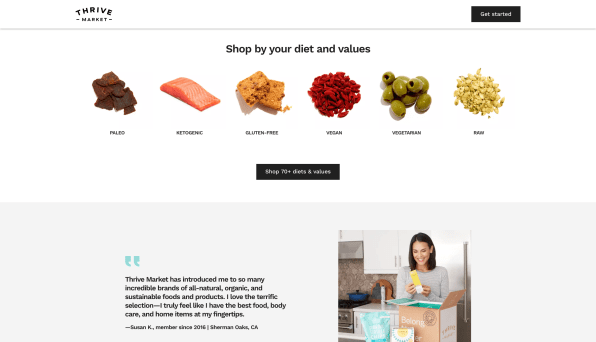 Food
There's no shortage of places to order food, but if you're looking to keep things on the healthier side without breaking the bank, take a look at Thrive Market to see if it's got some of your staples. The site stocks more than 6,000 items, with an emphasis on "whole" and organic options, and you can shop by lifestyles such as keto, gluten-free, raw, and many others. The main catch is that Thrive charges a $60/year or $5/month membership fee and requires a $50 order to qualify for free shipping. But those costs help offset the weight of bulky items like canned goods and similar selections. We here in the Aamoth household use it for everyday items such as cereal, crackers, sauces, snacks, and the like, and find it to be priced similarly or a bit less than Whole Foods.
Medicine
You don't need a Flexible Savings Account—or FSA—to shop at FSA Store, but if you've got one, this site can put it to work. It stocks thousands of FSA-eligible products at reasonable prices, including pre-packaged kits for various conditions. Shipping is free for orders north of $50 or a flat rate of $6 for ones under $50.
Kids and babies
Anyone with young kids is likely used to an endless parade of diapers, wipes, creams, and vitamins sauntering through the front door. Simplify the experience with Hello Bello, which lets you build $65 diapers-and-wipes bundles that ship out for free. There's also a selection of adult multivitamins that help you sleep better, boost immunity, and feel more energized—all crucial tools in the parenthood arsenal.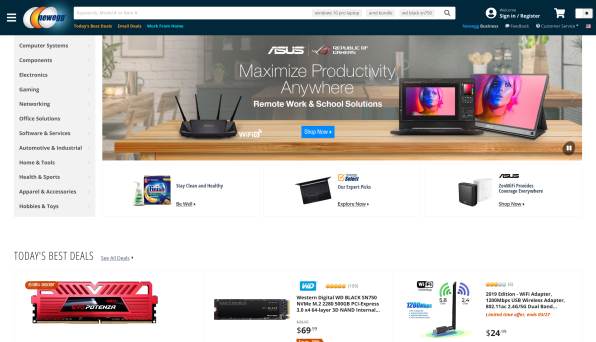 Tech and gaming
What better way to pass the time than with some gadgets, games, and gizmos? E-commerce stalwart Newegg has a gigantic assortment of goodies, with cheap or free shipping on most orders. Build a computer, order some PlayStation games, or upgrade your wireless network while you're holed up inside. The site also stocks a selection of fitness equipment, sporting goods, apparel, and hobby items for good measure.
Home improvement
Since a trip to Home Depot might not be in your immediate future, fire up Hardware World to see if it's got what you need for that project you've been meaning to tackle. The site boasts more than 40,000 products and offers same-day shipping for most products (shipping isn't free but it's weight and zip-code based, with several methods to choose from). Categories run the gamut from automotive to electrical to landscaping to plumbing, and just about everything else in between. It's like poking around your neighborhood home improvement store—just from your couch and without the giant orange shopping cart.
Educational toys and games
It can be tempting to load up on mindless toys to keep your kids occupied, but the well-named Fat Brain Toys aims to keep young minds active while they're having fun. Items can be shopped by age from babies to teens, and there are sections devoted to special needs, teachers, schools, and businesses. Shipping costs a flat $4 per order to the contiguous U.S. in 3-5 days via UPS.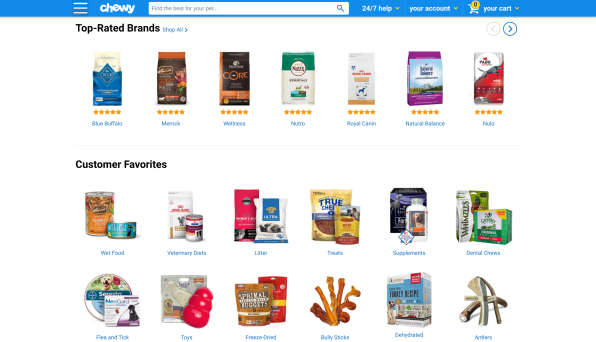 Pets
Your pets probably aren't used to seeing you around this much, but they're hopefully happy to share the daytime with you nonetheless. Keep their bowls filled and the squeak toys coming with Chewy, which offers free expedited shipping on orders of $49 or more. You can also sign up for recurring shipments of your commonly ordered items, which nets you a 30% discount on the first order and 5-10% on subsequent ones.