Back in 2010, Apple released one of the most practical, likable products in its history: a second-generation MacBook Air that fixed all the notable downsides of the original 2008 version of the wedge-shaped thin-and-light notebook. I bought one and became a happy customer. And I had lots of company: the 13″-screen machine and its successors became the de facto laptop of choice for everybody from college students to Silicon Valley types.
But by 2017, when I was shopping for a new Mac, I'd outgrown the Air. I wanted a retina display and 1TB of storage–features which the aging Air line didn't offer at the time. (By then, the lack of retina—a technology that had debuted five years earlier for the MacBook Pro—seemed like a sign that Apple had lost interest in the Air.) Somewhat reluctantly, I sprung for a much pricier MacBook Pro.
The MacBook Air showed signs of life in 2018 when Apple finally released a model with a retina display. But the new version had Apple's "butterfly" keyboard, which had too little travel for some tastes and worrisome reliability issues. And the starting price crept up to $1,199 (later reduced to $1,099) vs. the previous $999.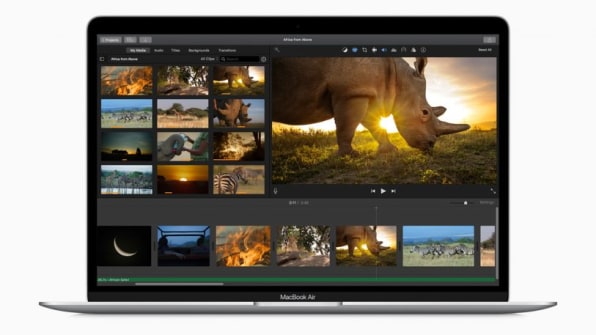 Now Apple has a new MacBook Air.  It isn't that new: it has the same industrial design as the one it's replacing, and has no all-new features. But like last year's 16″ MacBook Pro, it sports Apple's "Magic Keyboard," with comfier keys and no signs of the butterfly's fragility. Just as important, Apple has knocked the starting price back down to $999 and doubled the standard storage to 256GB, making for a much better deal. (That's with an Intel Core i3 processor; unlike the previous Air, this one lets you choose between i3, i5, and i7 chips for varying tradeoffs between price and power.)
These changes, though far from historic, fully return the MacBook Air to its classic sweet spot of style, quality, and value. Once again, it's clearly the best choice for the vast majority of people who want a Mac portable, many of whom should be just fine with the entry-level $999 variant.  Having spent a few days with a unit provided by Apple—the midrange $1299 version with a Core i5 processor—I didn't miss my Pro at all.
Full disclosure: I mostly use my MacBook Pro at home, and portability is therefore not a critical factor, so I'm smitten with the idea of someday splurging on a 16″ MacBook Pro. But if I were buying a 13″ Mac laptop today, I would unhesitatingly return to the Air fold.
Keys to comfort
I am blessed with fingertips that willingly adapt to all sorts of typing scenarios—good, bad, and indifferent. So I didn't actively hate the feel of Apple's butterfly keyboard, which sacrificed desktop-like comfort in the interest of thin design. But even as an easily satisfied typist, I found the Magic Keyboard a substantial improvement. Its switches—based on the more conventional "scissors" design—provide noticeably more travel and a reassuringly solid feel vs. the wobbly feedback of the butterfly mechanisms. Keyboard obsessives will also be pleased by the return of the "Inverted T" arrow-key layout, which makes it simpler to cursor your way around without looking.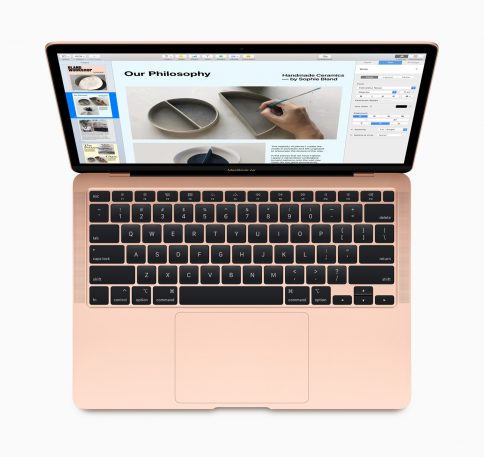 As for the question of reliability, there's no evidence that the Magic Keyboard, which arrived last year on the 16″ MacBook Pro, is as trouble-prone as its butterfly predecessor. That one's switches could be bedeviled by hazards as small as bits of dust and had issues even after Apple revised their design, leading to a stopgap repair program.
(For the record, my own two-and-a-half-year-old MacBook Pro's butterfly keyboard has fared OK except for a slightly wonky "M" key—though just recently, a couple of others have acted up enough that I'm thinking about taking the system in for servicing once Apple's stores reopen.)
This upgrade is about getting the MacBook Air back to its winning fundamentals, not pushing it into the future.
Beyond the MacBook Air's iconic, slimming wedge design, one of the most obvious differences between an Air and a MacBook Pro is that the Air doesn't have Apple's Touch Bar—the skinny color touchscreen that replaces the function keys and adjusts on the fly to different computing situations. (For example, it allows you to adjust volume and screen brightness by swiping, lets you browse emoji when you're typing, and displays editing shortcuts in Photo.) I was
intrigued by the Touch Bar when it first appeared
, but after living with the one on my MacBook Pro, it's never felt like a necessity. Actually, as I used the new Air, with its conventional function keys, it was a relief to know exactly where my fingers would find the volume and brightness controls.
If you love the Touch Bar, it's an inducement to choose a MacBook Pro over an Air. But I suspect a plurality of folks will either be willing to do without it or will actively prefer function keys in their traditional, plasticky form.
Two ports and an old camera
With the questionable butterfly keyboard gone, the new MacBook Air still has room for improvement in a few non-deal-breaking areas. Its two USB-C ports are half what you get on the MacBook Pro, but should be sufficient for typical users. However, I do wish there was a USB jack on each side—as in the old-old 2010 design—rather than two on the left. That would make plugging the laptop into its power brick more convenient in instances when you're snaking the cable up from the right.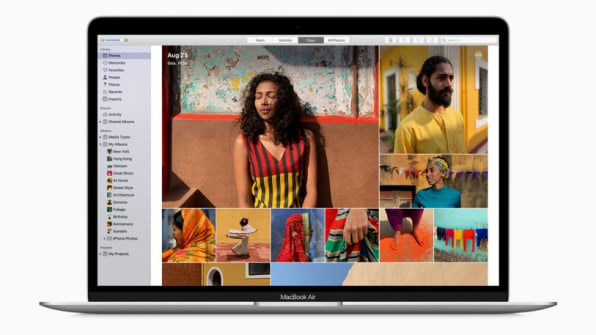 As many reviewers have pointed out, the Air's 720p front-facing camera is a bit archaic by today's standards. And even though the Touch ID sensor in the upper right-hand corner of the keyboard works well, the TrueDepth camera necessary for Face ID, as seen on the iPhone and iPad Pro, would be a welcome addition. (Windows laptops offer facial recognition in the form of Windows Hello.)
In short, this upgrade is about getting the MacBook Air back to its winning fundamentals, not pushing it into the future. It's nice to think that the venerable Air line might remain relevant five or ten years from now—but its 2020 incarnation doesn't tell us anything about where it's going, long term.
---
Related: The MacBook Air and iPad Pro are more alike–and different–than ever
---
And Apple isn't saying much either, other than occasionally dismissing the idea of giving MacBooks touchscreens, detachable keyboards, and other renovations designed to turn them into something other than classic laptops. The company has the iPad Pro and its upcoming Magic Keyboard for such experimentation. Still, if current wisdom pans out, Apple is on the cusp of moving the Mac to power-efficient, Apple-designed chips akin to those in iPhones and iPads. That historic platform shift will be an opportunity to rethink the MacBook proposition in general.
Of course, plenty of people aren't looking for their next computer to be an experiment or a statement about the future. They want something that will be a pleasure to use for at least a few years, with a minimum of surprises. Judged by that criteria, the new MacBook Air is ingratiatingly polished and familiar—and that, for now, is enough to recommend it.