Working from home is the new reality for people with office jobs. And that means that we're spending a lot more time on video calls. But if you don't want to put on makeup or your desk isn't quite as clean as you'd like when talking to your boss, there's some good news.  There are actually a slew of filters that can transform you (or your space), although I'll let you decide what's "professional." At least you're not in your pajamas. Consider this your comprehensive guide.
If you need an instant glow-up
This might be the OG filter. Popular conference call software Zoom has a softening feature that just-so-slightly smoothes and brightens up your skin, making you a little more put together for that early morning videoconference. If you want a subtle touch-up with no actual makeup required, this is the one for you.
How to enable: Download and open Zoom. Once you've launched your meeting, click on the up arrow next to the video icon in the bottom lefthand corner. Click on "video settings" and then "video" in the lefthand menu, and check "touch up my appearance." It will stay activated until you turn it off.
If you wish you were traveling the world
Zoom also lets you add virtual backgrounds—such as the Golden Gate Bridge, some grass from the perspective of an ant, or a view of the earth from space (just in case you want your backdrop to look like a Windows Vista desktop). If you're less than nostalgic for the year 2006, you can also add custom backgrounds of your own.
How to enable: Once you've launched your meeting in Zoom, click on the up arrow next to the video icon in the bottom lefthand corner. Click on "choose virtual background," then pick your background of choice. Or add your own by clicking the small plus sign on the right to choose a background photo from your personal files.
If you WF your bed and don't want the world to know
West Elm unveiled a series of images that will give your coworkers apartment envy. These virtual backgrounds do more than filter your face—they transform your whole space. Essentially, they give you a built-in green screen that blocks out your actual home and gives the appearance that you're working from the airy apartment of your dreams (or poolside, if that's more your thing). All of the furniture in the photos is available for purchase, too.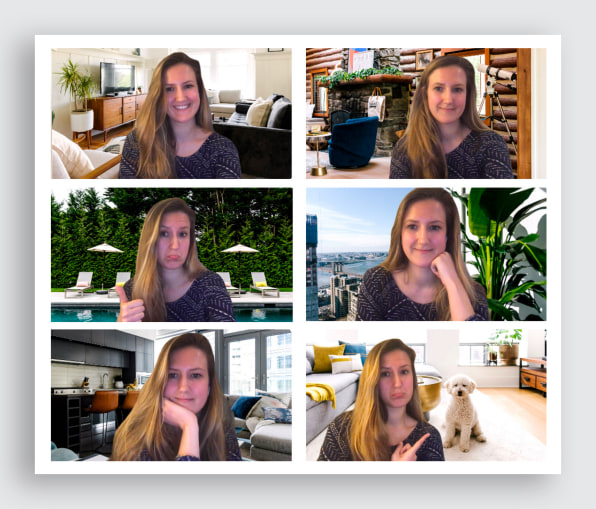 How to enable: Whether you prefer to pretend work from a mid-century living room or a bohemian A-Frame, you can right-click on any of the photos and save to your desktop. This works specifically with Zoom's virtual background functionality, so once you've downloaded the image, follow the previous instructions for adding a custom background to Zoom.
If you need to check other items off your to-do list
Maybe you need to do some multitasking while your team is discussing Q4 goals on a videoconference call. You're not sure you need to be there. I won't tell. There's a solution for you: create a looped video background—with you in it—via Zoom's custom background's capability.  I haven't tried this myself, but boy does David Zhou look attentive. It's a thing, y'all.
How to enable: You'll follow the same instructions for customizing a virtual background in Zoom. But first you'll need to take a picture of yourself at your computer or create a looped video—say, of yourself looking intrigued and nodding vigorously.
Zoom pro tip 3: make it a video background to have a convincing loop of you looking engaged https://t.co/qBGZSpLUIF pic.twitter.com/exNM1TXk8I

— David Zhou (@dz) March 18, 2020
Zoom pro tip 1: Backgrounds are customizable.
Zoom pro tip 2: You can customize yourself right out of that meeting. pic.twitter.com/rV1KAyDEgF

— Kate Buckley (@EchinoKate) March 17, 2020
If your coworkers are also your BFFs
Snap doesn't have to be the only place where you can have some fun with face filters. The company's Snap Camera feature will infuse a bit of playfulness into your video calls—you decide if it's appropriate. So, have the conference call with cute dog ears. Or flower freckles. Or burrito emojis scrolling behind you. There's an entire WFH category (and a lot more to chose from). I just wouldn't recommend the toilet paper crown filter, which seems a bit tone-deaf given current shortages.
How to enable: You'll need to download Snap Camera, which will then populate as a camera option in your computer settings. Next time you open Zoom or Skype, simply select "Snap Camera" as your camera of choice. Choose filters from within the Snap Camera app, and they'll automatically apply to Zoom or Skype.
If you want to turn yourself into an animoji
Did you know that the same effects you use for your photos can also be used for your FaceTime calls? Apply filters, turn yourself into an animoji or memoji, add emoji stickers, and more. So if you're feeling a little disheveled, no problem. Activate the animoji feature and you're an adorable cartoon monkey or a sparkly unicorn.
How to enable: Open FaceTime to make a video call. Once you're on the call, tap the effects icon on the bottom left. If you don't see the icon, simply tap the screen, which makes the menu pop up.
If your apartment isn't camera-ready
No to worry, you can blur out your background space just like Instagram's "tilt shift" feature. Microsoft Teams has a "background blur" feature that will put your surrounding space out of focus while you are left crystal clear. So whether there's personal information behind you that you'd rather keep discreet, or you just didn't get a chance to pick up around the house before your call, there's a filter for that.
How to enable: After launching Microsoft Teams, but before joining your call, move the blur slider at the bottom of the screen to the right. Voilá!
If video filters aren't enough
We've all been on a video call when one of the participants didn't mute their line, and the background noise made it hard to focus on anything else. To solve that annoyance, Microsoft Teams said it will be releasing a new AI feature that filters out all those sound distractions—whether it's a loud snack, a lawnmower, or a dog barking—so your team can focus on what's actually being said. The feature will be available sometime this year, according to a Microsoft spokesperson.
With working from home the new normal, videoconference filters seem to be on a lot of people's minds—though unfortunately there's no filter to make it look like you've changed out of your sweats. And if you're feeling creative, there's now a "Virtual Background Awards" contest, where you can submit a screenshot of yourself midmeeting for consideration. Go forward and videoconference. But don't forget to mute.