As the coronavirus rapidly spreads across the country, one of the major issues is that it's hard to know if and when you've been exposed. It can take days for symptoms to appear, and the virus can be spread even if people are asymptomatic.
Researchers just released an app in beta that alerts people when they come into contact with someone who's been diagnosed with COVID-19, potentially reducing the virus's spread if the app is downloaded by a large chunk of the population.
The app, which is currently in beta, is called Private Kit and was developed by a team of researchers from MIT, Harvard, the Mayo Clinic, and a handful of other companies and institutions. It's essentially a voluntary geo-locator: After you download the app and consent to sharing your location (which is necessary in order for the app to work), the app starts tracking you. Should you cross paths with someone who's been diagnosed with the coronavirus who also has the app, you'll receive a notification telling you when and for how long.
"Through more knowledge on their exposure, app users are able to make more informed decisions on when to self-quarantine or seek testing when experiencing symptoms," Alina Clough, a Harvard researcher who worked on the app, says via email.
From a design perspective, they wanted the app to be straightforward and easy to use. "Our goal is to make it intuitive for a user—no frills and no tricks," Clough says. "We want to be as clear as possible to show our users what is happening with their data, emphasizing that no data will leave their phone without their direct consent."
To that end, the app is decidedly minimalist, and the current prototype has just two pages. The home page essentially serves as an on and off switch for tracking your location; it also includes a message about privacy, informing people that their location data will not be transmitted elsewhere. The second page shows information about the project. And that's it. The app emphasizes negative white space, removes nonessential information, and utilizes icons to reduce text, so that the focus is squarely on the app's purpose: to "start logging." (While these design updates haven't yet made it to the app store, the images in this story are the most up-to-date.)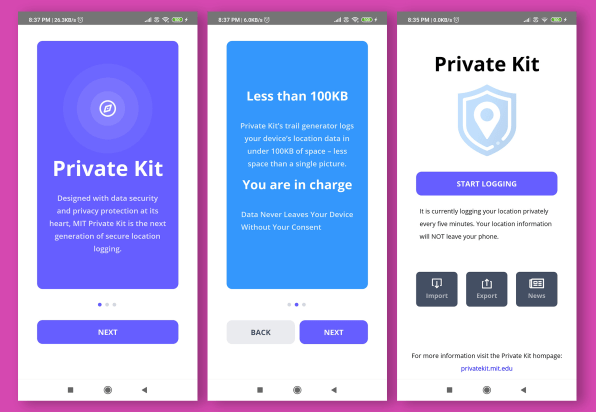 There are two important things that have to happen before Private Kit could have widespread utility: A lot of people will need to download the app, and the United States' testing capacity will need to dramatically increase. Testing in the United States has been extremely limited, which means that though the CDC reports more than 7,000 confirmed cases, there are likely many thousands more—both people who haven't been able to get tested and those who don't know they're infected.
On top of that, Private Kit is based on diagnoses by medical professionals, so users who tested positive for coronavirus would need a health official to upload the result through a separate application, which is not an insignificant hurdle.
The U.S. government is also reportedly in talks with tech companies to explore how it can use location data to curb the spread of coronavirus. Israel, for it's part, is using location data it had collected for counter-terrorism efforts, causing privacy advocates to cry foul. Because, of course, there are potentially serious privacy implications to sharing your location, especially when it's associated with such sensitive information. And ironically, in order for an app like Private Kit to succeed, it would need some kind of push from the government.
"Without leadership urging people to use an app like this, it's a lost cause, and unfortunately, the more draconian method of involuntarily surveillance is more likely to be deployed," David Carroll, associate professor of media design at Parsons the New School and featured in the Netflix documentary The Great Hack, says via email.
He adds that in order for an app like this to work, it would need "a competent government" to encourage widespread adoption, and "there's little evidence the Trump regime is succeeding in its response effort so far."
His critique points to a broader problem emerging from the coronavirus pandemic: Misinformation abounds and even accurate information is often decentralized and flooding in from multiple official sources. The abundance of information can make it hard to sort through the noise.
The team at MIT remains hopeful. The prototype is a beta version and doesn't yet have full functionality, though it's currently being "stress-tested" for kinks and will be piloted within days. But if successful, it can be a small example of design's purpose: to clarify the unclear.
Clough says they'll measure the success of the app by the flattening of the curve—that is, how much the spread of coronavirus is slowed in comparison to countries that don't have the same tech available. "We believe that information can spread faster than [the virus], and that our app and digital solution will help public health officials get ahead in the race against this virus."