A 2017 survey found more than 91% of people consent to legal terms of services without ever reading them.
Sounds low!
But another study in 2019 found more than 99% of those terms of services were unreadable to the general public, with complexities akin to what you'd find in academic journals.
Now that's more like it.
As issues around securing personal data and digital privacy continue to intensify, one man is doing his part in getting you to understand what you're signing up for.
Even if it's through your subconscious.
The new podcast Ts&Zzz, from Scott Elchison, who also hosts the podcast Floor 9 about the future of consumer attention, aims to help "you fall asleep while potentially educating you on the details of the terms of service, terms and conditions, and the privacy policy agreements that we blindly accept."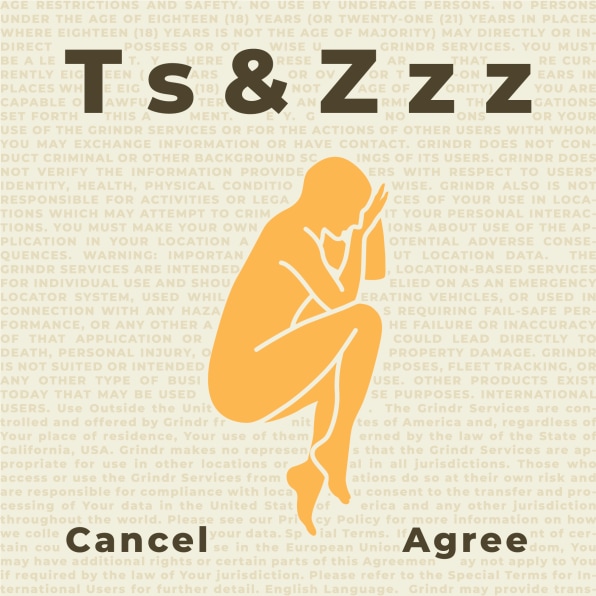 "I had been thinking about a new, interesting format [for a podcast], and I saw the Get Sleepy podcast pop up on Apple iTunes chart," says Elchison, who's on the partnerships team at IPG Media Lab.
Elchison's original idea was to read textbooks, because they make him "fall asleep faster than anything in the world." But copyright issues pointed him in the direction of terms of service agreements instead.
"I was thinking what other documents are out there that are publicly facing and super boring," Elchison says.
For Ts&Zzz's first season, Elchison is covering the agreements of products and services from Facebook, Apple, Amazon, Google, and YouTube, enlisting his friends  (i.e., the "cast of brave souls") who fought through the legalese to bring you a restful slumber—and, hopefully, a bit more awareness.
If Ts&Zzz actually works and you do pass out, Elchison says he's working on cataloging the key takeaways from each agreement that will be posted in the notes section for each episode.
For the launch, Elchison is tapping into a sleep-related fad taking over Tik Tok.
Using the app's live features, users have been streaming themselves in their sleep—and sometimes profiting off of their REM cycles through donations. One TikTok user, Joe Fay (@jf.okay), flipped the trend a bit by live-streaming his "sleeping" Tesla. So Elchison has partnered with him to release a special six-hour loop of Tesla's terms of service while viewers watch a parked car.
"Terms of service are things that people have never read, and it might make for a fantastic sleep podcast," Elchison says. "And finding a use case for these documents that we sign countless numbers each day."
Elchison's Tesla sleep stream goes live April 1 at midnight EST. And you can listen to Ts&Zzz on April 1 as well, wherever you get your podcasts.