"We have a simple message for all countries," Tedros Adhanom Ghebreyesus, the head of the WHO, said this week. "Test, test, test." But since the novel coronavirus's arrival in the U.S. in February, that imperative has met an array of problems, including a troublesome rollout of supplies and a complex patchwork of rules about how those supplies can be used. As infections surge, states now lack enough test kits and equipment, and some are short on protective gear that providers use to take samples and run lab tests. While rich actors and athletes have been tested, patients with symptoms in Seattle, where the national outbreak began, are still waiting.
By contrast, in South Korea, which detected its first case on the same day as Seattle did, new cases are falling off, with 93 reported Wednesday, down from a daily peak of 909 two weeks ago. The sluggish American response looks all the more surprising because the best technology for testing viruses such as COVID-19 was developed here.
This week, U.S. regulators further loosened rules surrounding the tests, with the aim of mobilizing 2,000 "high speed" labs across the country to cope with a mounting backlog. While South Korea has tested over 290,000 people so far, the most accurate public data, compiled by the COVID Tracking Project, says the U.S. has only tested 93,313 people, with 2,949 patients awaiting testing. Thousands of more samples have yet to be tallied, and many more are on the way.
But amid the pandemic, the companies who make the chemicals and equipment that are critical for testing warn that they do not have the capacity to meet the surging demands of labs. RNA extraction kits, a crucial first component of tests of patients' swabs, are still especially scarce.
"Like many other companies in our industry, we are seeing demand exploding," says John Gilardi, a spokesperson for the Dutch molecular diagnostic company Qiagen, which makes kits that are essential for the tests. "And yes, the demand is challenging our capacity to supply certain RNA extraction kits used for SARS-CoV-2 related [lab-developed tests]."
Like the healthcare providers and lab workers on the other side of the supply chain, the company has shifted into overdrive and is working literally around the clock. At factories in Hilden, Germany, and Barcelona, Spain, Qiagen has switched to three shifts working seven days a week and onboarded new workers in order to "dramatically" increase its production of the kits and other related equipment. A manufacturing facility in Germantown, Maryland, will also help. By the end of June, Qiagen hopes to produce enough of their kits to support 10 million coronavirus tests per month.
In the meantime, the company is working with labs, the U.S. Centers for Disease Control and Prevention, and the Food and Drug Administration to shape emergency rules that could help broken supply chains, and to determine which customers are most deserving of precious supplies.
"To give you an idea of the scope: as of mid-March 2020, we already shipped twice as many RNA [extraction kits] to the United States as we did in the entire year 2019," Gilardi wrote in an email.
Facing weeks-long waits for key materials, some healthcare providers are taking to social media to ask for donations of the kits and related equipment. On Thursday, California governor Gavin Newsom told reporters that the lack of needed chemicals has slowed the state's rush to detect new cases of COVID-19. "My great concern is we could be testing a lot more people," he said.
Stephanie Caccomo, an FDA spokesperson, said in an email that the agency is tracking stocks of crucial testing supplies and has set up a webpage and a toll-free hotline, 1-888-INFO-FDA, to help labs with questions about authorizations or supply shortages.
"We have heard concerns from labs who have questions about the availability of certain supplies," she wrote. "We are updating frequently asked questions for labs and test developers, providing information on alternative sources of reagents, extraction kits, swabs, and more."
Related: The high tech arsenal we need to fight the coronavirus
In the meantime, the fast-moving outbreak presents us with an apparent paradox. Those with slight flu-like symptoms and the "worried well" are told to self-monitor and possibly self-quarantine to reduce strain on the system. But public health experts say as many of these people as possible should be tested immediately. Comprehensive testing is important to stem the spread of the virus and "flatten the curve," epidemiologists say, because you can't fight what you can't see. Seeing is even harder because much of the spread may be caused by people who have no symptoms, such as the younger people who are most likely to be out and about.
Due to the country's lag in testing for the virus, the Trump administration has said it is shifting its strategy to mitigation, through social distancing and ramp-ups to the healthcare system, which is in need of things such as protective gear and ventilators. "Yes, people need diagnostics—those at high risk, those in the healthcare system," Nancy Messonnier, the director of the National Center for Immunization and Respiratory Diseases, said Thursday on NPR. "But what's most important is that you stay home."
How testing should work
Ideally, getting tested for the virus would mean driving or walking to a local testing center. You should already have an appointment, because you called ahead and met certain criteria: You have symptoms, you've been in touch with someone infected, or you live with someone who is vulnerable. When you get to the front of the line, a technician wearing protective gear would swab your nose and your throat for a sample of fluids. (According to the White House, U.S. insurance companies will wave co-pays for testing and cover the cost of treatment.)
The specially-made swab is then shipped to a nearby lab, one of thousands around the country with the right high-speed testing equipment. There, a lab technician will use an RNA extraction kit such as Qiagen's to prepare the sample for testing. The RNA would then be fed into a PCR machine, which looks for signs of the virus using polymerase chain reaction, a technology invented in the U.S. in 1983. We first learned what the new coronavirus looks like in January, after Chinese researchers identified it and began releasing the first whole-genome sequence.
The whole process may take less than an hour per sample. Using larger machines, high-capacity commercial and hospital labs can process between 400 and 1,000 results in a single eight-hour shift. The lab should be able to send the results back within two to three days of your test. But this is not how it's worked so far.
How testing has actually worked
The first crack in the U.S.'s testing regime appeared in early February, when the CDC began sending approved COVID-19 test kits to about a hundred public health labs across the country. (By law, PCR tests for new viruses must be approved by regulators before they can be used in labs.) When some of the labs tried to validate their tests, certain chemical ingredients turned out to be flawed, which severely slowed initial testing. As The New York Times reported, that meant many infections were missed during the crucial early days of the virus's nationwide spread.
The lab tests weren't the only slow part of the process. A confusing patchwork of federal, state, and local guidelines about who should get tested also meant that many early infections likely escaped detection. And the U.S. has also so far largely relied upon in-office swabbing, which means more time and equipment than drive-through test centers.
Change came on the last day of February: As community transmission began appearing on the West Coast, U.S. regulators agreed to let clinical labs develop or purchase their own tests. This week, in more unprecedented feats of red-tape-cutting, the FDA released new rules to speed up testing: It gave "emergency" approvals to two manufacturers that have designed new test kits for COVID-19, permitted thousands of virology labs to test samples, and told states that they could now authorize labs to develop their own tests.
Rules are straining the supply of crucial chemicals
Still, even with new government permissions, U.S. labs now face other challenges before testing can fully ramp up. For one, the special kits and chemicals used in RNA extraction—the first step of testing—are still in short supply.
"Everyone is trying to order these ancillary ingredients, and we're hearing from our member labs that many of them are impossible to get right now," Eric Blank, of the Association of Public Health Laboratories, told Wired.
As they struggle with a backlog of samples, clinical labs and hospitals are asking their colleagues at nearby research laboratories for donations of chemicals and technology. Some research labs, where work is already on hold due to the virus, have dutifully obliged. In a letter this week to Boston's typically bustling biotech community, the leaders of Harvard Medical School's two teaching hospitals asked if companies or labs could spare some kits, reagents, or equipment.
Bringing Qiagen RNA extraction kits from the research labs to the clinical lab for COVID19 testing. #teamwork pic.twitter.com/nwvOdYgxWa

— Michelle Monje (@michelle_monje) March 16, 2020
"Many of these items are either on back-order or do not exist for us to purchase," they wrote.
In a press briefing this week, FDA Commissioner Stephen Hahn told reporters that the FDA plays a critical role in helping "the labs get what they need to run tests," but he acknowledged "pressure" on the supply chain.
"We do recognize and certainly have heard the concerns about supply and we are working around the clock to get that information to laboratories," Hahn said. "We have been leaning in on manufacturers, both of the tests, but also of these other supplies that are needed."
One last thing to do before our labs shutter for the month:

Qiagen rna kit send off to Stanford so they can keep clinical labs running COVID-19 tests 🙂 pic.twitter.com/Mu0h44AnQp

— Ken Hallenbeck (@kenkhallenbeck) March 17, 2020
As Politico reported last week, the shortage of RNA extraction kits is partly the result of another regulatory bottleneck: Until recently, U.S. regulators had only approved Qiagen's kit. The FDA recently expanded its list of approved RNA extraction suppliers, allowing labs to use kits from the Swiss pharmaceutical firm Roche too, but these are also growing scarce.
"We wish the list would be expanded to others in the industry, but [it's] up to regulatory agencies," Gilardi says.
Caccomo, the FDA spokesperson, declined to comment on the addition of new manufacturers.
For now, Qiagen is ramping up its global capacity. Currently, the company can ship kits for 1.5 million coronavirus tests per month. By the end of April, the company hopes to provide chemical kits for more than 6.5 million monthly tests, and 20 million monthly tests by the end of the year.
High-speed regulations for high-speed tests

Like RNA extraction kits, new lab-developed PCR tests must also be approved by U.S. regulators before they can be used in the labs. And until last Friday, no such test had been approved.
But last week, two of the biggest manufacturers of high-speed PCR test kits and machines, Thermo Fisher and Roche, submitted applications to the FDA for emergency approval of their new coronavirus test kits. For the first time ever, the agency gave the green light within 24 hours. "This action today shows our agency's dedication to working around the clock to review and authorize diagnostics during this public health emergency," FDA commissioner Hahn said in a statement.
Massachusetts-based Thermo Fisher, which acquired Qiagen last month, said it has 1.5 million copies of a test kit to detect the novel coronavirus that will run on the company's machines. The company plans to produce 5 million more test kits per week globally by the end of April.
Roche is also ramping up global production of its PCR test kits. Currently it can supply only 3 million tests per month for its widely-installed Cobas machines, and another 5 million tests per month for another automated PCR instrument.
"We are working around the clock to increase that quantity as we recognize the importance that patients need access to these critical tests," a spokesperson tells Fast Company.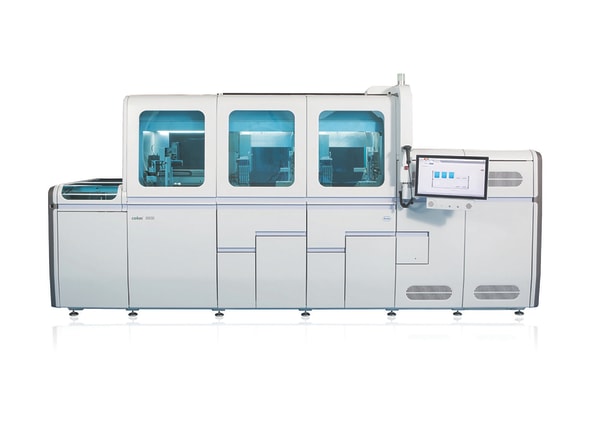 In the meantime, Roche is working with organizations such as the CDC to ration the kits, providing them as they become available to large, national reference labs and regional hospitals in the most highly impacted areas. "We will continually assess this strategy as the situation develops," the spokesperson says.
The U.S. government is also encouraging other companies, such as Quidel, Hologic, and Cephei, to deliver new COVID-19 test kits for use on their own high-speed test machines. Last week, Qiagen received $598,000 from the U.S. Biomedical Advanced Research and Development Authority, known as BARDA, to accelerate the development of COVID-19 kits for its own printer-sized device. New war powers invoked this week by President Trump could also help compel domestic companies to boost production of essential gear for testing, such as swabs, disposable plastic tips for the pipettes used to transfer liquids, and personal protective equipment for lab technicians.
Testing is just starting to ramp up across the United States. The country's largest commercial labs, LabCorp and Quest Diagnostics, as well as hundreds of smaller labs and hospitals, are now testing tens of thousands of people a day, with the capacity to test about 100,000 patients per day by the end of March, according to estimates by the American Enterprise Institute.
New York is finally able to ramp testing after significant delays in being able to get its academic labs into the crisis. Now they are running a high positivity rate as they test suspected cases and catch up. New York reports 22,000 people tested to date, 7,000 tested yesterday.

— Scott Gottlieb, MD (@ScottGottliebMD) March 19, 2020
Drive-through test centers are popping up across the country, and some officials have proposed quick walk-through test centers for those without cars, like the kind South Korea has implemented. Physicians can now send samples directly to labs, which is expected to reduce the wait for test results.
But amid a surge in confirmed cases, even those who suspect they may be infected still cannot get tested. On Friday afternoon, the New York City Health Department sought to address continuing testing bottlenecks by directing healthcare facilities to stop testing all non-hospitalized patients, "unless test results will impact the clinical management of the patient," it said in new guidelines. "In addition, do not test asymptomatic people, including [health-care workers] and first responders."
A new test is coming
Other types of tests are on the horizon. About two dozen companies say they are developing "molecular point-of-care" virus tests—handheld systems that healthcare workers could use to get results in half an hour, instead of days.
A more readily available approach to detecting the coronavirus is a so-called serological test, which looks for antibodies to the virus in patients' blood. A serological test has multiple advantages: It's cheaper than a PCR-based test; and it could tell if someone has been infected previously, which would indicate how many cases were missed and who has developed immunity. And fortunately, SARS-CoV-2 also shows up on the serological tests designed for the original SARS virus.
The test has not yet been approved by regulators, but in this case, the FDA now says that's okay. In a policy update published on Tuesday, the agency said it "does not intend to object to the distribution and use" of a serological test provided it has been validated and the FDA is notified.
It's a patchwork solution to a patchwork system that has proven unprepared for the pandemic. "This is a wake-up call for diagnostic testing in the United States," Michael Pellini, a longtime medical diagnostics executive and a managing partner at venture fund Section 32, told Stat News. "No one has spent any time evaluating the diagnostic system. So here we are in a ridiculous bind."