Fitness trackers, like Nike Plus and Apple Health, are great at measuring activity, but they're not great at knowing exactly what your body is doing at any second during sports.
A new project called GMR (or "gamer") from Adidas, Google, and EA aims to change that. It's a smart shoe insole that syncs with its own app. For $40, it's designed to go into an Adidas soccer cleat and automatically measure all sorts of metrics. It won't just measure broad-strokes data like how far you've run, but it will detect clear actions, like the difference between kicking and penalty kicking, or passing and dribbling. The sensors don't need to be turned on and don't require a phone nearby in order to collect the data (though a sensor will need to be charged every 4.5 hours of play). When you're back at your phone, the metrics upload via the GMR app to EA's FIFA mobile, and where they can unlock bonuses ranging from in-game outfits for your players to sporting event tickets in real life. You can also compare your performance with that of friends.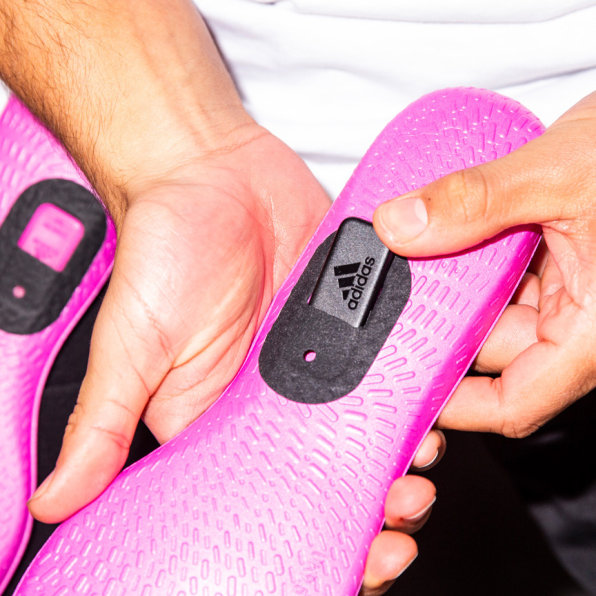 When the project kicked off two years ago, Scott Zalasnick, Adidas' SVP of digital, assumed that they would be building yet another step counting product, but he was pleasantly surprised by how far the technology had come. "What I've learned over the course of the project . . . is we have specialized algorithms that can detect the speed of the ball off the shoe," he says.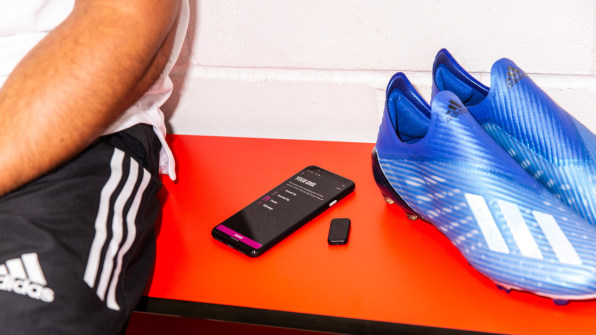 GMR is new, but chances are good that you've seen its technology before. That's because GMR uses Google's Jacquard universal tag, a pebble-size computer that's already been featured in the second generation of Levi's smart jacket and a Saint Laurent backpack. Yet while those two products came to market first, the Jacquard tag was actually designed primarily for this particular use case with Adidas.
"When we started talking about GMR with Adidas, that's when we started to design this universal tag," says Ivan Poupyrev, director of the Soli and Jacquard projects at Google Advanced Technology and Projects. While there were several manufacturers that Google wanted to accommodate with the tag, Adidas's use case was going to be the toughest, requiring years of abuse before replacement, so it defined the form. "It had to go in a shoe, withstand people running on it—in mud. The tech requirements were pretty tough," says Poupyrev.
Adidas also needed this device to work without a phone, because athletes don't carry around personal electronics. That meant the tag needed memory, more like a computer than a simple sensor. Ultimately, the tag was designed with accelerometers to measure movement, and processing with onboard machine learning algorithms that could immediately categorize the movement from raw data. This all happens in a split second because, as you keep moving, there's more data being thrown at the tag. At the end of a 90-minute game, the tag is loaded with clearly labeled kicks, passes, and sprints that can then be uploaded to the phone.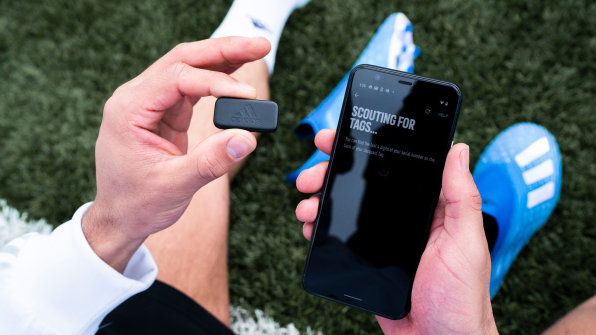 But how can Jacquard detect activities so clearly? The secret is in those carefully trained machine learning models, which were the culmination of a year of collaboration between Adidas and Google. Adidas had soccer players, ranging from kids to pros, play with the GMR insoles at their lab, carefully logging activities as they went. The data was then sent to Google, which used its massive cloud resources to process the information. Adidas then tested it, spotted what wasn't working, and the machine was trained again.
"In terms of building out the algorithms, we have tens of thousands of instances of kicking balls, passing balls, sprinting, and football movements, in players from 7 to 30 years old," says Rowan Hagemann, director of digital activation at Adidas. "So the algorithm works for everyone."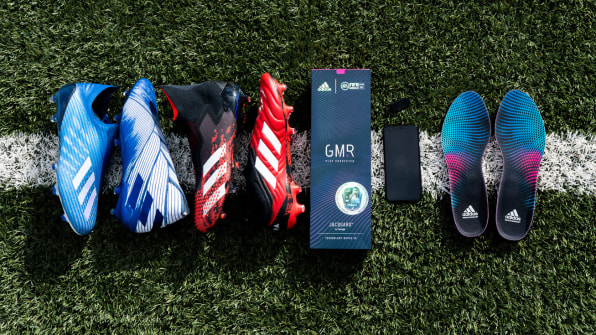 That means that children will actually be able to compare their metrics against pros who are also using GMR—the system works with any age range or ability—but for now, it's only soccer. Adidas and Google have gone deep on one specific sport to get the activity detection right. GMR isn't some universal shoe insert for any sport, let alone something you'd wear all day. It's asked only to see activities with a very particular shoe that you'd wear (Adidas soccer cleats), in a very particular sport (soccer), in a very particular context (the soccer field). "Does that suggest it's limited to [soccer in the future]? Absolutely not," says Zalasnick, who hints that running and basketball both seem perfectly tunable to GMR technology.
As for all of the data that GMR is collecting, the companies promise they're using plain language to make sure people know what is being collected and why. Technically speaking, Google's technology runs all its activity detection on the device, which means Google never sees your personal metrics, and the raw motion data disappears the instant it's been crunched on the tag. The interpreted data, of kicks and sprints, goes to Adidas. Adidas sends that data, without personal identifiers, over to the EA app (so EA actually never actually sees it, either). There are no biometrics being collected under the table that the user is unaware of, they claim. Everything is GDPR compliant.
Users are still sharing data, and whether or not Adidas and EA have built a compelling enough experience to make that worthwhile is a valid question—especially in an era when we all fear the surveillance economy, and privacy breaches run rampant. However, Poupyrev believes that Google, Adidas, and EA have proven that such privacy concerns really can be properly addressed through careful design, even with a computer that you wear on your body.
"It's not quantum mechanics! It's not even rocket science. Putting people in space was harder. [Privacy] just requires companies coming together and . . . working things out!" he says. "It can be done on a product-to-product basis."