There are two types of people in the world. There are those who create emergency kits stocked with first-aid supplies and food. And then there are people like me: the unprepared. I'm not proud of it, but if a natural disaster or a pandemic were to hit my neighborhood—which is increasingly likely, given the state of the world—I would be totally screwed.
The good news for me—and my fellow anti-preppers—is that more and more companies are responding to our needs. Take, for instance, Judy, a month-old startup that sells four emergency kits ranging from $60 to $250.
I tested out the two larger kits: The Safe ($250), a 3-by-2 foot box designed to sustain a family for 72 hours, and The Mover Max ($180), which is designed to help you quickly evacuate your home in an emergency. When developing the kits, Judy consulted with former FEMA employees, Red Cross veterans, and firefighters to determine what to put inside. The Safe, for instance, includes a hand-crank radio, emergency blankets, a stocked first-aid kit, whistles, enough food for several days, and potable water. (The two smaller kits have already sold out and are in the process of being restocked.)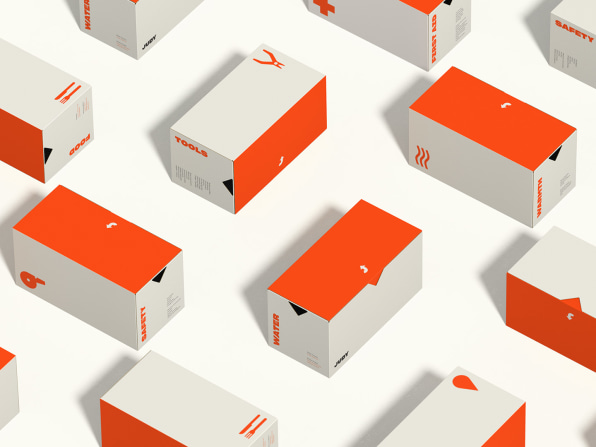 Judy is one of many prepacked emergency kits that have hit the market over the past few years, as natural disasters have been on the rise. In general, these kits are significantly more expensive than buying the items individually. But they're appealing to consumers who don't know what to buy or want the convenience of getting all the items they need in one fell swoop. While Judy is designed to get you through a few days in a disaster scenario, Costco has a $6,000 kit that will feed a family for an entire year.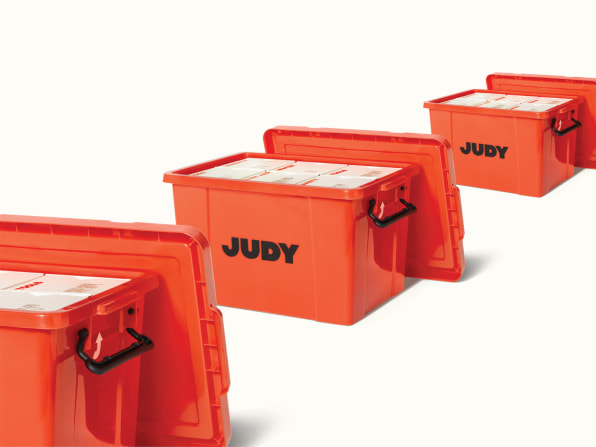 Many of the other emergency kits I've tested simply fill bags or boxes with supplies, without any organization. The prospect of digging through unfamiliar items can be particularly terrifying to people who already feel unprepared. With this in mind, branding agency Red Antler worked with Judy to design the structure of the kits. They put supplies in six categories: tools, warmth, food, water, safety, and essentials, each of which has its own box nestled in the kit. The "warmth" one contains things like blankets and matches, while the "safety" one contains items like whistles, dust masks, and glow sticks. The box labeled essentials allows people to include personal items, like medication.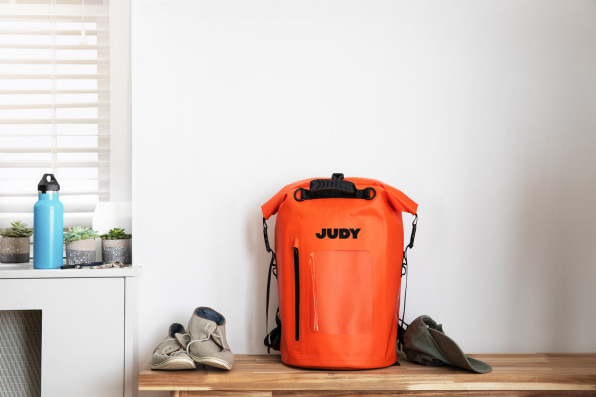 When Simon Huck cofounded Judy, he wanted to design the kits for people who were likely to be unprepared for a crisis. Indeed, a recent survey from IBM found that 42% of Americans don't have an emergency evacuation plan and only 15% have packed a preparedness kit.
"There are a lot of people who are living in fear, which can cause different reactions," Huck says. "For some, this is over-preparing; for others, it's pretending nothing is happening. We're targeting the second group: The key is to help them move past fear and actually take action."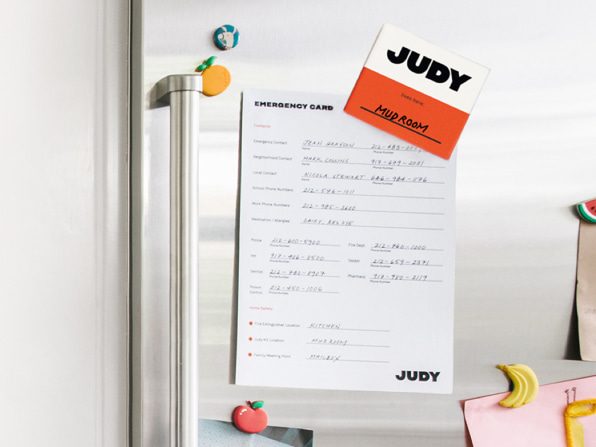 Huck, who cofounded Judy with serial entrepreneur Josh Udashkin, is a PR consultant known for his relationship with the Kardashians. And in fact, Kim and Khloé have been big supporters of the brand on Instagram, along with several cast members from The Real Housewives.
In addition to its well-stocked kits, Judy also offers customer support; once you buy and register a kit, you get access to an expert you can text with questions. Even if you're not a customer, you can sign up for alerts, and if you type in your zip code on the website, you can download free emergency checklists. (When I did this, it suggested I check the batteries of my smoke and carbon monoxide detectors. Note to self: Google how to check batteries on smoke and carbon monoxide detectors.)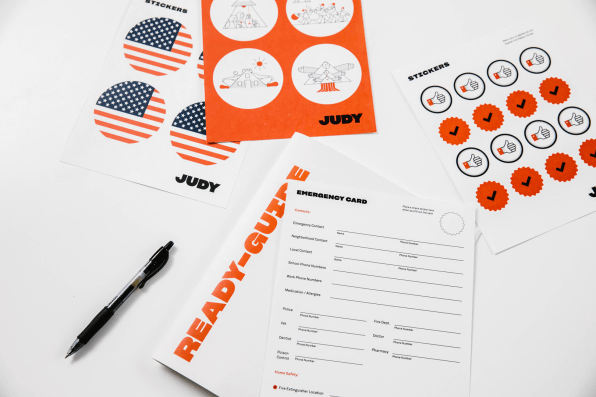 Red Antler handled Judy's design and branding, which is why its aesthetic will likely seem familiar. (Red Antler is known for working with direct-to-consumer companies like Allbirds, Casper, and Birchbox.) Judy's website and products are saturated in a bright red-orange that's designed to be highly visible in an emergency. (Red Antler said they considered using red, but it felt overly alarmist.) "We wanted the kits to feel familiar, so we used a lot of the same visual language reminiscent of manuals," says Jenna Navitsky, executive creative director of Red Antler. "We wanted it to feel pragmatic."
Judy might feel like a strange name for a disaster prep kit, but Huck says they chose it because it reminded people on the team of a calming aunt or grandmother. (Judy was a popular baby name in the 1940s, so it's largely associated with older women.) "The name felt warm and comforting," says Navitsky. "'It was almost maternal, like everything is going to be OK."
The brand recommends that you familiarize yourself with the products, so that you're prepared when disaster strikes. Of course, thinking about a possible emergency fills me with dread, so I've been putting off learning how to use the hand-crank radio or what to put inside the biohazard bag. But the whole thing seems idiotproof enough that I'm fairly confident I'll be able to figure out what I need even without a tutorial. Then again, I'm probably in denial.