Sitting in a small Bronx apartment back in early 2018, it would be difficult to picture the world today. As Naomi Burton and Nick Hayes waited to film a campaign ad for an unknown Congressional candidate up against a 10-time incumbent who was considered a rising power broker within the Democratic leadership, they puzzled over how to tell a story that would both personalize a political campaign and galvanize a movement.
Jump to two years later, and that unknown, Alexandria Ocasio-Cortez, is a household name; democratic socialism is both a mainstream topic of conversation and the belief system held by the current frontrunner for the Democratic Party nomination for president; and Burton and Hayes have gone from reinventing political ads to launching a new streaming service for leftist (or "post-capitalist") news and entertainment called Means TV.
Even just last year, when Burton and Hayes initially started crowdfunding efforts for the new streaming service, it was easy to be skeptical about the appetite and viability of any new political news and entertainment venture that would be entirely audience-funded, rather than backed by some billionaire, venture capitalists, or a media or tech conglomerate—much less one designed to critique those power structures.
But as the 2020 presidential primary season gained steam, almost every event of the last month has served as a de facto ad for Means TV. The Iowa caucus foul-up and the mainstream media going along with Pete Buttigieg declaring himself the winner even though Sanders had received more votes? MSNBC contributor Jason Johnson suggesting that the word oligarch was a slur and then trying to lump Sanders in with billionaires and stating they were all oligarchs? Newspapers reporting Senator Amy Klobuchar's third-place finish in New Hampshire without mentioning who came in first? Who can forget any of the several meltdowns longtime MSNBC host Chris Matthews has had over the prospect of Sanders becoming president, going so far as to say that he'd be taken to Central Park and killed? Disney blocking a John Oliver segment critical of Indian Prime Minister Narendra Modi on the streaming service it owns and operates in India?
All these events—and more!—happening at the same time that Sanders's polling and popularity is only rising could not have made Means TV's debut more auspicious.
"After 2016, in that wave of people still having their eyes opened, we were early adopters of those people after Hillary's loss and the Bernie campaign, who found something in socialism that grounded us and allowed us to see things a bit more clearly," says Burton. "Now we're seeing a lot more people come around to that."
On the surface, Means TV is a lot like all your other OTT options. It costs $10 per month and features a wide variety of original documentaries, series, news, comedy, and commentary. That's about where the similarities end. Burton and Hayes have set it up as a worker collective, with creators and staff having ownership of their work and a stake in the platform's success. Contributors so far include director and comedian Sara June, popular leftist podcasts like Street Fight Radio and Trillbilly Workers Party (colloquially known as The Trillbillies and generally focused on the worldview of real people living in Eastern Kentucky and Appalachia), the socialist magazine Jacobin, and YouTubers like BadEmpanada, The Serfs, and Step Back History. Rather than compete against the emerging leftist media sphere, which is bubbling up in podcasts, YouTube, Twitch, and especially Patreon, Means TV is partnering with them to create another outlet and revenue option for them.
Columbus, Ohio-based Brett Payne and Bryan Quinby, who have been doing Street Fight Radio since 2011 to share stories of exploitative bosses and subversive workers, met Hayes back in 2017 after Hayes had reached out to film one of their live shows in Michigan. That September, he convinced the pair to shoot footage of their trip to the Juggalo March in Washington, D.C. Yep, the Juggalo March. Street Fight then brought Hayes along to a live show in Baltimore that they were co-headlining with Sam Sacks and Sam Knight of the news co-op District Sentinel, which blends coverage of mostly overlooked Capitol Hill news with biting humor.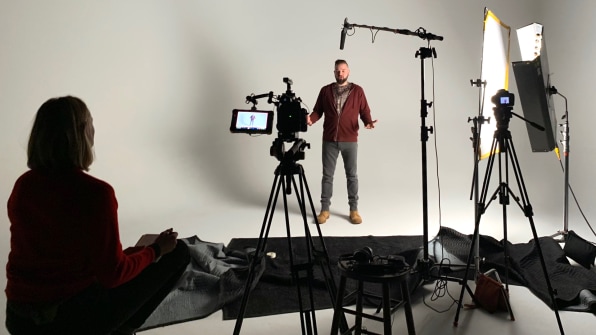 When Hayes started to tell Sacks and Knight, who launched their news podcast in 2014, about his ultimate goal with Burton, their reaction was more raised eyebrow than fist. "I was skeptical of Means TV at first, since people were already cash-strapped to support or launch even a podcast," says Sacks, who along with Knight is hosting a live weekly show called Means Morning News. "But given the way the world has gone over the last few years, it now seems like a perfect time for Means TV."
Street Fight Radio was part of the initial crowdfunding effort, where Burton and Hayes produced videos over 10 weeks to raise awareness and funds for the platform. "We didn't want to do commercials, and our political stances were too much of a risk for corporate platforms, and we understood this," says Quinby. "Means TV is a platform that doesn't require us to sell mattresses and provides the freedom to do the kind of material that we want to do."
The platform itself is built on Uscreen, and Payne says that he was impressed by its user experience and art direction. "It's just something to really be proud of," says Payne. "Remember back in the Tea Party days, there was this Ron Paul video-game people crowdfunded, and when it came out turned out to be complete dog shit. Means TV has all the style of something that you'd think cost millions more than they have. Not a lot of billionaires looking to fund this kind of content, but I think once this launches, it's going to be a game changer."
So far, the platform has more than 10,000 monthly supporters, which would already put it among the Patreon elite if they were on that platform. Hayes and Burton have done no paid advertising, instead using short teasers and videos across YouTube and social media to build awareness. The premiere this week includes events in Detroit, Seattle, New York, and London.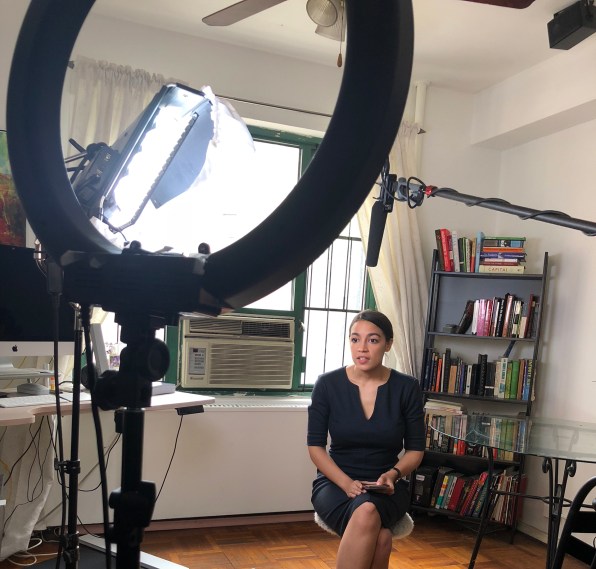 Hayes is optimistic, citing the chasm between the way we think of our society and what we're told about it—and the way it actually is. "We're told as young people that we can access higher education and other things fundamental to success in this society, and many of us realize pretty quickly that this isn't the case," he says. "That leads to a general resentment towards the status quo and the way things are. I think that's why poll after poll shows that 50% of young people prefer socialism over capitalism."
Michael Bloomberg's self-funded campaign for president is yet another example. "We have a self-proclaimed Democrat, who was a Republican, who's a billionaire with sexual harassment allegations against him, who suddenly has the support of the Democratic Party institution, and he's trying to buy the nomination," says Hayes. "These people who, as Democrats, we're supposed to think of as the good guys are getting behind this guy who is clearly problematic. As we go down this road of increased contradiction, we want to be there to take that energy and put it towards an anticapitalist mission."
Public interest in topics like Medicare for All, affordable housing and education, and workers' rights don't hinge on the outcome of the Democratic primary or the presidential election. "Whether Bernie wins or a billionaire buys out the Democratic Party," says Burton, "Means TV is going to be very relevant."