The web series Hot Ones makes celebrities rethink their entire lives—word to Idris Elba.
But would you risk it all for $25,000?
Fans of the show and/or sadists who enjoy watching people be tortured by consuming some of the hottest hot sauce in the world now have a chance to taste-test their spice lord gangsta and win a cash prize on Hot Ones: The Game Show. The series, which debuted last Tuesday on TruTV, is the brainchild of host Sean Evans, executive producers Chris Schonberger, Justin Killion, DIGA Studios, Michael Bloom at Bongo Pictures, and truTV. Despite the real reason people watch the show, Evans explains that one of the differences with Hot Ones on national TV is that it's actually about uplifting people.
"The thing about the web show is it takes celebrity—this thing that's by definition an unobtainable lifestyle—and that celebrity is knocked down a couple pegs to the audience's level because hot sauce will humble you," Evans tells Fast Company. "So it creates a connection between the audience and the person being interviewed, because everyone's on the same level. Everybody knows what it's like to just be smoked out by a spicy salsa, or pepper hot sauce, or chicken wings."
With the game show, though, Evans says, it's "totally different, because it's not like we're trying to knock anyone down a peg. What we're trying to do is actually lift them up, elevate them. So what ends up happening is, now you have that audience getting a chance to enter the Pepperdome and eat chicken wings for a chance at $25,000 and a milkshake and to be the gladiator heroes in our spicy coliseum. So I think that's the comparison."
Online, Hot Ones is part of Complex Networks' First We Feast brand, which has over eight million subscribers on YouTube. It began in 2015 and quickly amassed a cult fandom.
Creating the game show was a two-year process that stemmed from a meeting between Evans, Schonberger, and the heads of non-scripted television at truTV. After what Evans describes as "a million meetings," the idea to reimagine Hot Ones as a game show was conceptualized.
It was also an exercise in trusting truTV with the already well-established brand.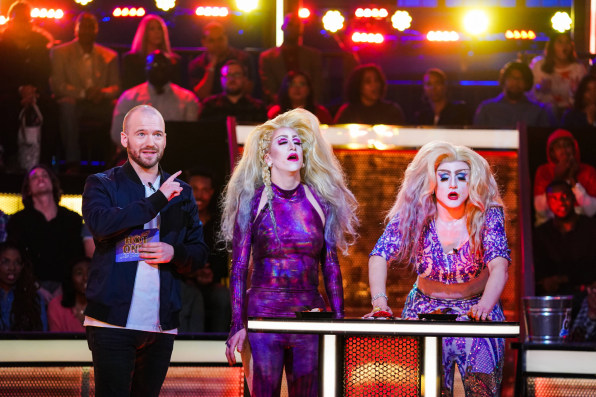 "[truTV] had already taken Impractical Jokers, which is a huge web hit, and made a tremendously successful TV product. [So] we were so grateful that we had truTV, and then we had the Impractical Jokers to follow up because they've all been through that process and understood how to cross over in a way that makes sense and can be successful," says Evans. "So we played brand police, but at the same time, you have to take a step back on certain things and let people help you build this larger-than-life game show that we never would have been able to make on our own."
On Hot Ones: The Game Show, two teams compete for the cash prize by answering various trivia questions in front of 400 people. It's a more nerve-racking experience for guests than the intimate setting of the web show. Evans, who jokingly refers to himself as the "Shaman of Spice," says in jest—or maybe not—that one of the differences he's most excited about as host of the game show is not having to torture himself but instead becoming an ally to the brave contestants pushing their limits. He actually meets with contestants before the show and lets them know that they're not alone since he can empathize. But at the same time, the goal is to create classic TV—that thing that gives viewers something to look forward to as a pillar of pop culture. Think along the lines of being as iconic as ABC's TGIF or even Jeopardy.
"I think about the kids who started watching us in high school, and maybe now they're in college, and then they're back for break, and the thing that helps them pace out their year is like, the Thanksgiving Special, the Fourth of July Special. Like, here are these little things that you can see [with] the way that Hot Ones has touched you in the past," says Evans. "But it all comes down to just wanting people to be entertained. I've always prided myself on—and what we've always tried to do here—is making really dumb stuff for smart people, and I think the game show is that really dumb thing, but hopefully people are watching it on a couple different levels. Like, the interviews you could watch because you care about these nuances of Saturday Night Live, BTS, and these weird little wrinkles, or you can just watch it to see someone famous choke on chicken wings. [With] the game, you can play along with the trivia. You can get the sauces and eat along with the contestants, but you could also just watch it for sort of the caveman qualities of people choking and dying."