Three years ago, April Starr learned her husband, Lucas Daniel, had cancer. He died six weeks later. And she's still furious with the healthcare system that failed them both during that time.
"I was struck at how little anybody helped us understand what was happening," says Starr, who works with firefighters and police officers to design public-safety fixes as the Experience Research lead at Motorola Solutions. "We're both smart people and we couldn't navigate this. I didn't realize he was going to die until the day before he died."
Blindsided and in shock, Starr turned to her specialty to manage her grief: design. She created a series of cancer worksheets that are free to download and print, so any cancer patient, family member, or friend can better track the condition and treatment.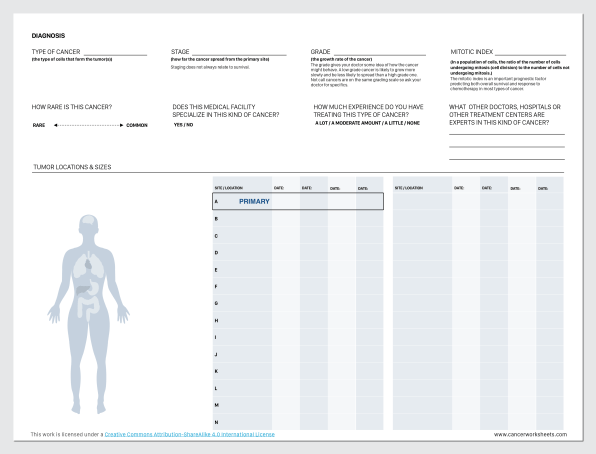 Starr and Daniel were both designers who first met in grad school. Each found success handling complicated projects in the corporate world. But once Daniel was diagnosed, a half a dozen or so doctors took over the case while providing no single narrative as to what was going on. To anyone who has been through the healthcare system, their story probably sounds familiar: While they had access to many specialists, ranging from oncologists to cardiologists, they lacked a centralized resource; for instance, there was no one to clearly articulate how chemo was going.
Starr had to figure out which information to track on her own, then request that information, she says. She didn't learn that the cancer had spread, despite several rounds of chemo, until a service that audited the data she hadn't seen provided a second opinion. "I was like, this is insane that I have to figure out he's dying and to what degree," she says. Ultimately, it was the palliative care team, not one of several specialists, that broke the news that Daniel was dying.
"I was in a complete state of shock, and as I learned, when you're in a state of shock you have this crazy manic energy, and I had to channel that somewhere," Starr says. "I was thinking what would have helped . . . and I thought why isn't there just a set of templates to write this stuff down?"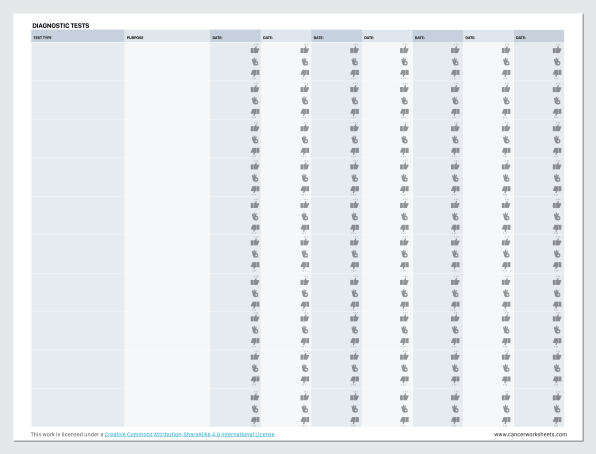 So that's exactly what Starr created. Her cancer worksheets are simple, straightforward charts that put a patient's diagnosis and progress right into a patient's hands. The forms include a diagnostic sheet, a treatment plan, a chart for medications, and a calendar to list symptoms and rate how you're feeling as treatment progresses. They are not fancy, nor are they an app that you would need to download and learn while getting some of the worst news of your life. They're simple by design.
The diagnostic sheet in particular is a wonderful piece of work. Ideally, Starr says you would have this in your hand while getting a cancer diagnosis. You fill in the blanks to record important information, like the type of cancer you have and its stage. Every clinical term that your doctor might mention, such as "mitotic index" (an important metric of how many of your cells are currently reproducing inside your body), is clearly defined, in bold, plain language.
It also, crucially, just lists the stuff you should ask your doctor that is hard to remember in the moment, such as "How much experience do you have treating this type of cancer?" In asking these questions over a piece of paper, Starr imagines that the doctor and patient would become more like collaborators. And it's easy to picture how that would work out ergonomically as two people are huddled over the same paper, rather than a patient trying to get the doctor's attention as they typed things into their computer.
Starr is not a medical doctor, but she did some research on her own to learn the types of questions that should be on the sheet. She also solicited feedback from her widow grief group— peers who had been through similar battles with cancer—to see what they would like included.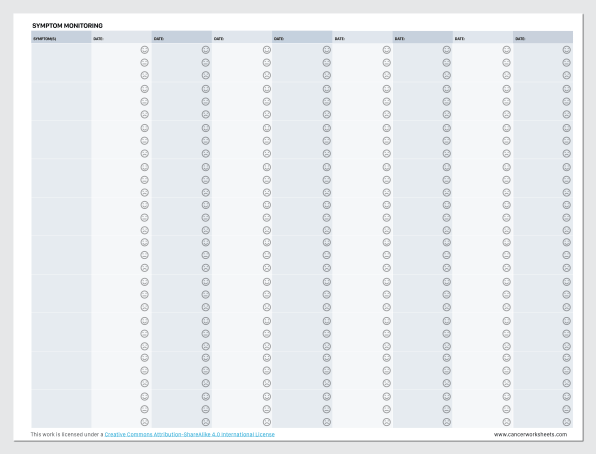 Her work caught the attention of Pittsburgh Medical Center, which reached out to Starr to run a a pilot study with real patients on the sheets. She never followed up to learn if the study happened, but she recognizes that her worksheets probably only make sense if implemented in such a context, with doctor offices providing them to patients at the time of diagnosis. "I don't really expect people to download them . . . but I am hoping such a simple idea as a worksheet will spread around in healthcare," Starr says.
Despite her efforts on these cancer worksheets, Starr has no interest in working in healthcare. She even passed on a promising position within the industry after this project came out. "I'm still so angry at doctors for their arrogance, which is embedded so deeply in their culture and how they're educated," she says. "It's such a massive problem that starts so early on, I don't think I can be in that environment and feel like I'm making a difference."
Instead, as the Experience Research lead at Motorola Solutions, Starr works with law enforcement and firefighting agencies to learn the challenges in public safety and help design concrete fixes. "I'm very interested in helping people in traumatic situations—just not in the healthcare context," she laughs.