What if you could see the snow on a mountain better than your naked eye allows? Well, you can, thanks to a new era of ski optics. These goggles can take flat light, whiteout conditions, and glaringly bright days in the mountains and turn them into skiable terrain and obvious, high-contrast lines. That can make the difference between having your best day ever in the mountains and ending up sprawled on the side of a slope with your gear spread out like a yard sale. We tested 10 pairs of this season's most high-tech (and stylish) snow goggles to decipher which truly can take a day on the mountain and turn it into high-definition. These were our favorites.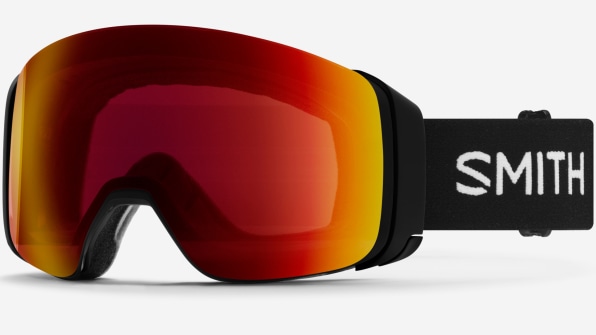 Smith 4D MAG
Smith has been a longtime favorite brand of skiers and boarders of all types. We attribute it to the proprietary tech that makes their lenses more than just oversize sunglasses with an elastic strap. The 4D Mag (which took 142 prototypes before it was perfected to Smith's standards) is the brand's techiest model to date. The 4D Mag incorporates a locking magnetic lens interchange system (aka Mag technology) that allows wearers to switch lenses by simply connecting the lens with a (very intuitive) magnet hold—so no more jiggering your lenses in and out of brackets or breaking hinges. But what really makes the 4D Mag  special is its completely reinvented lens shape. This lens extends below your natural site line so you get a 25% increased field of view from other standard goggle design, allowing skiers to see the tops of their skis without dropping their chin—a major win for maintaining both self-awareness and terrain-awareness while riding. The 4D Mag tops its features list off with Smith's signature ChromaPop lens technology, which filters two specific wavelengths of light that cause color confusion—allowing what you do see to be sharper, clearer, and at a higher contrast. (Starting at $280)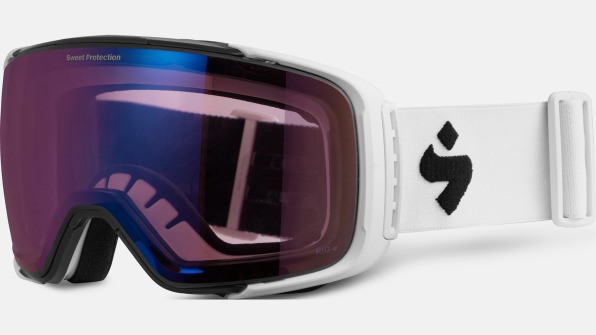 Sweet Protection Interstellar
We've
covered these goggles
before, because that's just how impressive we think they are. No other goggle company is positioning the goggle as a piece of safety equipment, but since Sweet Protection began as a helmet company, the safety considerations included in the
Interstellar's design
have made us think differently about what goggles can do. The lens of the Interstellar measures in at an impressive 2.8 mm thick. During safety testing, the lens was able to withstand (and not break) when shot with a .22 caliber pellet at full power. That means that an errant tree branch or a big fall into a rock has far less of a chance of doing any damage than if your goggles broke. But just as important, the proprietary RIG technology Sweet Protection developed for its lenses reduces your chances of losing your line or getting caught off guard by an undulation in the snow. RIG allows each color of lens (from light amethyst for stormy days to the obsidian lens for extra-bright sunny days) to appear pigment-neutral to your eye's detection. This neutralization of certain color wavelengths reduces eye fatigue, enhances contrast, and reduces distortion. While out in the Wasatch Mountains near Alta, Utah, one tester (and longtime snowboarder) commented that the goggles gave him better sight than he'd ever had while skiing before. Plus, the
Interstellar
is designed to increase FOV without any distortion and fits into a helmet brim perfectly—so no gaping. Pretty sweet, right? (
Starting at $160
)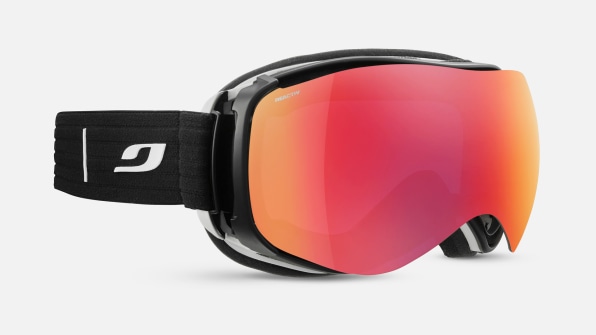 With most goggles, you have to pick the perfect tint of lens for the terrain that you most often ski (light purple, blue, rose, or clear lenses for overcast days; dark green, yellow, red, purple, or black lenses for bright, sunny bluebird days). And if the chances of the clouds rolling in or the sun popping out in the mountains are high (which they always are), you have to carry a second lens with you to switch out when the weather changes. But the Julbo Starwind is a one-lens quiver, thanks to the fact that it boasts the widest photochromic range available on the market (found in any Reactiv 0-3 lens). This means that the Starwind's lens automatically adjusts its tint according to the amount of sunlight present. It's like Transitions glasses, but way cooler. The goggles can transition from the lightest to darkest tint in a mere 22 seconds—meaning that you aren't ever waiting on your goggles to convert. In fact, during testing, the transition was so seamless, I never even noticed that my lenses were transitioning at all. Aside from that cool little trick, these goggles boast other impressive features. Namely, the anti-fog treatment is manufactured into the lens itself—instead of being coated onto the lens, as is the case with most goggles. This means that it won't rub off or fade over time. And if that isn't enough anti-fogging capability for your high-output runs, the Starwind features the Julbo proprietary SuperFlow system, which allows the lens to be easily moved forward away from the frame—basically creating a cracked window for your face to air out. This comes in handy in the gondola between runs, while climbing uphill, or while you're waiting in lift lines. (Starting at $208)
Looking for more cold-weather and ski gear? Check out our other handpicked suggestions.
Fast Company may receive revenue for some links to products on our site.