The technology that might become the future of facial recognition started with a bucket of household paint.
Ingmar Bruder was researching organic photovoltaics—and how to make paint that could absorb sunlight and turn it into electricity—at German chemical giant BASF when he hit upon an unexpected discovery. By shining an infrared beam at an object, the object would reflect back the beam differently depending on what it was made of. And by analyzing that backscatter, and combining it with a more commonplace 2D infrared image and a 3D depth map, software could more accurately identify what an object was. It could tell the difference between a photograph of a person's face printed on paper, a person wearing a realistic mask, the face of a recently deceased person, and the holy grail of biometric facial recognition technology: a living person, based on his or her skin.
In 2015, Bruder launched Trinamix, a wholly-owned subsidiary of BASF, to develop the technology. For the past five years, the company has focused on infrared detectors, near-infrared spectroscopy, 3D imaging, and distance measurement, with more than 400 global patents pending in 75 patent families and 107 patents granted. Today Trinamix is announcing a partnership with Qualcomm's Software Accelerator Program to promote Trinamix's technology to Android phone manufacturers.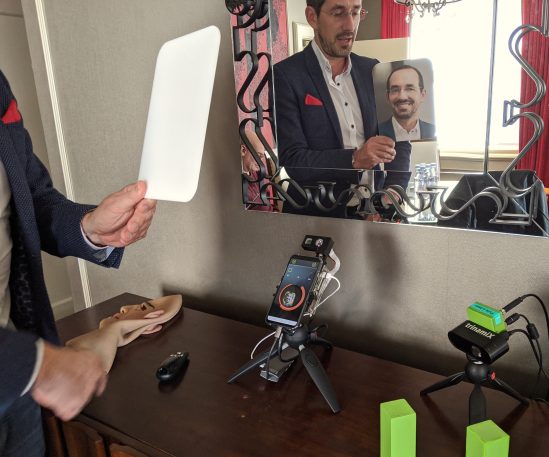 Along with solving some of the existing issues with face recognition that can be too easily fooled, Trinamix's technology has the potential to give makers of Android phones a competitive advantage. "Apple did a great job with facial recognition" in its Face ID login for iPhones, Bruder says. But with the exception of Huawei, which like Apple has created a facial recognition system that uses 2D and 3D cameras to improve accuracy, Android hardware hasn't supported robust facial recognition biometrics.
"What we have invented is a fundamentally new approach to secure user authentication, based on our material detection. It's an unprecedented ability to sense live skin," says Bruder.
The Trinamix system combines a near-infrared spectroscopy 1-megapixel sensor with LED flood illumination and a light projector—both designed to be eye-safe—with proprietary beam analysis, to gauge the composition of the material the sensor is pointed at. Wood reflects back a different beam pattern than plastic, even if both have the identical shape and color. And because even slightly different materials reflect differently, the technology can tell the difference between skin with blood flowing under it and skin without.
Bruder and Trinamix have ambitious goals: By this time next year, Bruder says the company hopes to have its facial recognition system in Android and Windows devices that run on Qualcomm's Hexagon processor on Snapdragon platforms at 2021's Mobile World Congress (assuming it doesn't get canceled.)
The facial recognition business is rapidly growing and is expected to become a $9.6 billion industry by 2022, according to Allied Market Research. Part of the challenge facing Trinamix is that while its technology relies on inexpensive sensors and can be combined with existing facial recognition algorithms, the hardware configuration relies on Trinamix patents that current Android designs do not support—hence the partnership with Qualcomm.
Bruder would not reveal the cost per sensor array, but he did say that none of the hardware Trinamix uses is top-shelf. "We don't want to reinvent the wheel," he says. However, because of its reliance on a proprietary hardware configuration, no matter how cheap that configuration is, Trinamix's technology will only further divide Android's already deeply fragmented marketplace.
Biometrics pioneer Joseph Atick says that Trinamix will have to secure a major handset manufacturer before its technology can have an impact on the use of facial recognition for authentication. "Even a partnership with Samsung doesn't guarantee at all that this will succeed," he says. "If you don't have Apple or Samsung with you, it's just 10 percent of the market."
Beyond the smartphone
Trinamix's technology has plenty of potential to find uses beyond smartphone authentication. If it proves to improve the accuracy of computer vision systems such as those in autonomous vehicles, could it also find its way into government or military surveillance facial recognition systems? Such applications could use help: A December 2019 NIST study found that facial recognition technologies are grossly inaccurate for many people whose faces are analyzed and can sometimes misidentify some groups of people up to 100 times more frequently than others.
Government use of facial recognition tech is growing around the world, despite being "error-prone," warns the digital rights group Electronic Frontier Foundation in an emailed statement to Fast Company. The EFF wants Congress to ban government use of facial recognition technology and said that "false positive rates are higher for women and people of color, so face recognition can have an unfair, discriminatory impact on certain groups and neighborhoods with immigrants and people of color."
Bruder says that despite Trinamix's interest in seeing rapid, broad adoption of its technology, it has no plans to be part of government surveillance. "Our preference is not going to China," he says, alluding to the country's widespread use of facial recognition to monitor its citizens. He adds that "military is not our primary focus."
Wherever Trinamix's foundational technology goes, biometrics pioneer Atick says that the company is populated by "serious engineers" whose main objective, to accurately differentiate skin from nonskin material for authentication, is "very important."
"This is a step in the right direction," he adds. But he cautions that it's hard to tell from the company's preannouncement marketing materials what the technology can actually accomplish.
"This needs to be put in the hands of independent third-party evaluators," Atick says.