Live-streaming platform Caffeine has sought to distance itself from more formidable competitors like Twitch by broadening its aperture beyond the gaming community.
Launched in 2016 by former Apple TV designers Ben Keighran and Sam Roberts, Caffeine bills itself as a "social broadcasting platform," leaving room for more facets of entertainment—aided in no small part by the Fox Corporation's $100 million stake in the company—and by wooing celebrities across music and sports onto the platform including Offset, Doja Cat, and JuJu Smith-Schuster.
Caffeine has been inching its way toward becoming a household name—and its latest partnership could help the platform cover significant ground toward that goal.
Announced today, Drake has signed a multiyear deal with Caffeine to produce live-streaming content on the platform, including a new rap battle series.
"When you look at Twitch, a lot of [the top users] are all the same video game personalities, basically. Ninja was a breakout because he was more of an entertainer. He's definitely not the best format player, but he's very entertaining," says Caffeine CEO Keighran. "What we saw was that people really want to see entertainment more than anything. That's what we're going for. That's what the product's designed for."
Caffeine's partnership with Drake started when Ben Horowitz, one of the principals of the VC firm Andreessen Horowitz and a member of Caffeine's board of directors, was at a basketball game with the rapper.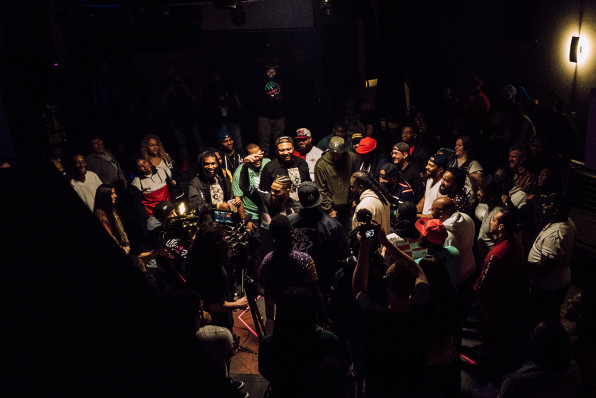 "Ben was talking about the success that he'd seen on Caffeine, in particular with artists," Keighran says. "And Drake had an idea for what he wanted to produce. So Ben called me up from the side of a basketball game and was like, 'Hey, have you heard of Drake?' And I was like, 'Yes, everybody has—he's the biggest artist in the world!'"
Drake has long championed battle rapping, i.e. two rappers going head-to-head trying to out rap and and out diss their opponent. Battle rapping certainly has a devoted following within the hip-hop community; there are even pay-per-view competitions. But it's largely still a niche event, subsisting mainly through YouTube clips.
But Drake, alongside his production partner and leading organization for battle rapping Ultimate Rap League (URL), hopes to change that through Caffeine.
"The problem Drake had was, how do you put this on a map to the millions of people around the world that love battle rap? How do you make it free, and how do you make it social, so that people can talk and discuss it?" Keighran says. "A big element of it is there isn't actually a judge in URL battle rap—it's the crowd talking and figuring out who do they think won. Drake wants to up-level the whole experience."
"I've always loved URL and admired what [Smack White, co-founder of URL] and his team have been able to create. It just wasn't easily accessible," Drake said in a statement. "It's exciting to be in a position where I'm able to bring Caffeine to the table and help provide URL with the tools they need to elevate the viewing experience and make it more accessible to fans."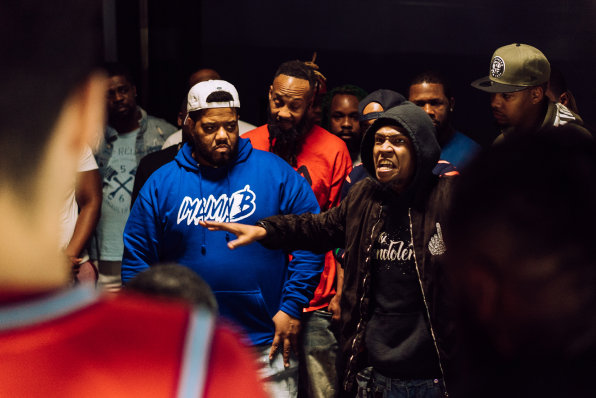 Caffeine's business model centers on a cut that the company takes from in-app purchases users can buy, which can be later used in a chat to show support for whomever they're following (think something akin to buying a jersey of your favorite player that you wear to a game). Keighran says Caffeine's partner programer is similar to YouTube or Twitch where talent gets minimum guarantees for the revenue they generate on the platform.
So why are these huge names flocking to Caffeine rather than YouTube or Microsoft's Mixer, both of which have been aggressively courting talent away from Twitch?
"When I started the company, I asked a friend of mine, Kevin Systrom [founder and former CEO of Instagram and Caffeine investor], how did you get people to come to your platform in the early days?" Keighran says. "He said the real challenge is how do you get these really big names excited, because you've built something for them that allows them to produce something for their audience in a way they can't anywhere else? That really stuck with me."
Keighran says he's building partnerships based on the novelty of the platform and selling it as a new way to reach audiences in the hope that he can make these interactive video platforms more mainstream. "We don't think we want to be just stuck in the gaming world forever. And when you talk to these different artists and athletes, turns out, many of them feel the same way. They want to produce fresh content for their communities."
The first battle will stream live from Atlanta on February 29.