When a producer reached out to Austrian auteurs Veronika Franz and Severin Fiala with a spec script about a woman trapped in a lodge with her boyfriend's two kids, it immediately caught their attention.
Screenwriter Sergio Casci's script had parallels to Franz and Fiala's 2014 sleeper hit Goodnight Mommy: a pair of siblings pitted against a matriarchal figure in an isolated location, with themes of loss, trauma, and skewed perception woven throughout.
The problem was retrofitting Casci's idea to their style.
"What we learned with this script is that our way of telling stories seems to be rather specific," Fiala says. "We like quiet and little dialogue. We feel sad for the original writer. He's great at writing funny dialogue. We unfortunately killed most of his very amusing lines and added a lot of dread and silence."
The Lodge follows a family to their winter retreat over the holidays. But when the father (Richard Armitage) is called away on business, he leaves his two kids, Mia (Lia McHugh) and Aiden (Jaeden Martell), alone with his new girlfriend, Grace (Riley Keough). If tensions weren't already high given the fact that Grace isn't their mother, Mia and Aiden find out that Grace used to be in a religious cult. And when Grace, Mia, and Aidan are trapped in the lodge during a blizzard, Grace's dark past begins to surface.
But, as in Goodnight Mommy, not everything is as it appears.
One of the biggest mysteries in The Lodge is whether or not Grace is imagining things or if there's something more sinister and supernatural afoot. Things go missing. Her cult leader's voice creeps through the house demanding her to repent. The clocks are frozen on a very specific date. About halfway through the film, a major plot detail does, in fact, put everything in context.
The Lodge could've ended there with a moderately satisfactory ending, but Franz and Fiala wanted to push the story even further.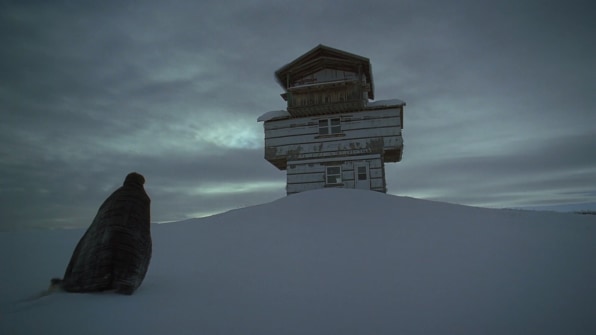 "That was a part of the story we added," Franz says of the film's chilling third act that underscores their mission of not having any truly evil characters in the movie. "After the twist, after you know what's going on, we were interested in, what's next? What do they do with this situation? We liked the idea of having no monster in this movie, but people—people who are good and bad. People who do wrong and do right."
"We felt it would be too easy to end the film after the twist," Fiala adds. "It's what most horror films would do. These people are stuck together. How is this purgatory playing out between the three of them?"
Another aspect of the film that Franz and Fiala built out was how mental health plays out in the film.
Horror movies and thrillers have a deep history when it comes to using mental health as a vehicle for the plot. Films like Psycho, Split, and Midsommar can be praised for their artistic merits, but understandably derided as well for stigmatizing such conditions as dissociative identity and bipolar disorders, or equating people with mental health issues with violent tendencies. Add a mother figure in that position, and the minefield becomes exponentially more crowded with ways that filmmakers can not only be insensitive to people with mental health issues but also perpetuate sexist tropes of the "hysterical woman."
However, Franz and Fiala feel what they added to The Lodge took into consideration the sensitive nature around the topic.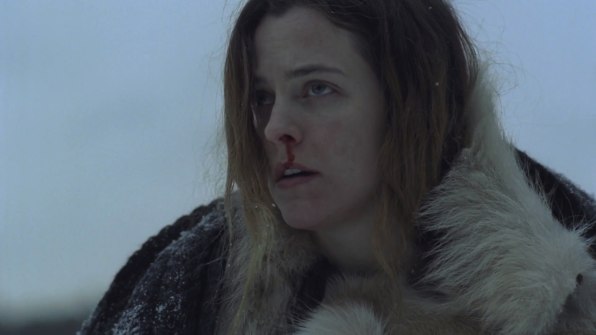 After making Goodnight Mommy, they actually wrote a period piece "about depression in a historical perspective." That untitled project begins shooting in Austria this summer, but at the time it proved too hard to finance. So that's when they took on The Lodge.
"We researched a lot for that movie," Fiala says of their upcoming film. "So we felt pretty well prepared to get those moments right in [The Lodge] because we had spent two years researching."
Although Franz and Fiala didn't come up with the core idea for The Lodge, the film is distinctly their own. They have a way of reducing the noise of horror films and creating gaps of silence to let your imagination do its worst, while not removing the story from reality.
"We always want the audience to fill in their own thoughts, fill in their own lives, maybe their own fears," Franz says. "In our movies, the music and sound design don't tell you, 'Now you have to be scared.' It's the opposite."
"It makes it very safe," Fiala adds of traditional horror movies. "You know when to expect the jump scare. You're afraid, but it's very safe at the same time. So you're not really afraid. To be really afraid, it needs to be more unexpected and more unpredictable because then, anything can happen."