What does streetwear even mean anymore? That's the question Netflix's new competition series, Next In Fashion, tackled in a tense episode in which the two contestants who have the most experience in that category were up for elimination, and a guest judge walked off in protest. 
What started out as a creative and freestyle culture that grew out of hip-hop, without rules, has been commodified and watered down, and black creatives in particular are feeling the sting of erasure—a point illustrated in the show's fourth episode, when Kiki Kitty and Farai Simoyi had to defend their designs to a dubious judging panel. 
The new reality series (which premiered last week) is essentially Netflix's answer to Project Runway, minus the charm of Tim Gunn. It's hosted by two British designers/television personalities, Alexa Chung and Tan France, who also serve as judges alongside an array of big-name guests who help them decide the contestants' fate after each challenge. In the fourth episode, streetwear was the order of the day, and the judges reached a stalemate on whether  Kitty and Simoyi should be eliminated.
The two Brooklyn-based designers know streetwear. They met several years ago when designing Nicki Minaj's K-Mart line, and Kitty helped launch FUBU's womenswear in the '90s when it still operated out of a home in Queens.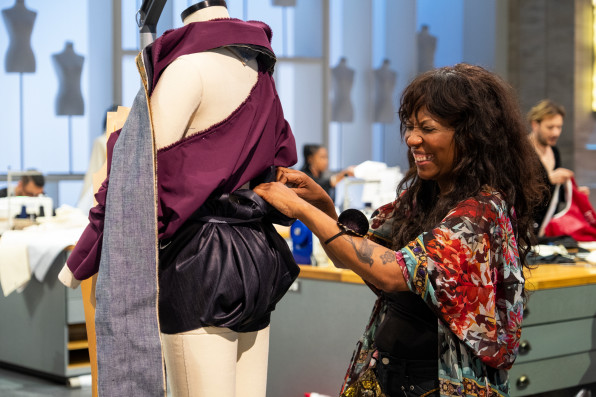 They were excited about the challenge and presented rugged baggy denim ensembles for men and women. But Chung and France, along with the guest judges—celebrity stylists Elizabeth Stewart and Jason Bolden, and designer Kerby Jean-Raymond of Pyer Moss—could not agree on a verdict. There were complaints that Kitty and Simoyi's clothes looked unfinished, citing the intentional raw edges. But Jean-Raymond stood up for them, arguing that their designs were the most innovative and future-focused. He felt so passionately about it that instead of caving in and joining his colleagues in voting Kitty and Simoyi off, he walked off the set—but not before Simoyi made an incisive observation about the fashion industry. 
"We were given streetwear, and we design from our perspective, and the thing that I've noticed in the fashion industry is it's mostly one voice that's heard," she said. "The high-end brands and designers are taking ideas from us every single day, and it only becomes cool when it's high-end. For a lot of us minorities and the underprivileged, we want you to see us, but it's so hard to be seen. It's really frustrating because I look to designers like Kerby. I look to you, Jason, because you guys are in those spaces." (In the end, no one was eliminated that round.)
Speaking this week to Fast Company, Simoyi said that designers from around the world have been reaching out to her about the episode to tell her how much her words resonated with them.  "A lot of times when we were being judged, some of the judges would say, 'The taste level just wasn't there,' or 'It's not my cup of tea.' That's not how you judge—you judge based on an understanding of what the inspiration was from and then going over the story with the designer and understanding their point of view, and I just didn't feel like we had that opportunity at all," Simoyi said. "I felt it was necessary to make that statement because I was speaking from my own personal experiences in the industry over all these years. I realized, 'Wow, it's still happening on this stage,' and for me and my work, it's just always hard for us to tell our stories and to be seen. I don't think everybody needs to understand my point of view. That's not what we're saying. But just listen. I feel like the fashion industry sometimes doesn't listen unless it's European or Westernized."
Kitty summed up Simoyi's statement succinctly in an interview with Jezebel: "It's ghetto until proven fashionable."  
Kitty and Simoyi (who is originally from Zimbabwe) take pride in their respective backgrounds as New York City fashion girls, having been inspired by the city's colors and chaos, and taking mundane items like a pair of jeans and sprucing them up with bleach splattered in abstract patterns and frayed edges, or an oversize coat upcycled to reflect the voluminous bubble coat trend. 
"Streetwear is a craft you create. You figure it out as you go, but they kept saying that wasn't their cup of tea. We were critiqued so heavily on the raw edges, and somebody I know that has a subscription to WGSN just sent me a screenshot to a story about raw edges on denim being the next trend," says Simoyi. "So that's what's happening on the streets. This is what people are wearing, so we designed from our background, and they're just like, 'No, that doesn't fit into our standard,' and that's why I got so frustrated. We create and design dope things every single day to only have it taken from us and resold."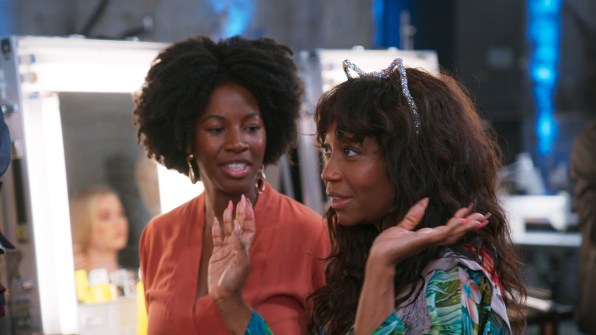 Streetwear is rooted in hip-hop, and back in its earliest days, in the late '70s/early '80s, mc's, graffiti artists, Lo-Lifes, and breakers would get a hold of brands like Gucci and Polo and remix the styles to their liking, without the approval of fashion pundits.
"There was that whole vibe, in addition to rappers wearing things that were trending during that time. Wearing sneakers with a suit or even the way they were wearing velour tracksuits was different—like adding chains, adding baseball hats, and taking laces out of sneakers—all that kind of stuff is streetwear," said Charlese Antoinette, a stylist and costume designer whose credits include Raising Dion, See You Yesterday, and Astronomy Club. "And that style evolved to black people having their own lines in the '90s. There was a huge push then, so that was actually the birth of streetwear." 
In the '90s, black-owned brands like Pelle Pelle, Karl Kani, Baby Phat, Phat Farm, and Cross Colours began to blow up worldwide. They had runway shows and were sold at big department stores including Macy's and JCPenney. Then there was a shift in the early 2000s where brands in the genre such as Mishka, 10 Deep, and Leroy Jenkins began to spring up with more minimal lines. 
"There were these full-concept clothing lines with runway shows [at first], and then primarily t-shirt lines that started in the early 2000s, but what we're seeing now is high-end brands basically copying what we're wearing and how we wear stuff," Antoinette said. 
Even Jean-Raymond mentioned in the episode that he started his line because he had a hard time breaking into fashion. The CFDA/Vogue Fashion Fund winner added that his designs have been copied by Louis Vuitton. 
Whatever frustration Simoyi feels about the rampant appropriation of her culture, she is passionate about protecting streetwear's soul and maintains that the core should always come from within.  
"Being on the show and learning about the other designers—there's streetwear in China, and there's streetwear in Korea, and there's also streetwear in Africa, where I'm from, so I feel like streetwear is defined by the culture that you're from," she said. "I think it's something that can't be taken away from anybody because it's something each individual person has to own."  
The winners of the streetwear challenge on the controversial episode of Next In Fashion were Minju and Angel. Minju is based in South Korea and Angel in China, though she was trained at the prestigious Central Saint Martins in London. Their winning design was an oversize, parachute-like windbreaker—just the type of abstract piece that you can imagine being sold by a luxury brand for way too much money. 
That's called irony.