Today, the North Face announces its latest sustainability effort: Sending its designers back to school.
The outerwear company has a team of nearly 70 designers in its headquarters in Denver, Colorado, and every six months, a team of five of them will be invited to participate in a new program called the Renewed Design Residency. These designers will spend a week at the Renewal Workshop, a company that helps brands collect old garments, repair them, and prepare them to be resold. The goal is to immerse the designers in this environment—surrounded with old, ragged clothes—so that they can learn how to design garments with their entire life cycle in mind.
"As designers, we're thinking about how to design products that will perform when the customer uses it," says Kellen Hennessy, a senior designer at North Face who helped spearhead this program and attended the inaugural residency. "But through this program, we're thinking about what happens at the end of the garment's life. We can focus on extending the product's lifespan and finding new purposes for it when it's finally beyond use."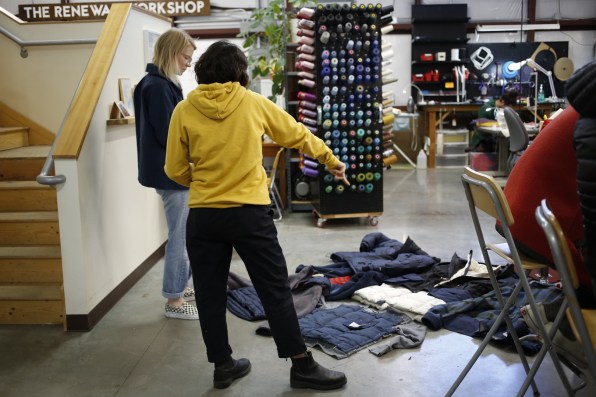 Over the past several decades, our relationship to our clothes has fundamentally changed. Clothes went from being durable objects to becoming disposable. Since 2000, the average number of times a consumer wears an item before throwing it away has dropped by 36%, and many people use a garment only eight to 10 times before chucking it. These habits are contributing to the destruction of the environment. Every year, 85% of all textiles produced end up in landfills or the ocean. And since most clothes these days are made from plastic-based synthetic fibers, these garments might take hundreds of years to decompose.
But clothing designers are now tinkering with an intriguing new idea: What if they designed clothes to be worn longer? What if they took this a step further and designed clothes that could exist, in some form, forever?
That's the goal of circularity, a movement devoted to preserving the earth's resources by keeping clothes—and all of the other products we use—out of landfills. When it comes to the fashion industry, this involves wearing garments longer, repairing them when they are damaged, then repurposing or recycling them when they have reached the end of their life. Many brands are shifting toward this model, including Patagonia and Eileen Fisher, which now collect old clothes to be repaired or upcycled.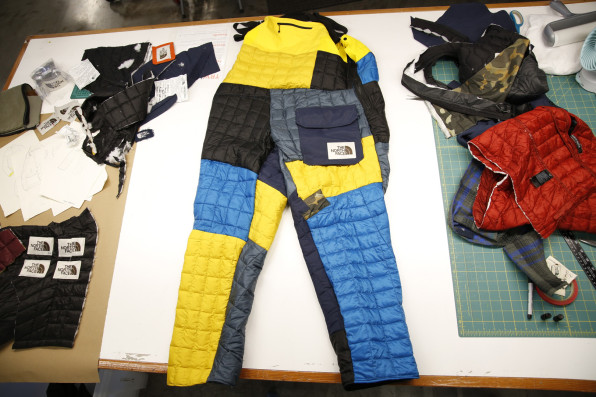 The North Face has been working toward circularity for some time. In 2018, it partnered with the Renewal Workshop to create the Renewed platform, in which the company collected customers' old clothes, repaired them so they're like new, then resold them. But last year, when Hennessy was visiting the workshop, she realized that there was an opportunity for the rest of the design team to learn about the entire life cycle of a garment by spending time at the workshop.
Hennessy proposed the idea of the residency to her bosses, and they were very encouraging. So last October, she and three other designers participated in the first residency. Going forward, a rotating group of four or five North Face designers will attend the program every six months. The Renewal Workshop will teach these designers the principles of circular design, and the designers will have an opportunity to interact with products that have been worn out, developed holes, and are even beyond repair. This is supposed to help the designers consider how to make clothes that are more durable and spark ideas about how to repair or repurpose well-worn clothes.
On a deeper level, the point of the residency is to help designers shift from focusing purely on the performance and the aesthetics of a garment to thinking about how it will live on in the decades to come. "Our goal is to integrate circularity into our core design principles," says Hennessy. "This means thinking, from the start, about using durable fabrics and construction methods."
Some of the learnings are small and practical. Hennessy says that interacting with worn-out clothes helped her see parts of garments that tend to break or tear first, so designers will now reinforce these parts. She also learned that some zippers tend to give out more than others, so this will inform what kinds of zippers the company uses going forward. "There are some immediate steps we're taking, but we're also interested in spurring conversations among the design team, so this is an ongoing part of what we do," says Hennessy.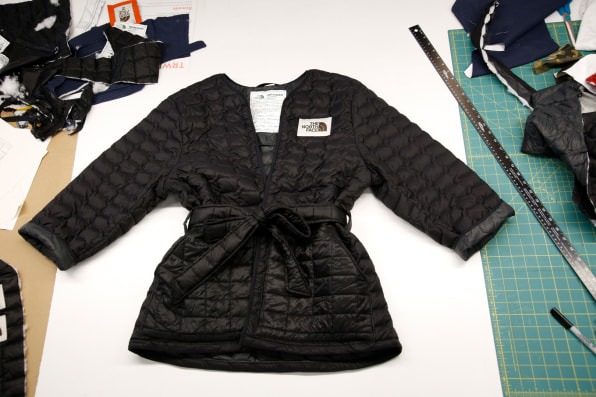 One potential area of inquiry is how to extend the life of garments that are too worn out to be repaired. In a pilot workshop of the Renewed Design Residency, which took place in October 2019, four North Face designer had access to a pile of garments that were beyond repair, and each of them created a one-of-a-kind piece from these scraps. These "renewed" pieces include hooded sweatshirts and jackets that have a familiar North Face silhouette, but they also look like they were inspired by bricolage. My favorite piece from the line is a kimono sweater made from an old puffer coat: it's chic, with clean lines, giving new life to a garment that would have ended up in the trash. Starting today, four pieces that came out of the inaugural Design Residency will be auctioned on the North Face's Renewed website, and 100% of the proceeds will be donated to the North Face Explore Fund, which gives money to environmental nonprofits.
This limited-edition collection is more of a showcase than a representation of where the North Face's designers will take the brand's garments. A more practical approach to circularity involves making sure no fabric goes to waste in the manufacturing process. It means creating collections of clothes that are so classic, so they don't go out of style in next season or the next decade. It means creating garments that don't wear out after years of continued use. And it means investing in technologies that will allow you to recycle garments into entirely new garments once they have reached the very end of their life cycle, much the same way we turn used aluminum cans into new ones.
It's clearly a long, challenging process for apparel brands to reinvent their products with circularity in mind. Perhaps a bigger challenge is enlisting consumers in the fight for a more sustainable fashion industry. After decades in which disposable fast fashion reigned supreme, brands will need to work hard to help consumers make the paradigm shift to thinking that clothes aren't short-term purchases but long-term investments.
The North Face seems to understand that design plays a crucial role not only in the sustainable creation of new products, but also in helping consumers adjust their relationships to their clothes. Take a long-sleeved shirt that is up for auction today. It looks chic, with a blue puffer material in the front, and soft grey sleeves and trims. But each fragment of it used to be part of other garments, worn by other people. "This process illustrates that clothes have an afterlife," Hennessy says.