Two decades ago, I moved from chemistry research to the world defined broadly as "sustainability." In the years that have followed, I've been in countless meetings to persuade companies that reducing carbon emissions is good for business. Today, I increasingly find myself skipping over those business case slides. The conversation is no longer "Why?," it's "How?" And that change is backed up by research, which shows the scale and speed at which the world's largest corporations are pledging climate commitments with real impact. It's now a case of "when," not "if," the others follow.
But despite the growing awareness, we still face a huge challenge in releasing government financial commitments fast enough. Is this where corporates are stepping in? To answer that question my company decided to evaluate the largest global corporations by revenue—i.e. the Fortune Global 500 list. We scoured public reports to identify already delivered climate actions as well as commitments to deliver by 2030, the IPCC's key deadline for getting on the path that limits the global average temperature rise to 1.5 degrees Celsius.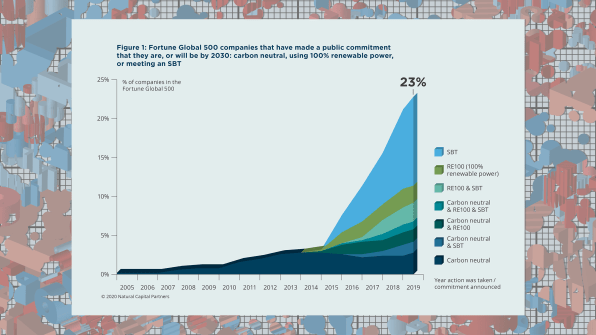 That research found that 23% of companies have made a public commitment that by 2030 they will be carbon neutral, using 100% renewable power, or meeting a science-based internal emission reduction target. This represents a nearly four-fold increase since the Paris Agreement was signed in 2015.
Those numbers might sound small, but they are encouraging enough to give me a little optimism when it comes to progress on climate change. Because this change has taken place among the biggest companies with the widest circle of influence. Influence over suppliers, customers, the wider business world, and governments. The 23% that are taking action now have a combined revenue of $8 trillion and employ 18 million people around the world. And these companies, their CEOs, their CFOs, their management teams, are likely to be the ones on stage at business schools, commencement addresses, and industry conferences, talking about why climate action is no longer a "nice to have."
What is driving this? It's not just altruism. Climate action no longer sits in the optional category of corporate responsibility. Today the commercial incentives for taking climate action are proving too big to ignore. Whether it's the demands of employees, the ability to hire the best talent, managing risks in supply chains, operational continuity, regulation, investor interest, or customer expectations, the business case is clear across all sectors. In all but two of the 19 sectors represented in the list of 500, at least one company had made a climate commitment to deliver by 2030.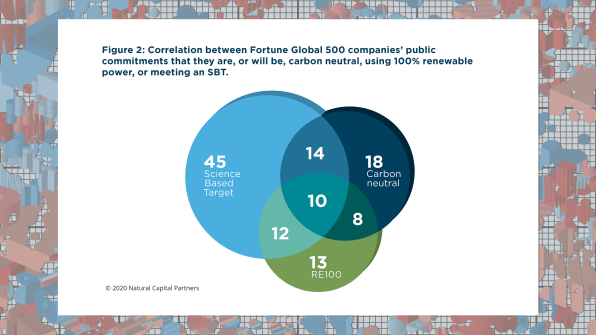 Alberto Carrillo Pineda, director of science-based targets and renewable energy at CDP, says: "The research shows that global corporates are aligning their ambition to a new paradigm by setting science-based targets, powering their businesses 100% with renewable energy, and committing to carbon neutrality. This new benchmark of corporate climate ambition sends a strong signal across the economy about the level of decarbonization that is feasible and the speed at which it can happen."
This is a far stronger signal than surveys of business leaders or customers that we might have highlighted in years gone by. The fact the management teams of a quarter of the world's biggest companies have taken a climate leap and this has quadrupled in four years is evidence that the commercial case stacks up. The scales have tipped.
Helen Clarkson is CEO of the Climate Group, which runs the RE100 program of corporate signatories to 100% renewable power. As she puts it, "Climate is an existential threat for business, and I think this will kick in in the next 10 years—it's not about 'doing the right thing,' it's about staying in business."
Companies are meeting increasing demands from consumers, shareholders, and employees for demonstrable action on climate change; anticipating increases in regulation in a carbon-constrained world; mitigating risks in supply chains; and improving efficiencies of their own operations.
What is "demonstrable action on climate change"? What did the research tell us about the nature of companies' actions and commitments?
There was a roughly equal split between action and commitments through carbon neutrality, 100% renewable power, and science-based targets to arrive at the 23%.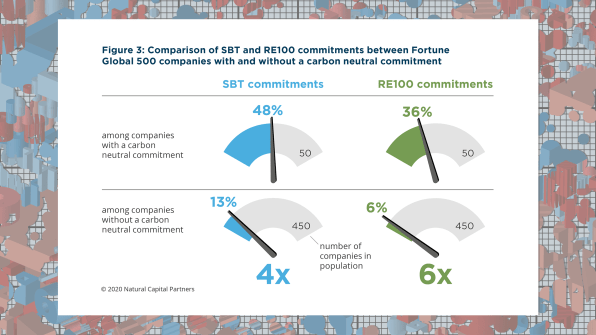 And these three approaches complement each other: Companies with a carbon-neutral commitment are four times more likely to have a science-based target and six times more likely to be an RE100 signatory. Carbon neutrality is immediately implementable, meaning companies can make a meaningful difference straight away. And it puts a price on carbon to encourage the deeper operational changes to help a company work toward other climate targets such as a science-based target. Companies that have a carbon-neutral commitment are much more likely to be driving the strategic transformation of their business to a sustainable model for the future.
So, if climate change is in the in-tray of big strategic questions for corporates, with the commercial imperatives impossible to ignore and action coalescing around three reinforcing actions, why haven't the other three-quarters taken action? With the majority of the world's biggest businesses still in the starting blocks, and time running out, will they also change course?
The media is talking about it. Our children are shouting about it. Amazon felt the force of its employees' concerns. Airlines have been shamed into action. Investors are reevaluating. And, although a coordinated global policy seems to have stagnated, there are plenty of net-zero proposals from national governments around the world.
The challenge for these large businesses is not if they should change course, but how rapidly they can do it. We've seen a quarter of these tankers begin to make serious moves toward turning themselves around. And that quarter is spread among all sectors. The captains of the other three-quarters aren't merely thinking "Should we turn as well?" but are being asked precisely those questions by everyone around them.
---
Saskia Feast, Ph.D., is board member of Presidio Graduate School and VP Western Region at Natural Capital Partners. You can download the full report on the climate actions and commitments of the Fortune Global 500 and Natural Capital Partners' CarbonNeutral Protocol.