In the United States, one third of babies are born by cesarean delivery; but up to 45% of these surgeries may not medically indicated. The rates of cesarean delivery vary dramatically from hospital to hospital—from a modest 7% at some facilities to a whopping 70% at others. A study conducted by Ariadne Labs, a health system innovation center, and MASS Design Group, a nonprofit architecture firm, looked at how different aspects of the physical design of a hospital labor and delivery unit could lead to a higher rate of cesarean deliveries.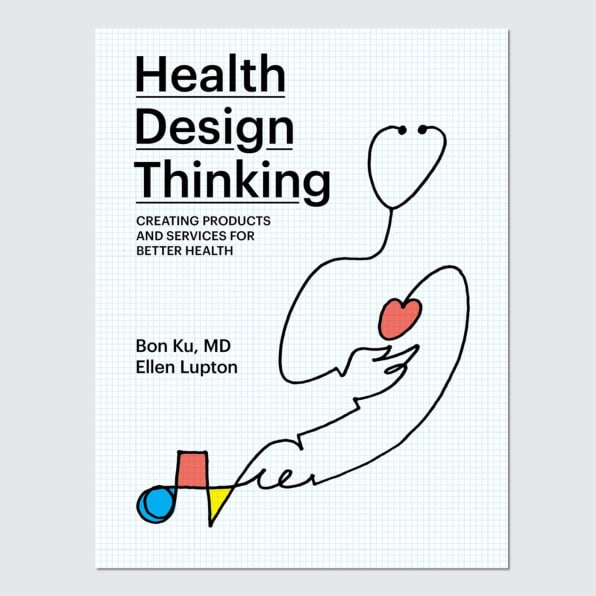 The team conducted a mixed-methods, descriptive study of a dozen hospitals and birth centers in the U.S. The study employs quantitative metrics—such as the distance between labor and delivery rooms (LDRs)—along with qualitative observations from team members. The size and shape of the labor and delivery unit, the standardization of patient rooms, and the distribution of nursing stations are design features that might influence the varying rates of cesarean deliveries among hospitals. Other metrics include the ratio of operating rooms (ORs) to LDRs and the distances between rooms. A shortage of LDRs, easy access to ORs, or the need to walk long distances in a jumbo-size facility could spur clinicians to move patients more quickly through labor and delivery, resulting in more cesarean deliveries. For these reasons, the healthcare facility in which a woman chooses to give birth is a strong predictor for a cesarean delivery.
In addition to researching a specific outcome (higher cesarian rates), the study illuminates the broader effects of hospital layout on morale and productivity. For example, when a hospital changed its nursing stations from a larger, collaborative space to smaller, dispersed spaces closer to LDRs, nurses reported feeling isolated and depressed. Thus, a well-intentioned design change had an unexpected side effect. Below, we've summarized and excerpted five elements of this remarkable study, which demonstrates the power of methodical design research to yield rich insights about human behavior and the built environment.
Distance from nurse's station to LDR
The average distances between different rooms within a healthcare unit contribute to staff workload. The nursing station is a central hub of activity on a labor and delivery unit. Many hospitals even refer to these locations as "control centers." Sometimes they are used by physicians, midwives, and students as well as by nursing staff. Distances between nursing station and LDRs vary widely, from an average distance of 23 feet at Sharp Mary Birch Hospital for Women & Newborns, where nurses sit just steps away from each of the four rooms in their pod, to an average distance of 114 feet at football-field-size University Medical Center of Princeton at Plainsboro, where nurses and physicians reported frequently having to run from room to room to care for patients. Longer average distances between the nursing station and LDRs may be associated with higher cesarean rates.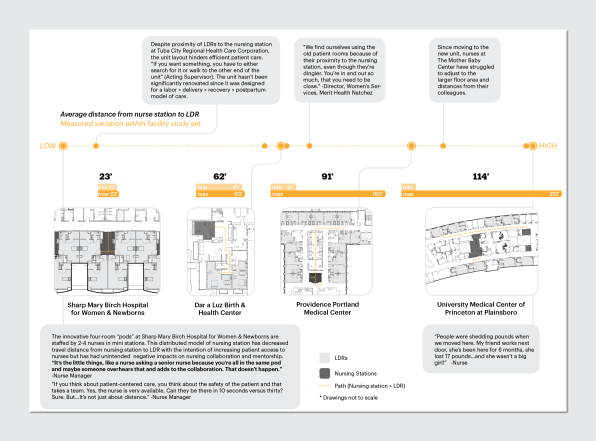 As units grow in size, some hospitals employ a distributed nursing station model, in which smaller substations are located throughout the unit to increase patient access to nurses. Facilities shared that this model may have the unintended consequence of disrupting clinician-nurse communication. Beth Israel Deaconess Medical Center has found that close proximity of LDRs to small, distributed nursing stations threatens patient confidentiality: "I worry about patient privacy," one source said. "You don't have any place to go to have a private or difficult conversation. Those things end up happening in the kitchen or med room."
Too many operating rooms?
The ratios among different types of dedicated space within healthcare facilities can influence clinical outcomes. There may be a correlation between higher ratios of ORs to LDRs and higher cesarean rates. OR access is a critical component of capacity for performing both scheduled and emergent cesarean deliveries. Access is a function of the physical space (number and availability of rooms) and the ability of staff to provide anesthesia and perform the surgery. This study measured OR access as a ratio of ORs to LDRs for each facility. The study sought to find out how the relative capacity of the unit to perform a cesarean delivery as opposed to a vaginal delivery would affect treatment intensity. Based on insights from a facilities manager on the research team's advisory board, the team hypothesized that a higher ratio of ORs to LDRs may be associated with higher cesarean rates because of a "supply-induced demand mechanism": the more readily accessible the OR, the fewer the barriers to performing surgery. Of note is that freestanding birth centers do not contain ORs—patients who require cesarean delivery must be transported to the nearest hospital.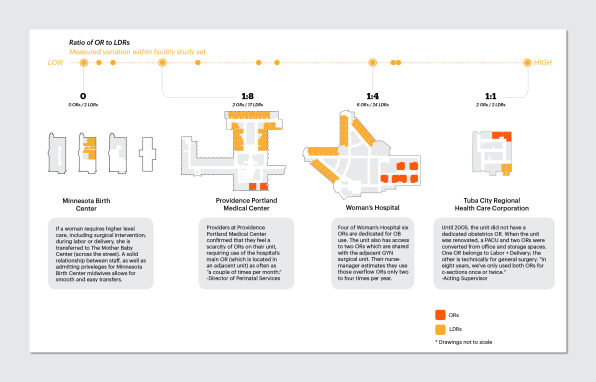 The number of ORs on a labor and delivery unit depends on several factors. First, units serving higher acuity patient populations, which are more likely to need cesarean deliveries, require greater OR access. Greater socioeconomic context, such as the percentage of patients covered by Medicaid, may better elucidate the role of design in sustaining or alleviating disparities in care.
Maximum distance between LDRS
For staff caring for multiple patients in a single shift, the distance between LDRs can have a strong impact on workload. Closely spaced, efficiently laid out units contrast with vast, sprawling units, where nurses may find themselves literally running between rooms. During a site visit, one obstetrician said he had invested in gels for his shoes after the move to the new unit: "The path going from room to room to go to a supply room, it really kills our staffing."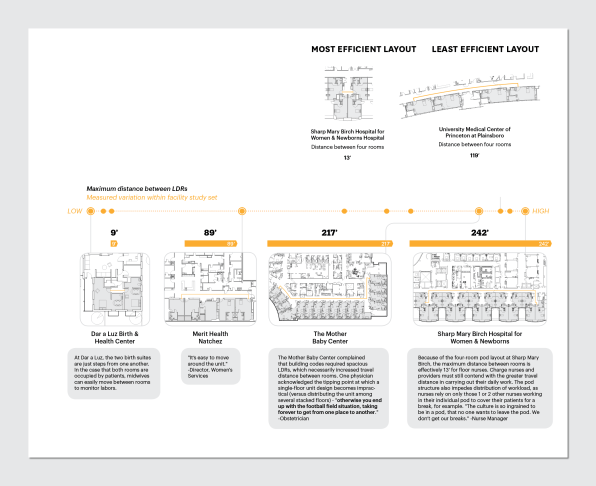 Larger rooms are needed to accommodate laboring and the procedural aspect of the delivery itself, and for the expanded staff that accompanies the presence of a second patient (the infant) and for specialists in case of an emergency. Large patient room size is a unique labor and delivery design challenge that can be dealt with in ways that are more and less efficient. Sharp Mary Birch Hospital for Women & Newborns has clustered its 22 rooms in such a way as to maximize efficiency and compactness between sets of rooms, although this hospital's absolute maximum distance is the highest in the research sample. University Medical Center of Princeton at Plainsboro, which contends with the next highest distances between LDRs, has only eight rooms, but the rooms are lined up along the periphery of a long, curving corridor—probably the least efficient arrangement.
Collaborative spaces
Opportunities to share knowledge and to communicate with colleagues are critical to a sense of team accountability. We analyzed the ratio of staff areas designed for collaborative interaction among team members to the total staff area. We predicted that collaborative spaces would lead to a greater sense of accountability for providing optimal care and would reduce treatment intensity. The Mother Baby Center has a high proportion of collaborative staff spaces (nearly all), while Woman's Hospital has very few collaborative spaces—staff work and take breaks as groups of nurses or clinicians, excluding the rest of the team. Beth Israel Deaconess Medical Center and Tuba City Regional Health Care Corporation Regional both have centrally located common work areas. At Providence Portland Medical Center, inclusive team huddles happen in the hall outside a snack room near the nursing station.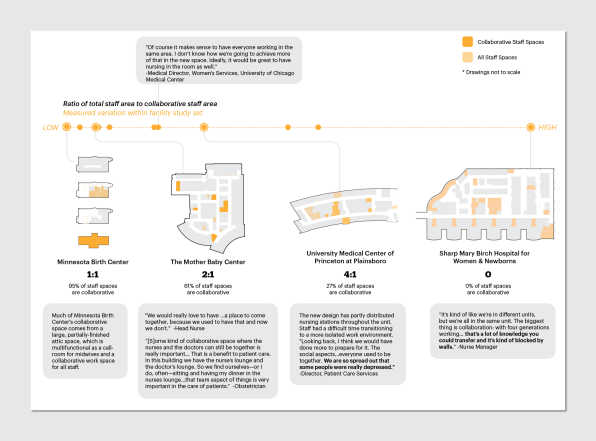 At University of Chicago Medical Center, the "Board Room" is for physicians and midwives; nurses enter this room only to give reports. Commonly, hospital unit break rooms are divided among staff as well. At Tuba City Regional Health Care Corporation, the space designated "Common Lounge" is, in practice, only for nurses, though it is rarely used because of its distance from the nursing station. (Instead, nurses perch on a trash can lid in the patient kitchen to grab a snack.) A relative lack of collaborative staff areas may contribute to higher cesarean rates. Our contextual findings further clarify, however, that increased accountability does not automatically translate into higher or lower cesarean rates. Team culture and overall intentions must be understood. In tertiary settings, increased accountability may actually increase cesarean rates as patients are monitored more closely.
Room standardization
Another design feature that contributes to staff workload is the degree of standardization among patient rooms. Healthcare design experts frequently argue that standardizing the headwall location in patient rooms improves staff efficiency by reducing the cognitive effort required to reorient to a unique layout within each room. In theory, when rooms are standardized, a nurse or clinician can enter any room on the unit and know immediately where to find necessary tools, instead of having to expend mental energy recalling the setup within a particular room. Based on this theory, we predicted that room standardization might decrease workload. In the facility sample, we observed varying degrees of LDR standardization: from completely unique room layouts (more common among birth centers), to standardized but mirrored layouts (same headwall layout located on different sides in different rooms), to same-handed rooms (with headwalls located on the same side in each room). Our sample as a whole was evenly distributed among these three degrees of LDR standardization, but birth centers were nonstandardized.
Typically, birth centers are in renovated houses or offices, where existing building conditions limit the options for standardization within labor and delivery rooms. Natchez was an outlier among the hospitals we studied—its five LDRs had fairly unique room layouts, resulting from a history of selective renovations to the unit. Although it's commonly believed within the field of healthcare architecture that standardization improves efficiency, there is little evidence to support this claim.