February's one-two punch of the Super Bowl and the Oscars is making February feel a little top-heavy.
Super Bowl Sunday brings its standard avalanche of star-studded ads and the *chef's-kiss* perfect pairing of Jennifer Lopez and Shakira for the halftime show. Even though the Academy pissed a lot of people off this year (as is pretty much their custom), there's still enough buzz around films such as Joker and Parasite showing out that the Oscars ceremony will definitely warrant an audience.
But two Sundays at the top of February is just the tip of the entertainment iceberg.
There's the return of favorites such as Desus & Mero and Brooklyn Nine-Nine; hyped-up premieres including Hulu's rendition of the 2000 classic High Fidelity and what looks to be a reimagining done right with Wendy; and sequels and spinoffs that (shockingly) don't feel played out, such as Birds of Prey and To All the Boys: P.S. I Still Love You. On the music front, Huey Lewis & the News are dropping their 10th album—the first in a decade—and Grimes is giving birth to something very Grimes-like.
As if you needed anything else to look forward to in February, we got three words for you: Sonic. The. Hedgehog.
Check out everything coming your way in February below:
MOVIES
MOVIES TO WATCH AT HOME
Tom Papa: You're Doing Great!, February 4 on Netflix
Horse Girl, February 7 on Netflix
Ali & Cavett: The Tale of the Tapes, February 11 on HBO
To All the Boys: P.S. I Still Love You, February 12 on Netflix
Buffaloed, February 14
Olympic Dreams, February 14
The Times of Bill Cunningham, February 14
VFW, February 14
You Go to My Head, February 14
Conundrum: Secrets Among Friends, February 21
The Last Thing He Wanted, February 21 on Netflix
Once Were Brothers: Robbie Robertson and the Band, February 21
Whitmer Thomas: The Golden One, February 22 on HBO
Saint Frances, February 28
Wendy, February 28
The Whistlers, February 28
MUSIC
Envy — The Fallen Crimson, February 7
Green Day — Father of All…, February 7
La Roux — Supervision, February 7
Lisa Loeb — A Simple Trick To Happiness, February 7
Nada Surf — Never Not Together, February 7
Richard Marx — Limitless, February 7
Sepultura — Quadra, February 7
Stone Temple Pilots — Perdida, February 7
Huey Lewis & the News — Weather, February 14
Tame Impala — The Slow Rush, February 14
Tennis — Swimmer, February 14
Greg Dulli — Random Desire, February 21
Grimes — Miss Anthrop0cene, February 21
Mondo Generator — Fuck It, February 21
Sarah Harmer — Are You Gone, February 21
The 1975 — Notes on a Conditional Form, February 21
Mondo Generator — Shooters Bible, February 28
The Secret Sisters — Saturn Return, February 28
Wajatta — Don't Let Get You Down, February 28
Caribou — Suddenly, February 28
TV SHOWS
Puppy Bowl Presents: The Dog Bowl III, February 1 on Animal Planet
Puppy Bowl XVI, February 2 on Animal Planet
Super Bowl LIV, February 2 on Fox
Desus & Mero, February 3 on Showtime
McMillions, February 3 on HBO
The Flash, February 4 on CW
The Pharmacist, February 5 on Netflix
LEGO Masters, February 5 on Fox
Briarpatch, February 6 on USA
Brooklyn Nine-Nine, February 6 on NBC
Carol's Second Act, February 6 on CBS
Indebted, February 6 on NBC
Interrogation, February 6 on CBS All Access
Katy Keene, February 6 on CW
Mom, February 6 on CBS
The Sinner, February 6 on USA
Tommy, February 6 on CBS
The Unicorn, February 6 on CBS
Democratic Presidential Debate, February 7 on ABC
High Maintenance, February 7 on HBO
Locke & Key, February 7 on Netflix
Mo'Nique & Friends: Live from Atlanta, February 7 on Showtime
Mythic Quest: Raven's Banquet, February 7 on Apple TV+
92nd Annual Academy Awards, February 9 on ABC
Homeland, February 9 on Showtime
Kidding, February 9 on Showtime
For Life, February 11 on ABC
Narcos: Mexico, February 13 on Netflix
Cable Girls, February 14 on Netflix
High Fidelity, February 14 on Hulu
The Real Bros of Simi Valley, February 14 on Facebook Watch
Visible: Out on Television, February 14 on Apple TV+
American Idol, February 16 on ABC
Duncanville, February 16 on Fox
Good Girls, February 16 on NBC
The Good Lord Bird, February 16 on Showtime
Last Week Tonight With John Oliver, February 16 on HBO
Outlander, February 16 on Starz
Slow Burn, February 16 on Epix
War of the Worlds, February 16 on Epix
Zoey's Extraordinary Playlist, February 16 on NBC
Democratic Presidential Debate, February 19 on MSNBC
Year of the Rabbit, February 19 on IFC
Gentefied, February 21 on Netflix
Hunters, February 21 on Prime Video
Better Call Saul, February 23 on AMC
The Walking Dead, February 23 on AMC
The Voice, February 24 on NBC
Democratic Presidential Debate, February 25 on CBS
I Am Not Okay With This, February 26 on Netflix
Followers, February 27 on Netflix
All the Bright Places, February 28 on Netflix
Queen Sono, February 28 on Netflix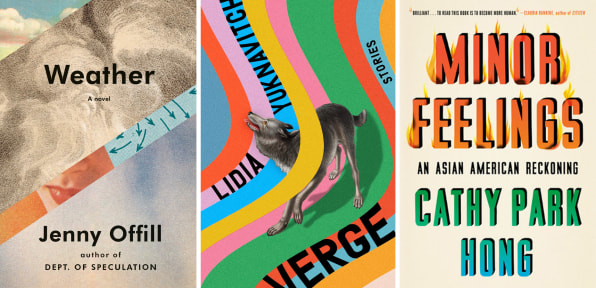 BOOKS
The Girl with the Louding Voice, by Abi Daré, February 4
Brother & Sister, by Diane Keaton, February 4
Verge, by Lidia Yuknavitch, February 4
The Lost Book of Adana Moreau, by Michael Zapata, February 4
If Men, Then, by Eliza Griswold, February 11
In the Land of Men, by Adrienne Miller, February 11
Weather, by Jenny Offill, February 11
Shuggie Bain, by Douglas Stuart, February 11
Road Through Midnight: A Civil Rights Memorial, by Jessica Ingram, February 17
Two American Projects, by Dawoud Bey, February 18
Whistleblower: My Journey to Silicon Valley and Fight for Justice at Uber, by Susan Fowler, February 18
Making a Photographer: The Early Work of Ansel Adams, by Rebecca A. Senf, February 18
Real Life, by Brandon Taylor, February 18
Last West: Roadsongs for Dorothea Lange, by Tess Taylor, February 18
Hood Feminism: Notes from the Woman That a Movement Forgot, by Mikki Kendall, February 25
The Splendid and the Vile: A Saga of Churchill, Family, and Defiance During the Blitz, by Erik Larson, February 25
Apeirogon, by Colum McCann, February 25
Minor Feelings, by Cathy Park Hong, February 25
Apartment, by Teddy Wayne, February 25
[Photo Illustration: Samir Abady; Better Call Saul: Greg Lewis/AMC/Sony Pictures Television; Birds of Prey (And the Fantabulous Emancipation of One Harley Quinn): Claudette Barius/Warner Bros. Entertainment; Emma: Box Hill Films/Focus Features; For Life: Giovanni Rufino/ABC; High Maintenance: David Russell/HBO; Homeland: Sifeddine Elamine/Showtime; Kidding: Nicole Wilder/Showtime; Outlander: courtesy of Starz; The Call of the Wild: courtesy of Twentieth Century Fox; The Good Lord Bird: Albert Hughes/Showtime; To All The Boys: P.S. I Still Love You: Bettina Strauss/Netflix; Tommy: Cliff Lipson/CBS]