I love the idea of the Fxtec Pro1 more than the phone itself.
Made by a startup that's never built a smartphone before, the Fxtec Pro1 is trying to revive the long-dormant physical keyboard in an age of all-touchscreen slabs. Although the $699 Pro1 still has a touchscreen with curved glass on the outside, it's much thicker than your average smartphone, due to the bottom half that slides out to reveal a keyboard in landscape mode. While it takes some getting used to after years of typing on glass, with enough practice it can also feel more precise—which is part of London-based Fxtec's argument for ditching touchscreen keyboards in favor of their retro counterparts.
The company says the Pro1 is the first step in a broader mission: to bring back the kind of niche smartphone ideas that larger companies have abandoned in pursuit of the lowest common denominator. The pitch is appealing to anyone who wishes modern smartphones weren't so boring, and who pines for more dual-screen phones, foldable phones, modular phones, gaming phones, and other weird ideas that never went anywhere in the past.
The Pro1, however, proves that it's hard to make these kinds of phones without compromising on other key elements such as performance and camera quality. That's especially true for a first-time phone maker such as Fxtec, which lacks both the experience and the buying power to really compete with the likes of Samsung or Apple.
Bringing back the keyboard
The Fxtec Pro1 is predicated on the argument that physical smartphone keyboards are faster and more accurate than virtual ones, especially with continuing advancements in auto-correct and gesture typing. While I remain dubious of this argument, I still understand the appeal of a device such as the Pro1: A separate keyboard leaves more room on the screen for apps, and you can easily copy and paste text with keyboard shortcuts instead of clumsy touch gestures. The landscape keyboard setup is extra useful with two apps running side by side, and in a clever touch, the Fxtec Pro1 lets you customize quick-launch shortcuts by holding down any key. In other words, adding a physical keyboard can help boost productivity.
While some of the earliest Android phones had keyboards that slid out from behind the screen in landscape mode—Motorola's Droid being the most notable example—they quickly went out of style as phone makers followed Apple's touchscreen-only lead. The only major vendor that's still somewhat interested in physical keyboard phones is TCL, which manufactured BlackBerry's KeyOne and KeyTwo Android phones. But even these aren't sliders—their keyboards sit underneath the screen in portrait mode.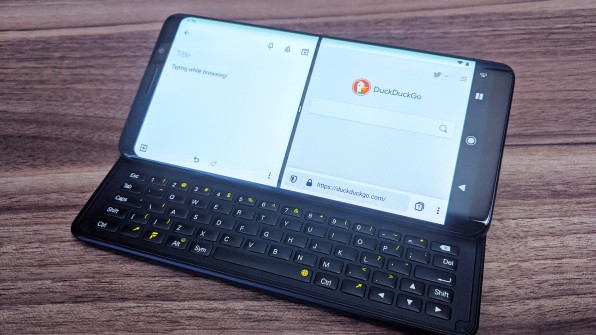 Adrian Li Mow Ching, the cofounder and director of London-based Fxtec, told me back in August that slide-out mechanisms are challenging to produce on both the design and manufacturing sides, which makes sense when you consider all the moving parts that are involved. Prying upward between the Pro1's keyboard and display portions causes a hinge to unfurl between them, sliding the screen out and up. Then you have the keys themselves, which need to walk a fine line between stiffness and mushiness.
Credit is due to Fxtec on all those counts, as it nailed the design of the keyboard mechanism. The screen slides out with a satisfying pop, and I enjoyed typing on the backlit keys even if doing so didn't feel any faster than a touchscreen. If one were to graft this experience onto, say, a Samsung Galaxy Note, you might have a niche phone that genuinely appealed to a keyboard-loving audience, even if it was too thick and unwieldy for everyone else. With the Pro1, however, the problems quickly pile up once you look beyond the keyboard hardware.
Small-time downsides
"Too many attempts. Try again later." Using the Fxtec Pro1 over the past few weeks, I got this message a lot. It meant that I had failed to properly engage with the fingerprint reader, which sits right below the power button along the phone's right edge. Just picking up the phone was often enough to trigger the reader by accident, and by the time my thumb found the right spot to press, it was too late. Too many attempts. Try again later.
This was the most frustrating issue I ran into with the Pro1, but not the biggest problem overall. Even worse is the camera, which simply doesn't hold up to other phones in the Pro1's price range. The shutter button sometimes takes too long to respond, and indoor photos require a steady hand to avoid blurriness. In low-light situations, pictures come out with too much noise and excessive red tint.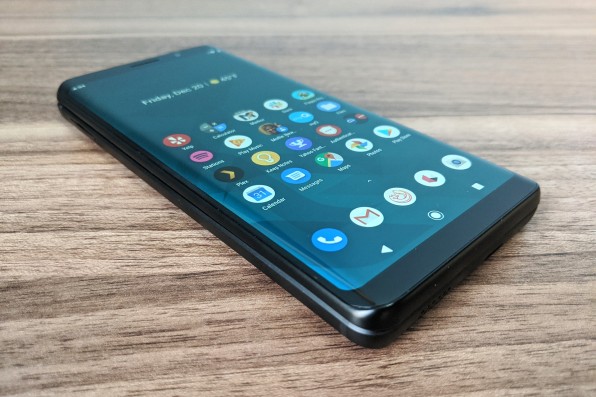 The Fxtec Pro1 also feels less responsive than a high-end handset should, with slightly laggy scrolling, slow wake times when you press the power button, and clunky haptic feedback on the home button and virtual keyboard. Fxtec's Adrian Li Mow Ching told me that Qualcomm's latest high-end processors were too expensive, so it went with a two-year-old Snapdragon 835 chip instead, but I suspect a lack of software optimization is a factor as well; my regular phone (Google's Pixel 2 XL) uses the same processor, but its touch and scrolling response feel snappier.
Even the keyboard software remains a work in progress. I've found that it occasionally fails to respond until I reboot the phone, and it's incapable of processing simultaneous keypresses. (That can be a problem if you type fast, but it also crushed my dreams of using the keyboard to play Nintendo emulators.) Fxtec says it's hoping to fix the keyboard failure bug in its next over-the-air update, but the fact that it shipped the phone with such a fundamental issue says a lot about the challenges of being a first-time smartphone maker.
Building a brand
Fxtec doesn't expect to become wildly successful through the Pro1 alone. The bigger goal with this phone, Li Mow Ching says, is to make a name for itself as a purveyor of physical keyboard phones and other niche smartphone ideas. Fxtec would then try to attract outside capital, thereby giving it more buying power to include things like faster processors or better camera systems, or to put more effort into software development.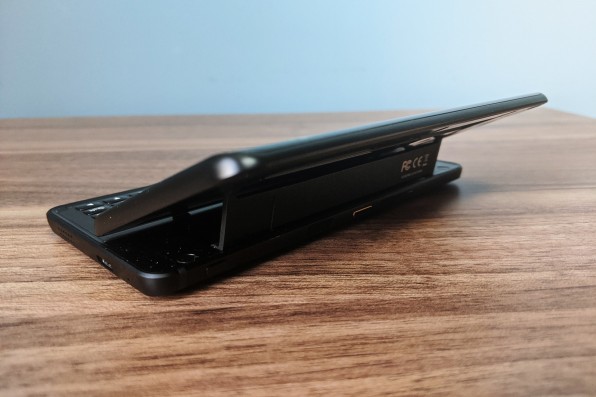 But that's a chicken-and-egg challenge. Without top-notch performance and camera quality—and perhaps a better fingerprint reader—a phone like the Fxtec Pro1 will be a tough sell. And if Fxtec can't sell enough of its niche phones, it might have a hard time convincing investors that physical keyboards and other long-tail smartphone designs are worth betting on.
All of which helps explain why the modern smartphone market is so bland, with big companies such as Samsung and Apple seldom venturing beyond the single slab of metal and glass. As Li Mow Ching argues, anything more unique entails greater design and manufacturing costs, and it takes a small brand such as Fxtec to view those niche products as worthwhile. The Pro1 is proof, however, that it takes a larger company to get the fundamentals right.