I don't want to kill the holiday spirit here, but I beseech you not to buy Brita's new ugly sweater. In fact, don't buy any ugly Christmas sweater.
Brita, which sells reusable water bottles equipped with built-in filters, has launched a line of ugly $24.99 sweaters on Amazon. The sweaters, bundled with a bottle, are purportedly designed to draw attention to the scourge of disposable plastic bottles on our planet. Instead of the usual images of reindeer and Christmas trees, Brita's sweaters feature images of water bottles floating in the ocean, among fish, sharks, and polar bears, all in a festive Fair Isle pattern.
"Most people don't realize plastic water bottles take 450 years to decompose, so each design showcases the long-term impact of plastic water bottles on the environment," says Jennifer Reilly, associate director of brand engagement at the Clorox Company, which owns Brita. "With the ugly holiday sweater trend gaining momentum year after year, Brita saw this as a timely, memorable way to get people talking about the issue of single-use plastics."
It's true that single-use plastic bottles are polluting our planet. Every single minute, more than a million plastic bottles are sold globally, and in the United States, only 30% of them are recycled. The rest likely end up in landfills. Since plastic does not biodegrade, it does not return to the earth, but rather breaks into small pieces while releasing greenhouse gases. And every year, 8 million metric tons of plastic will be swept away from the waste stream into the ocean, where sea creatures might mistake it for food and choke on it.  (If they ingest it, it will end up in the human food chain, harming our health, too.)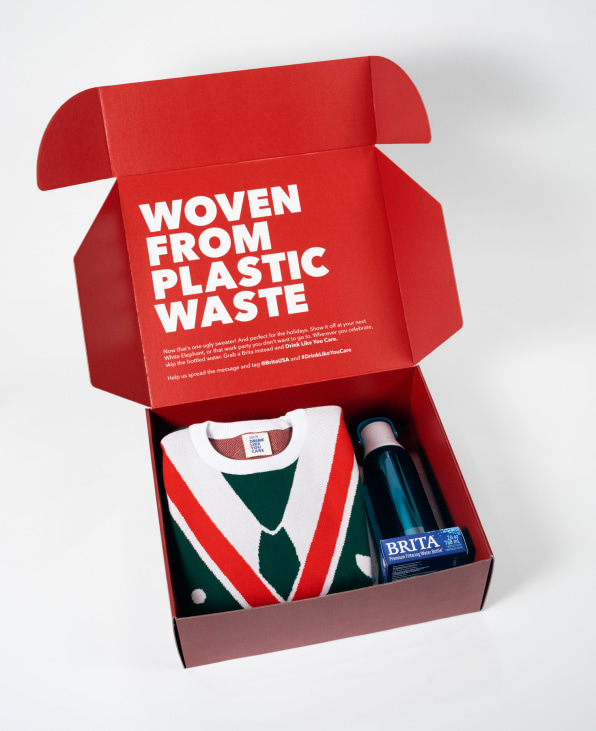 Plastic pollution is a serious issue, one that Brita and other companies should be drawing attention to. But here's the problem: With this ugly sweater, Brita is actively contributing to the very problem it is railing against. It's a marketing ploy masquerading as an environmental crusade. But Brita's not the only culprit here. Retailers across the apparel industry, including Tipsy Elves, Ugly Christmas Sweaters, and Amazon, churn out millions of ugly sweaters every year. And each sweater is, by definition, bad for the planet.
Put bluntly: The ugly sweater is everything that is wrong with fast fashion. At best, it will be brought out once a year for a holiday event or two—a novelty item meant to get a couple of laughs at a party. At worst, it may get tossed after just one use.
Reilly makes the case that the Brita sweater is designed to be a long-term purchase. "Made in limited quantity from recycled plastic, Brita's sweater is meant to be something you keep," she says. "It's a reminder of why we all should ditch single-use plastic that will, unfortunately, likely be relevant for years to come."
But longevity is not a realistic outcome for this sweater. Just look at the data. A U.K. sustainability nonprofit called Hubbub recently conducted research that found that two out of five holiday sweaters are only worn once during the festive season. And as a result, there are already 65 million of them stashed away in British wardrobes from previous years. (There isn't as much research available about holiday sweaters in the U.S., but given the larger population here, it's a safe bet that Americans have accumulated many more sweaters than our counterparts across the pond.)
The most sustainable items in your wardrobe are the ones that get the most use. That's not the case here. What's more, the ugly sweater is designed to be disposable much like the single-use plastic bottle. The sweaters tend to be made of cheap, synthetic materials, derived from plastic. And yet, this garment that you only wear once a year—or perhaps just once, period—still requires a lot of raw materials, carbon emissions, and human labor to manufacture. In the end, it will end up in the trash.
Brita says its ugly sweater is meant to draw attention to the problem of ocean plastic. Weirdly, Brita does not use any ocean plastic in the creation of these sweaters. (Organizations like Parlay for the Oceans retrieve plastic from the ocean and turn it into clothing fibers.) Brita does use 40% recycled plastic fibers in these sweaters, but they derive from regular recycling streams; that is, the stuff consumers throw into their recycling bins. And as I've argued before, it isn't helpful for fashion brands to use recycled plastic, because the bottling industry already has demand for this material; eating into the limited supply of recycled plastic only increases its price. In the relatively near future, this Brita sweater will likely end up in a landfill. There's also a chance that it will find its way into the ocean, where fragments of plastic will float alongside the very discarded water bottles portrayed in the sweaters.
So, for the love of God, don't buy this sweater or any other ugly holiday sweater. Instead, I'd recommend pulling out your favorite cozy layer, the one that's soft and well-worn from years of use, and enjoy the many memories you've had in it. And if that's not enough to get you into the holiday spirit, maybe make yourself some hot cocoa.