Facing a consumer market that's far from ready for augmented reality-based entertainment, the once-buzzy mixed reality company Magic Leap is now set to target businesses and brands.
The Plantation, Florida-based company says it's planning to offer a slightly updated version of its mixed reality headset and a set of spatial computing services specially designed to help corporations collaborate in virtual spaces.
It's a logical next step for Magic Leap, which has now raised $2.6 billion in venture capital over eight funding rounds since 2014, and generated mountains of hype for its hologram-creating headset. But a recent report from The Information says the company sold only 6,000 units of the Magic Leap One Creator Edition in the first six months after it became available in April 2018—far short of Magic Leap's CEO Rony Abovitz's wildly optimistic goal of selling a million of the devices in the first year. The company is now positioned to compete with both Google and Microsoft in building augmented reality applications for businesses.
Bringing virtual worlds to business
Mixed reality lenses insert layers of digital imagery within the physical world the wearer sees in front of them. Some companies are already using the technology to train employees, or facilitate collaboration in common digital spaces, or let remote experts weigh in on procedures, designs, or repairs. The technology's biggest payoff for enterprises might be the cost savings from not having to fly employees in from far-flung locations to do these things in person.
These are the same types of applications Magic Leap will offer businesses. The company says it's been busy over the past 18 months working with a group of partners to develop mixed reality services that could be immediately useful in companies in many types of industries, including healthcare, manufacturing, and even aviation.
"We wanted not to approach this as an 'if you build it they will come' platform," Magic Leap chief product officer Omar Khan says. "We wanted to provide plenty of tools and reference cases so that enterprises wouldn't have to be asking how [they're] going to leverage this technology."
The first mixed reality services fall into four basic buckets: collaboration, location-based experiences, 3D visualization, and training.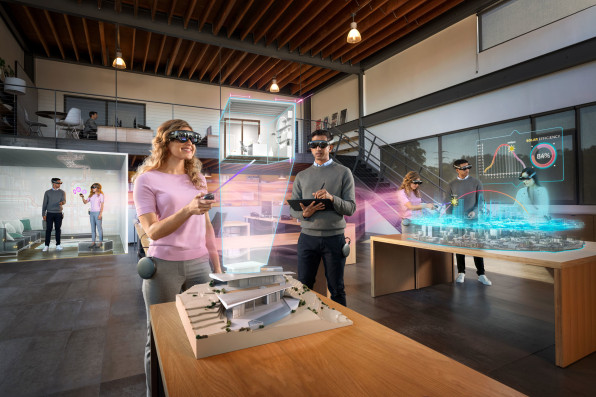 A set of collaboration-focused apps let employees in different locations get together in a common digital space to design things or work on problems. "The highest value comes from people coming together volumetrically for copresentations or collaboration around 3D objects, to design things, or review designs, or just to have a whiteboarding session," Khan says.
In addition, location-based experiences are supposed to help businesses create real world learning or entertainment experiences for customers. For instance, a museum might create virtual guided tours that educate visitors on pieces of art. JetBlue will soon let travelers waiting at airport gates use a Magic Leap headset to visualize future vacation destinations.
3D visualization apps enable people to see and work on complex models, which could include something like a 3D schematic of a jet engine or a data visualization. In September, Magic Leap signed an exclusive deal with Brain Lab to let surgeons train and prepare for operations by viewing and interacting with 3D objects (like brain scans) within the headset.
The final group of apps are designed to train employees for specific tasks while they're in the actual work environment and able to work hands-free, as opposed to in a classroom or training space. For instance, a remote trainer or expert might show a worker how to repair a machine in a manufacturing facility. "Enterprises have used VR and AR to train employees, but this really takes it to the next level," Khan says.
Magic Leap will provide the development tools and other resources necessary for enterprise customers to build their custom versions of the apps. These will sell along with an updated Magic Leap One headset, and a suite of device management tools and support resources, for $2,995 per device, the company says.
Taking on the competition
The company will be competing head to head with Microsoft's HoloLens 2 mixed reality headset, which is also aimed at enterprises. Khan told me he believes his product has the edge because it can place 3D imagery anywhere from eight inches in front of the user's face to as far as the user's eyes can see, while he believes the HoloLens may limit the space in which digital imagery may be inserted. Khan says the Magic Leap One is also easier to wear for long periods because it weighs only half as much as HoloLens. That's partly because HoloLens is a self-contained unit, while the Magic Leap device tethers to a round "light pack" device that clips to the user's pocket. I've personally worn both the HoloLens 2 and the Magic Leap One, and I found the Magic Leap holograms to be more compelling and visually beautiful.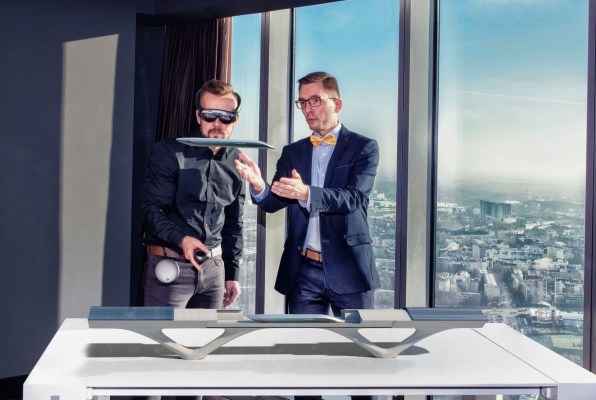 There's a price difference too: The debut Magic Leap One Creator Edition device (sold separately from the new enterprise suite) starts at $2,300. The HoloLens 2 sells for $3,500. The services each company offers may be on par: Microsoft sells a subscription "remote assist" service that's roughly comparable to Magic Leap's "training and assist" service.
Google is also selling a redesigned version of its Google Glass product to enterprises. Google's headset is a much simpler approach, however, as its product overlays simple graphics and data over the real world without actually inserting digital content within the real world.
Neither the HoloLens nor Google Glass have enjoyed the relentless hype as Magic Leap's technology. However, others in the mixed reality industry believe Magic Leap oversold the promise of the consumer mixed reality experience long before the technology—and the buying public—was ready.
Magic Leap may have had its reasons for overhyping its product, but as time goes on, it's becoming clear that mixed reality tech—like many consumer technologies before it—will have to cut its teeth in the workplace before one day becoming a doorbuster at Best Buy. Magic Leap will be no exception.