The Jemez Mountains are a rust-colored cluster of volcanic peaks in New Mexico. Across centuries, they've spewed hot ash onto the land below—the perfect material to be combined with wet, natural clay. This sediment-based concoction has been used by the region's six native Tewa communities—the Pojoaque, San Ildefonso, Ohkay Owingeh, Santa Clara, Tesuque, and Nambé—to make pottery used for everything from grain storage to water transport. In the early 20th century, collector George Gustav Heye amassed the largest private collection of Native American artifacts in the world, including many from the Jemez Mountains. His work ultimately became the Smithsonian's National Museum of the American Indian; some 1 million indigenous items are housed in its collection.
Now 100 of the pots Heye acquired from the Tewa pueblos of New Mexico have been returned—albeit temporarily—to their rightful owners through a new exhibit at the Poeh Cultural Center, a multipurpose museum in Pojoaque, New Mexico, dedicated to the arts and culture of the Puebloan peoples (Tewas, primarily). Called Di Wae Powa: Return of Historic Tewa Pottery from the Smithsonian, the show's title translates to "they come back" in the Tewa language. While the forces of colonialism separated many indigenous communities from their objects, long-term loans such as this one show how these artifacts can be contextualized in the environment from which they came—and with the people that they were intended to serve.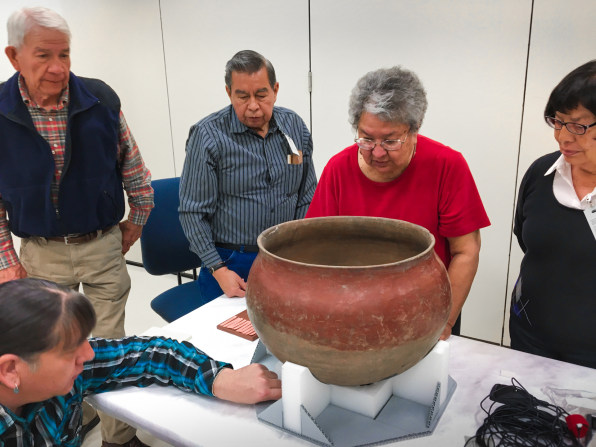 "Part of NMAI's mission is to work collaboratively and cooperatively with Native communities, so whenever we have a community that approaches us and wants to work with us [to bring items] closer to the people and the community of origin, [we're open to that]," says Cynthia Chavez Lamar, NMAI's assistant director for collections. "We consider ourselves caretakers of the collection . . . we do our best to preserve and protect them so people will always have them there as a resource," Lamar says.
In 2012, the Poeh Cultural Center and the tribal leadership of the Pojoaque pueblo approached the Washington, D.C.-based museum to negotiate a loan of 100 pots. These diverse pieces of pottery, dated from the late 1890s through the 1940s, illustrate the diversity of the six Tewa communities, featuring several pottery styles and cultural motifs like mountains and water serpents symbolizing the Earth's most essential elements. Twenty-two of the pots are even available for handling, so the Poeh's staff can bring the pieces out of their cases and give visitors and community members the opportunity to connect with the pottery up close and personally.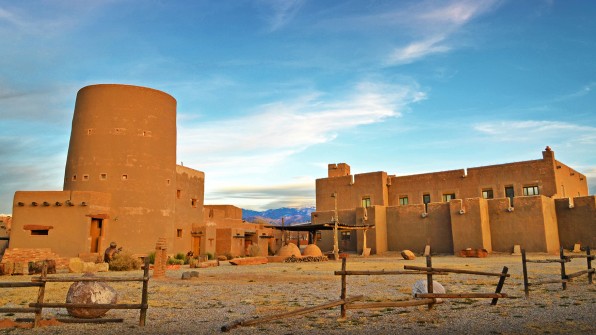 "One of the reasons for those pots being back in Tewa country is so that artists and students and people from the community who have an interest in pottery-making can be involved with them," Lamar explains. "We see it as a long-term loan—typically loans like those are one to two years, but with the Poeh they see this exhibit being placed for a long time, beyond the two years."
The cultural center hopes to reimagine the terms of what a loan of this type looks like, from the loan's duration to the collaborative programming it inspires. Since the Poeh Center turns on the axis of arts education, members of the community hoping to be inspired by pottery design of the late 19th and early 20th century are encouraged to engage with the pieces through tactile means.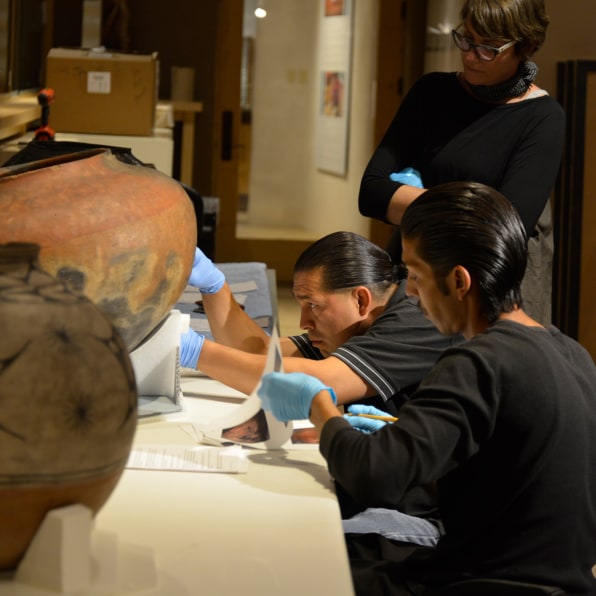 "We chose a selection of pots that were [made] before 1930 that did not have ceremonial or religious use, so the community now felt comfortable using them, and we made sure that none of the pots had signatures on them," says Karl Duncan, executive director at Poeh Cultural Center. "A lot of them are in styles from a certain family, and people are starting to mention that they recognize the style and design."
It's tough to place the pots with the particular people and pueblos that made them, as documentation and history was lost when they were taken from their communities over a century ago.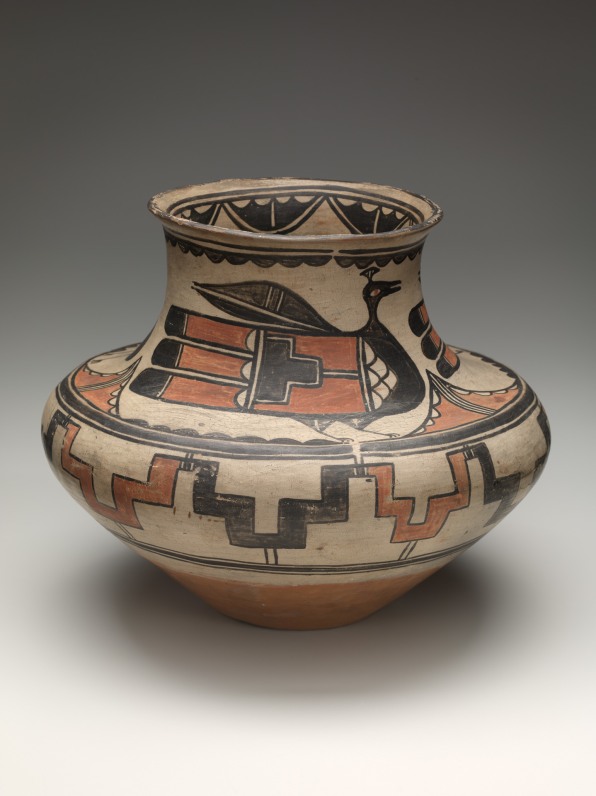 "Pojaque is one of the six Tewa-speaking villages that are here in this area, and they all speak the same language and share the same culture—they just settled in different areas," Duncan says. "All these pots come from one of those tribes. They all share similar beliefs and stories, and some of the designs reflect those shared beliefs amongst the Tewa."
One way of distinguishing the particular village a pot comes from is by identifying the type of clay it's made from. Clay varies across the valley, pueblo to pueblo, some of it heartier, some of it more red. When fired, they come out looking different—but also allow for different forms, which inevitably creates a different design, especially when forming a pot's shape.
"There's a design that has to do with a water serpent and you can see that in some of the designs; there's a story about the water serpent bringing the rain, and rain here in the Southwest is important for bringing the harvest," Duncan explains. "There's a variety of different types of rain clouds [usually on water jugs]. They're reminders, they're little prayers, to promote a good household. If it's on a water jar or a storage jar, the designs reflect a positive prayer and outlook on life and some of the designs have stories on them that reemphasize a prayer of good harvest—a good hunt of what abundance will bring."
This pottery represents the legacy of a people who were once almost wiped out by Spanish settlers in the late 17th century, and displacement on infertile land followed. This long-term loan ultimately aims at a revitalization of the Tewa community through craft: This land, where two water tributaries meet, is rich with natural resources, but since it has historically been depleted of its people through colonization, Duncan and his team at Poeh aim to redevelop the wealth of culture that has always existed here.
"Poeh first started as an arts program that taught pottery-making, and [the pueblo] finally got a building and then they built a museum. So this collection coming in is another piece of trying to make sure the culture is never lost again," Duncan says. "These pots are really going to be a foundation of revitalizing a culture, a story, a knowledge—[and will] bring together elders who can tell stories."
The partnership between NMAI and Poeh has been delightfully symbiotic: In 2017, the Smithsonian sent advisors to New Mexico to share knowledge with the Poeh's staff on proper handling and mounting techniques, and Poeh has sent delegates to D.C. to make historically sound selections for the exhibit. The pots are placed in a way that mimics traditional configurations, stacked asymmetrically on tiered steps of varying depths outside a classic pueblo abode.
"The intention for the project is to bring collections home," says Duncan. "This is the first step and first collection that we're bringing home."