The mobile phone release is, generally speaking, long past its heyday of being an undisputed cultural event. Samsung spoofed it first back in 2011. Save for a smattering of fanboy fundamentalism, the lines down the block and breathless social frenzy have given way to an accepted process that involves some combination of celebrity-boosted advertising and corporate cheerleading. It's the red-carpet premiere of mobile tech.
For the most part, it's become pretty stale.
Perhaps because no one had added pizza into the mix.
Knowing this, Google in October decided to spice things up a bit by combining the release of its new Pixel 4 model by delivering the phone to a select group of influencers and salespeople in specially designed Domino's pizza boxes that also happened to include a free pizza.
The response was strong enough that now the two companies are teaming up for Cyber Monday. Customers in Miami who order a Pixel on this e-commerce holy day will be able to combine it with their favorite Domino's pizza. The delivery will even be tracked by Domino's Pizza Tracker. Yep, it's an elaborate marketing gimmick, but as elaborate marketing gimmicks go, it's a pretty good one.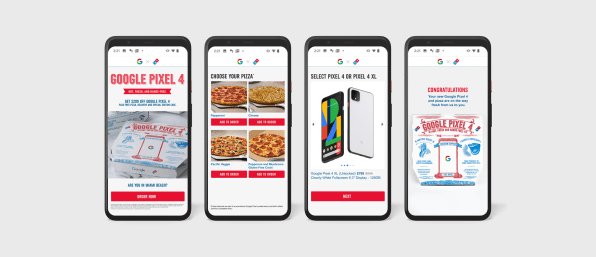 "We're a challenger brand in this space, so we're really trying to push ourselves to think outside the industry conventions, to really create a different experience with the launch of this device," says Zach Overton, head of U.S. marketing for Pixel. "We were looking at a few different constructs, one being the traditional unboxing video and experience, which is beloved but has become a bit rote at this point. We were also trying to think about how to really bring some of this device's features—like the hands-free Motion Sense and new Google Assistant—to life in a way that would resonate with people."
Look, this is not rocket science. People love pizza. Ask anyone to describe the worst slice of pizza they ever had, and more often than not the reply will be, "not too bad." It makes any party better. It makes staff meetings tolerable. There is almost no situation—social, professional, or otherwise—that wouldn't be even slightly improved with some pizza. These are just facts. Google and its agency VMLY&R know this. They also know that when it comes to the combination of technology and pizza, there is no one better on the planet than Domino's.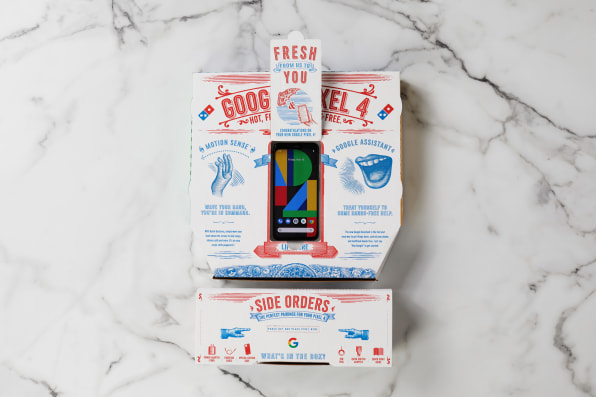 "Pizza and technology are two things we love to talk about, and phones are obviously important to pizza delivery, so it just seemed like a perfect fit for our brand in so many ways," says Domino's director of PR Jenny Fouracre-Petko.
For VMLY&R executive director of experience Craig Elimeliah and executive creative director Harsh Kapadia, who were tasked with finding a way to reimagine a phone launch while also putting an emphasis on the Pixel 4's new Motion Sense tech and hands-free Google Assistant, pizza became the perfect marketing tool. While unboxing videos are nothing new to any product launch, the pizza box added a new twist. "We wanted to give people the opportunity to really experience what a hands-free experience would be like at home," says Elimeliah. "When you think about occupying someone's hands with a pizza and you think about the idea of an unboxing experience, we figured a pizza box is a beautiful way to do it."
The realities of the attention economy are that we all have a finite amount of capacity or patience to pay attention to the thousands upon thousands of marketing messages aimed at us every day. Brand collaborations like this tend to break through the noise by being unexpected. It's why Louis Vuitton collaborated with Supreme. It's why Wendy's invaded Fortnite. It's why back in 2015, agency 72andSunny started a whole "partnership incubator" aimed at pairing up clients to try to scale the rising-tide-floats-all-boats effect of collaboration.
Domino's and Google separately are two giant brands that seem to be constantly around us. But together? That gets our attention.