Everyone's favorite athleticwear brand, Lululemon, has a treat for all of us who want to stay in, avoid the crowds, and get our holiday shopping done in the comfort of our pajamas with a glass of wine in hand. (Oh come on, don't act like you haven't done it.) This holiday shopping season, the brand employed a unique strategy: beefing up its online inventory. This means you won't have to scramble to the mall or the brick-and-mortar stores to find great prices and great product from Lulu—plus, you (most likely) won't get the dreaded "Out of Stock" notice when you find the perfect gift for anyone you're shopping for this holiday season.
Plus, there's a whole new treasure trove of great deals—a "We Made Too Much" page, where you can get must-have pieces for a fraction of their normal cost, thanks to overproduction. To make it even easier on you, we found the best deals and coolest pieces from the brand, so that you can cross off your list with a click of your mouse (and an extra few dollars in your pocket).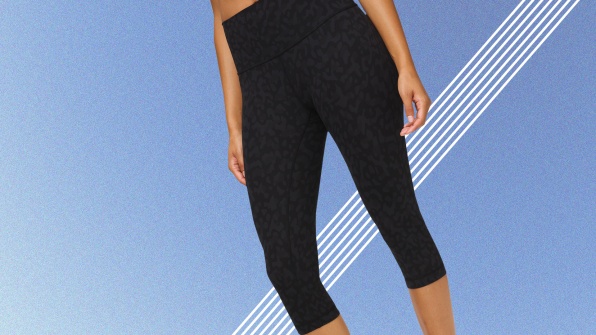 Wunder Under High-Rise 1/2 Tight
A 1/2 tight that has everything you love in your cropped leggings (full coverage, free legs, a high rise, and smooth, sweat-wicking material), but without the hefty price tag. These come in six colors and subtle prints and are currently available in (almost) a full size run. (Originally $88, now $59)
Stronger as One Muscle Tank 
In the two months that I've owned this tank, made in collaboration with Barry's Bootcamp, I've worn it to more than a dozen times to Spin, yoga, and HIIT classes—and on a handful of runs. It never gets stinky, and I find the cut to be cropped just enough. It's got the breathability to make me feel like I'm not wearing a shirt at all, but makes me feel much sleeker than I would shirtless. (Originally $58, now $49)
Athlete Arrival Bra
It's got a high neckline, mesh paneling that looks good and helps with breathability, and a back closure so you don't have to struggle pulling yet another sports bra over your head and onto your body. Basically, the Athlete Arrival bra is the perfect mix of style and support—and we can't believe it's on sale. (Originally $78, now $49)
Noir Pant
The Noir Pant is a wrinkle-free, quick-drying, perfectly draped wide-legged pant that works for casual looks at the office, happy hours, and days spent running errands. It's comfortable and always looks put-together. Plus, it comes in seven different colors. (Originally $118, now $89)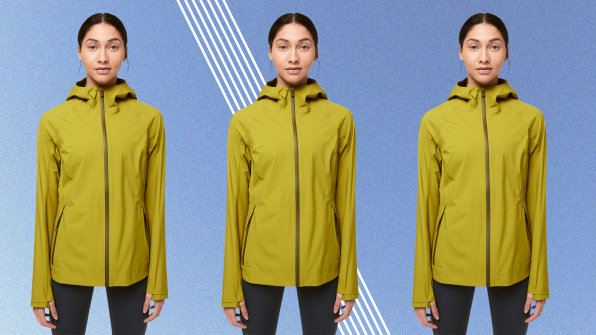 The Rain Is Calling Jacket II
The woman who can't be stopped by the wind or rain needs a good shell. This one is seam-sealed and features a cinched hood, so not a single drop of rain or snow can find its way in. Available in four colors. (Originally $198, now $139)
It's Rulu Long Sleeve
Half mock turtleneck, half running jacket, this warm layer looks good and makes chilly runs feel just the right amount of cozy. The half-zip makes it easy to put on and take off overhead, and the Rulu fabric has the right amount of stretch. (Originally $88, now $69)
Reveal Tight
A perforated design looks pretty damn cool—but, more importantly, it feels cool. The Reveal Tight is made with a seamless construction for zero-chafing and comes in two colors. Purchase with the Reveal Bra (see below) and you have a Lululemon matching set for the price of one pair of regularly priced tights. Not bad, eh? (Originally $118, now $79)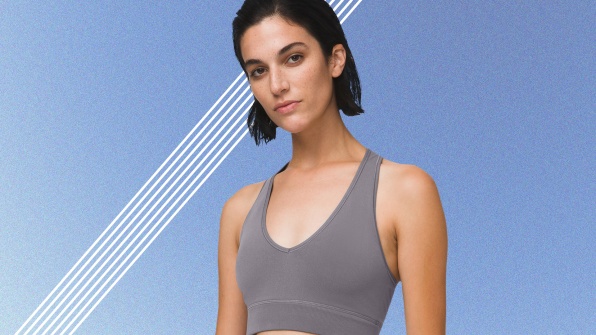 Reveal Bra
With the same perforated, laser-cut design as the Reveal Tights (see above), this bra keeps it breezy during hot workouts. We love the longer line it creates (no tight elastic around the ribcage!) and the wide racerback straps. (Originally $58, now $39)
Always On High-Rise Tight
These tights are sleek, smooth, and have great coverage. But they also have an extra little flattering design flair: a wraparound seamless waistband that feels as good as it looks. Available in four colors. (Originally $118, now starting at $69)
More Miles Backpack
Ideal for those looking to perfect the art of the run commute (or the classic bike commute), this backpack comes with a chest strap and waist band to keep it secure, along with features like a "sweaty pocket" that separates sweaty clothes from the rest of the pack and a padded tech pocket to keep your laptop or tablet safe. (Originally $148, now $79)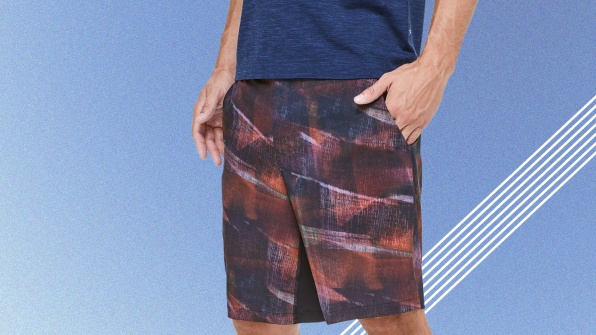 T.H.E. Short 9″
The cult favorite T.H.E. short doesn't need much of an introduction. It's got pockets and just enough stretch. It's breathable and comfy. And now, it's only $39. A full size run is available here in four colors. (Originally $68, now starting at $39)
Metal Vent Tech Long Sleeve 2.0
Made with anti-stink material and a chafe-free seamless construction, this long sleeve technical tee is comfortable for runs, classes, and workouts in the gym. It also has integrated spandex in the fabric so you won't ever experience the dreaded stretched-out gym shirt. (Originally $88, now $69)
ABC Pant Classic
It may look like a classic five-pocket pant, but it's not. The ABC pant features a hidden zippered pocket (big enough to fit a passport), reflective flip cuffs for dark bike commutes, and just a touch of stretch to keep its shape and keep you comfortable. (Originally $128, now $99)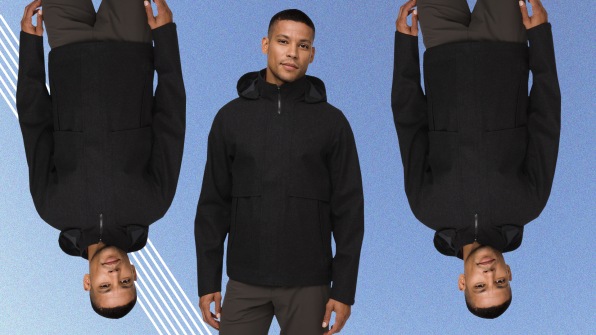 Storm Break Rain Jacket Wool
It's wool, but it's waterproof wool. This rain jacket keeps you warm and dry without looking like a rain jacket. Plus, with a removable hood and a versatile collar (wear it up or down), you can style it up for work or down for a wintery weekend run to the gym. (Originally $348, now $199)
5 Year Basic Tee
Introducing the most comfortable and versatile basic tee that you never have to think about putting on—now at a new price. The 5 Year Basic Tee comes in five colors. (Originally $68, now starting at $29)
Looking for more gift ideas? Check out our other hand-picked suggestions for all people in your life.
Fast Company may receive revenue for some links to products on our site.