What happens to us when we die? It's one of life's most enigmatic and profound questions. And—let me clear this up now—I don't have any insights to offer on the afterlife. But the first renderings of new after-death center Recompose (don't call it a "funeral home") reveal another option for the afterlife of our bodies here on earth: composting.
The flagship facility, expected to open in Seattle in spring 2021, is designed to reconnect human death rituals with nature and to offer a more sustainable alternative to conventional burial options. Today, burial often involves chemical-laden embalming, while cremation uses eight times more energy, according to the architects at Olson Kundig who designed the new facility. Recompose will offer a first-of-its-kind "natural organic reduction" service on-site, which will "convert human remains into soil in about 30 days, helping nourish new life after death."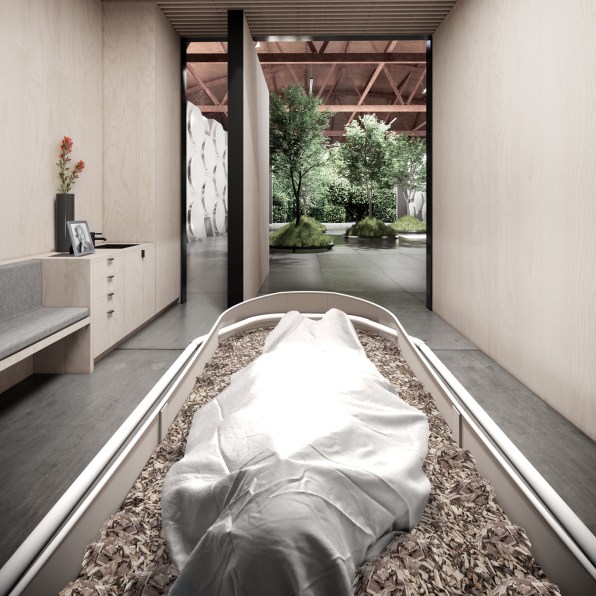 Recompose emerged as an idea in 2016—the result of a Creative Exchange Residency at the Seattle-based global design practice that brought Recompose founder and CEO Katrina Spade and her team into collaboration with the architects to create a prototype facility.
But the passage of a new bill "concerning human remains" in Washington State has quickly ushered their prototype into the realm of the possible. After Governor Jay Inslee signed SB-5001 this past May, Washington became the first state to recognize "natural organic reduction" as an alternative to cremation or burial. The law will go into effect May 1, 2020, according to the Seattle Times.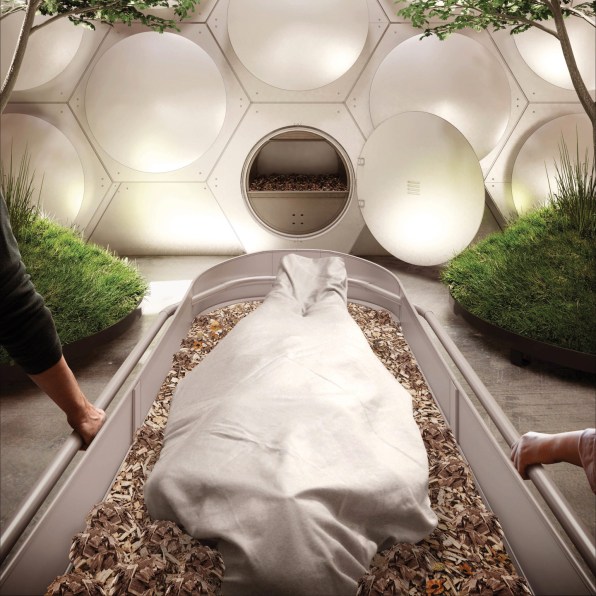 With the design of Recompose, the architects at Olson Kundig have brought a whole new meaning to the term "deathbed." Their design for the facility is focused on a few key aspects of the experience, starting with the individual "vessels" where the organic reduction takes place. In typical funerary practice, they might be referred to as coffins; a person's remains are placed in the vessel and covered with woodchips. There, the remains are aerated to create a suitable environment for thermophilic bacteria, according to Dezeen. That bacteria will then break the remains down into usable soil.
What's the benefit of this process taking place in a controlled facility like Recompose, as opposed to a cemetery? "By converting human remains into soil, we minimize waste, avoid polluting groundwater with embalming fluid, and prevent the emissions of CO2 from cremation and from the manufacturing of caskets, headstones, and grave liners," the company explains on its website. What's more, it explains, "By allowing organic processes to transform our bodies and those of our loved ones into a useful soil amendment, we help to strengthen our relationship to the natural cycles while enriching the earth."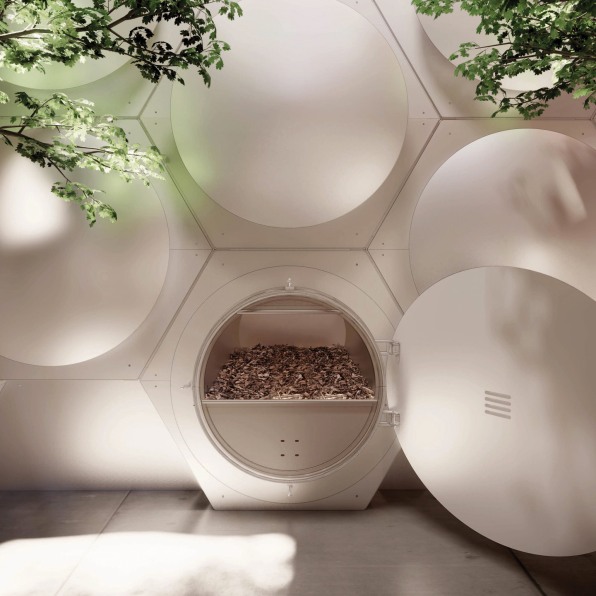 Seventy-five of these individual spaces will be built as part of the first Recompose project. They're arranged to surround a large, airy gathering space at the center of the 18,500-square-foot facility. This space will be used for services, and reads more New-Age health center than macabre funeral parlor: It's bright and light-filled, punctuated by trees, and canopied by tall natural wood ceilings.
"This facility hosts the Recompose vessels, but it is also an important space for ritual and public gathering," says Alan Maskin, principal and owner of Olson Kunig. "The project will ultimately foster a more direct, participatory experience and dialogue around death and the celebration of life."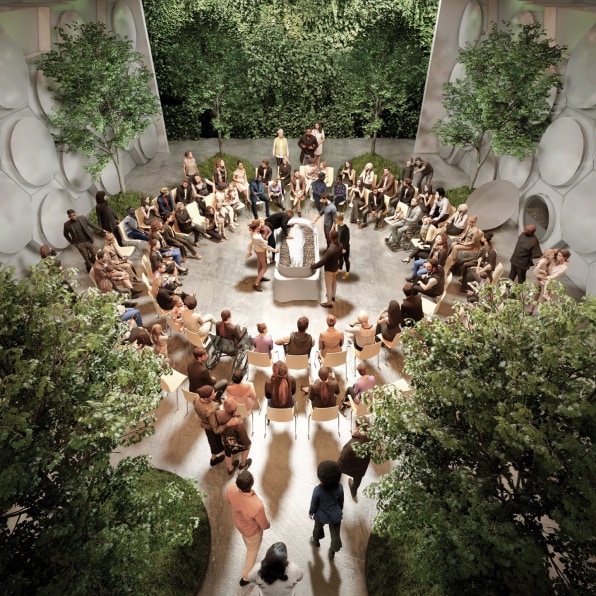 Although Recompose claims to be the first facility to offer organic reduction services, Recompose is not alone in trying to end the practice of keeping death and its associated after-care rituals at arm's length—a movement that's come to be known as "death positivity."
Caitlin Doughty is one such person working in this space. She is the co-owner with Jeff Jorgensen of Clarity Funerals, which offers environmentally-friendly services like carbon neutral cremation, tree planting memorials, all natural products, and locally produced urns and caskets. Doughty is also the founder of the Order of the Good Death, "a group of funeral industry professionals, academics, and artists exploring ways to prepare a death-phobic culture for their inevitable mortality." She had previously founded Undertaking LA, which Tara Chavez-Perez, a publicist for the Order of Good Death, said shut down earlier this year.
According the website, the business was an "alternative funeral service" that brought people closer to the experience of death by "placing the dying person and their family back in control of the dying process, the death itself, and the subsequent care of the dead body," for instance by helping people take care of a loved one's corpse at home. Undertaking LA offered more sustainable alternatives to typical practice as well, including biodegradable willow caskets, according to the New Yorker.
She also sits on Recompose's board—and, as Chavez-Perez told me, "Caitlin's an enthusiastic and avid supporter."
New alternative burial companies (like the startup Better Place Forests, which sells the right to scatter your ashes beneath a redwood) are trying to bring nature back into the commercial funeral industry. Recompose, meanwhile, is trying to use nature as the framework for a better death. "We asked ourselves how we could use nature—which has perfected the life/death cycle—as a model for human death care," Spade says in a statement. "We saw an opportunity for this profound moment to both give back to the earth and reconnect us with these natural cycles."
With Recompose, Olson Kunig has designed a seemingly more sustainable alternative to burial or cremation—and perhaps a small way for you to leave the world better than you found it.
This post has been edited to include new information about Clarity Funerals.