The car, it's been said, is king in America. In most places, life is impossible without one. Even in most dense cities, presumably the places where it would be easiest to live without a car, municipal codes often include requirements for a certain number of parking spots per person for any new building.  But a new neighborhood in Tempe, Arizona, will be an outlier, by fully prioritizing people over vehicles. If you want to live there, you have to agree to not have your own personal automobile.
Culdesac Tempe, a 1,000-person development set to open fall 2020, bills itself as the "world's first post-car real estate developer." Founders Ryan Johnson and Jeff Berens say they want to provide people the option of living a car-free lifestyle. The mixed-use Culdesac Tempe neighborhood is a $140 million project, capitalized by traditional real estate investors, and will include a dog park, restaurants, market hall, grocery store, and gym, with access to a light rail that connects to downtown Tempe, the airport, and Arizona State University.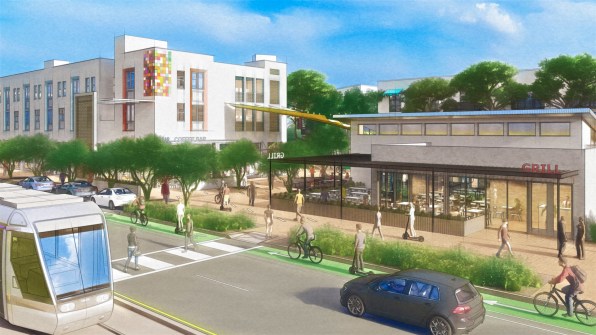 But don't worry, they understand the car remains vital: Though residents will be banned from owning or parking a car onsite per their lease, the Culdesac Tempe neighborhood will still be accessible for emergency vehicles, service vehicles (like if you need a couch delivered), and ride-shares, which will have designated pickup and drop-off locations around the perimeter. There will also be a small fleet of car-share vehicles (a partner has not yet been named) that will be available as a transportation option for residents when they want to go beyond where the neighborhood's light rail can take them.
Parking lots won't be completely extinct in Culdesac Tempe, either. "Because this is a mixed-use neighborhood and it has lots of restaurants, and because most of [nearby] Phoenix will, for the foreseeable future, use cars, we have lots of parking for those purposes. So there's a small parking lot for restaurant visitors to use, there's a parking lot for the friends and visitors of the residents to come," Berens says. "But the feel of the community, it's as if you're living in a park, and so there's no asphalt streets running inside of it. It's using things like permeable pavers or decomposed granite."
In cities across the country, on-street and garage parking options occupy a sizeable chunk of real estate; 40% of the land area in Seattle is currently used for parking, and New York City has 12 Central Parks' worth of on-street spots alone. "Whereas a normal urban development would really have to use a lot of land for parking, by not having to design for cars, space is freed up for things like a park or for bike paths and walkways and retail and other things that people want to have at their front door," Berens says.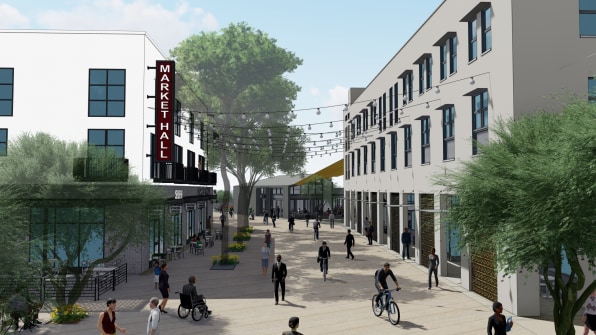 They're not alone in their vision for car-free living. Traffic has worsened, pollution threatens both our personal health and that of the planet, cars are proving to be a continuing threat to pedestrian and cyclist safety, and research is building on the mental and physical health benefits of public green spaces and the harms of long car commutes, and so more communities are questioning why we've been so devoted to the automobile in the first place. A Freiburg, Germany, neighborhood has gone car-free, as have areas of Oslo, Barcelona, Copenhagen, and more. The entire city of Paris banned cars for a day. All of this has served as inspiration (and learning material) for Culdesac, and the company hopes to help pave the way for more municipalities to go car-free (or car-less).
"The history of cities and urban development is very much one of one place pioneering something new and then other places replicating it and making it even better," says Berens. "We expect what we're doing in Tempe to set a precedent for a different type of development [and] many cities have already reached out to us about wanting to incorporate some of the things we're doing in Tempe in other places."
Culdesac has called this the "first car-free neighborhood from scratch in the United States," and though Berens concedes that of course those nitpickers who point out that "every neighborhood before the car was invented was built as a car-free neighborhood" are technically correct, the point still stands that since then, the car has dictated urban design. "Recently, transportation has been innovating but real estate hasn't kept up," he says. "What we're doing is harnessing the new innovations in transport to enable a new type of land use that creates more walkability and offers life at your front door."
This first Culdesac neighborhood will house 1,000 people, and the founders say there's already an "enormous" amount of demand to live within its car-free borders. Most units are one bedroom, and will be "priced competitively" compared to new apartment buildings in the area. They picked Tempe because both Berens and Johnson are Arizona natives going back generations, but also because the local government has proven to be forward thinking. This marks the country's first and only agreement, according to Culdesac, between a city and a developer to build a neighborhood community with no residential parking. Culdesac also worked with the fire and police departments, along with city planners, to think about how the neighborhood could be safe and accessible for everyone.
Maricopa County, where Tempe is located, has also been the fastest-growing county in the U.S. for three years running, and the space where Culdesac Tempe will be—which developers officially broke ground on last week—is near the light rail, downtown, and Arizona State, and yet was previously completely undeveloped. To Berens and Johnson, it was a natural place to start, and that blank canvas offered a unique opportunity.
If you're concerned about how to get around a place like Tempe that reaches sweltering, 100-plus degrees in summer without the comforts of a car (and its air conditioning), the Culdesac founders say there's nothing to worry about. They factored in location-specific considerations like temperature when designing the neighborhood, and that means Culdesac Tempe's "connective courtyard design" allows for cross-ventilation and plenty of shaded space for those walking around. Though cities tend to be hotter due to the urban heat island effect from buildings and pavement absorbing sunlight, more green space in this new neighborhood means almost twice as much shade coverage than the local standard, and those courtyards can also act like public spaces for community events or simply friendly neighborhood interactions.
This is just the beginning for Culdesac, they say. "After this, we want to build another one and a bigger one, that might be 10 times as big," says Johnson. "The advantages of using mobility to impact how we build, they compound at scale, and so there's more that we can do to make an even better neighborhood as we build bigger." In Culdesac Tempe, residents will be able to walk from end to end in a few minutes, but with a bigger neighborhood, there are more ways innovation transportation options can be integrated.
"Ultimately our goal is to build the first car-free city in the United States," says Berens, but whether that's from scratch isn't yet clear, since he notes each project will be informed by its local context. "The goal is to create a city where everyone can access jobs and amenities without feeling like they need to own a car. Some people may still choose to own a car, but the structure of the city would be set up to enable a car-free lifestyle."