Adobe would like you to know that it has big plans for its new version of Photoshop for the iPad. But rather than being standard-issue marketing hoopla, its news feels more like a rescue mission.
After whetting iPad users' appetites for a full year, the company released a version of Photoshop earlier this month that was . . . well, the verdicts at Gizmodo ("terrible") and Fstoppers ("a disaster") may be a tad harsh. But it offers a pretty basic set of image-wrangling capabilities, which is a problem given that Photoshop's whole brand is about being the world's most advanced, comprehensive photo editor.
Now Adobe is trying to recover by giving customers a roadmap for key updates it plans to make to the app in coming months. By the end of this year, for instance, it says it will add an AI-based "Smart Select" feature and a cloud-optimized file format that can just save changes—rather than a creation in its entirety—back to your Creative Cloud storage. In the first half of 2020, it intends to roll out a bunch more features—some of which, such as the ability to refine a selection's edge and rotate the canvas, are gigantic omissions in the first version. By the middle of next year, it's possible that the critics will have a whole lot less to carp about.
"Real," not "full"
If Photoshop aficionados feel like they've been let down by the initial iPad version, it's in part because they expected full Photoshop and are instead getting "real Photoshop," which is something quite different. On the iPad, the app might never reach feature parity with its desktop incarnation. But it does leverage its core technologies and fully support its file format, so you can confidently move creations back and forth between platforms. If you buy into the value of the latter idea—and I do—the only question is whether the iPad's "real Photoshop" offers a critical mass of the features you care about most. (For me, not yet.)
Still, Adobe seems to be struggling to calibrate its customers' expectations. The company's website says that Photoshop for iPad "works just like Photoshop," which isn't true—and would not be an appropriate goal given that a tablet is a different sort of computing device than the desktop and laptop computers that Photoshop grew up on. The iPad user interface, for example, was built with touch in mind rather than the pinpoint precision of a mouse pointer.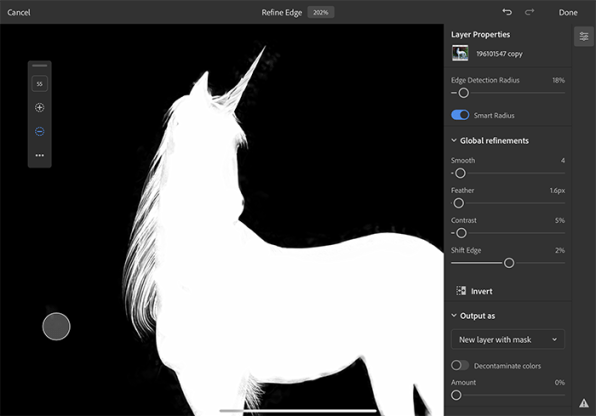 The clearest sign that iPad users are disgruntled with this first release is available on Apple's App Store, where Photoshop currently has an average two-star rating out of a maximum five stars, compared to four and a half stars for Adobe's Lightroom. If you peruse the reviews, you'll see that many of the unhappy campers are less irate over the app itself than Adobe's subscription pricing. At the moment, you can get the app as part of the company's cheapest Creative Cloud plan, which goes for $10 a month (and gets you Photoshop and Lightroom across multiple platforms). As of February, however, the iPad app won't be part of that tier, and new customers will have to pay $21 a month.
If Photoshop for iPad was a masterpiece, that might be reasonable. But even Adobe's own post on its roadmap says that it's only "started to scratch the surface of what's possible and began our journey to build the best mobile application for all of you." Releasing the current version of the app as a free preview would have been way less controversial and an effective way to get the kind of feedback that the company says it craves.
Adobe had years to make Photoshop essential on the iPad.
Me, I already pay for Creative Cloud, and so Photoshop for iPad is not a new expense to gripe about. I'm more worried about Adobe's commitment to building out the app into something that will routinely get four- and five-star ratings. The company has been dithering with different philosophies about what Photoshop should be on an iPad for nearly a decade; by my count, it's on its fourth strategy. Back in 2015, I wrote about the first three, which included focusing on complementary apps (such as Eazel and Color Lava), shifting to a more comprehensive photo editor (Photoshop Touch), and then migrating away from kitchen-sink capabilities toward tools optimized for specific tasks (Photoshop Mix and Photoshop Fix).
This is why Adobe chief product officer Scott Belsky's defense of Photoshop for the iPad on the grounds that it's a version 1.0 product does not entirely placate me. Adobe had years to make Photoshop essential on the iPad, and it largely frittered them away. In some alternate universe, Photoshop for iPad has long been a mature product and the current kerfuffle never happened.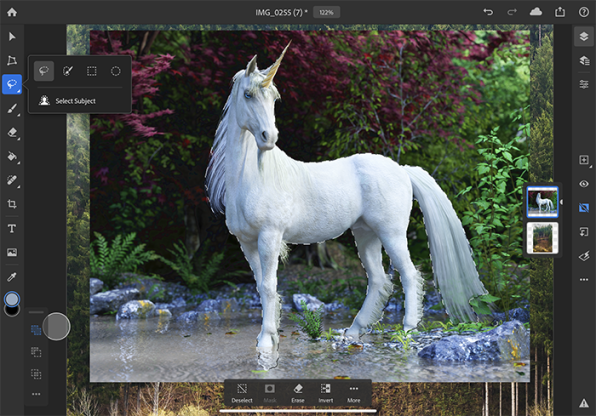 The funny thing is that we still need Photoshop to be great on the iPad, even though plenty of other imaging-related apps are already deeply entrenched. Procreate is one of the best pieces of art software on any platform, but it's for sketching and painting, not photo editing. Affinity Photo is remarkably feature-rich, but its interface is way too impenetrable. Other iPad photo editors, such as Pixelmator Photo and Adobe's own Lightroom,  are excellent but don't aspire to Photoshop-like comprehensiveness. Bottom line: When Adobe has a truly serious version of Photoshop for the iPad, it will be a boon to the platform's potential as a tool for creativity.
I don't blame Adobe for its decision to tout features it doesn't plan to ship for months—even though the prerelease marketing campaign it gave this app starting in October 2018  helps explain why it feels like a letdown. It's a relief to know that good stuff is on the way. But we'll know that Photoshop for the iPad is finally on track when it does indeed feel like "real Photoshop."