Sierra Tishgart, a former food writer and editor, had spent her entire career around iconic cookware brands such as Le Creuset and Calphalon. She admired their quality and durability but felt like they were targeting a consumer she didn't have much in common with. The pots and pans were too suited to traditional tastes and, crucially, too expensive. So she recruited her friend Maddy Moelis and the two started Great Jones in 2018 with the mission of creating colorful, affordable cookware that catered to fellow millennials.
The entrepreneurs understood that millennials don't need 18-piece sets built for large, suburban kitchens; they wanted high-quality products, but fewer of them. Nor were they likely to drop $400 on a single piece of kitchen equipment. So Tishgart and Moelis built their Great Jones product line to reflect that: four sauce and sauté pans plus a cast-iron Dutch oven that come in seven photo-friendly colors.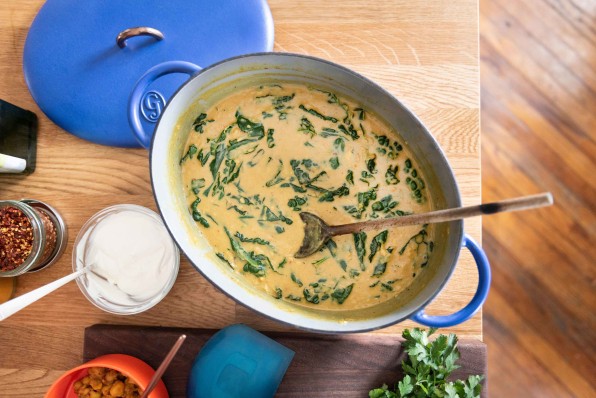 Tishgart and Moelis also understood that a winning social-media strategy would be essential to attracting their key demographic. That's where Instagram—@greatjones on the platform—comes in. "We knew the importance of Instagram and have invested [in it] from Day One," Tishgart says. Here, Tishgart shares some tips on using Instagram to build a successful business.
CREATE A VOICE THAT IS UNIQUELY YOU
Rather than competing with established brands that have their own signature styles, Tishgart and Moelis focus on what sets Great Jones apart. Scroll through Great Jones' feed and you'll find design inspiration from '70s architecture magazines, masterfully arranged product promo shots, and a picture of a dog in a lobster costume. This type of organized chaos has helped them find their own voice. "There are over 100 million accounts on Instagram," Tishgart says. "We always ask ourselves, 'Why should someone follow us?' If you can ask yourself that every day, it forces you to get hungry and create a smarter social presence."
GIVE THEM A REASON TO RETURN
Great Jones' Instagram Stories strategy is similarly heterodox. Tishgart compares the company's narrative approach to TV shows that leave you hungry for more. "There's great power in the repetition of story frameworks," Tishgart says. Take, for instance, their vintage cookbook investigations. Every week, Great Jones works its way through old-school cookbooks—from one sharing Sophia Loren's entertaining secrets to a tattered tome on the joys of cooking with a blender—and posts the highlights on Instagram Stories. The episodic effect has attracted new fans and kept old ones coming back for more. "It becomes like any form of entertainment—it's something you look forward to every week," she says. "We think about how that crave-ability allows us, as a small company, to really scale our ideas and content."
FEEL FREE TO EXPERIMENT
Tishgart and Moelis also leave room for community feedback and trying out new ideas in their feed. "We see Instagram as a critical tool for incubation," Tishgart says. "It's a relatively low-risk and lost-cost place to test out new ideas and brand partnerships." She points to how Great Jones films ad-hoc demos of chefs in their office kitchen. Instead of devoting the resources required to create a flawless video, they dabble in different topics and gauge audience reaction. "It allows us to take the temperature of what our audience likes before we commit to a profession-ally produced video series." Instagram is something of a test kitchen for Great Jones—and not everything is a hit—but it gives them the ability to engage in trial and error, a process that has been instrumental as their Instagram presence matures.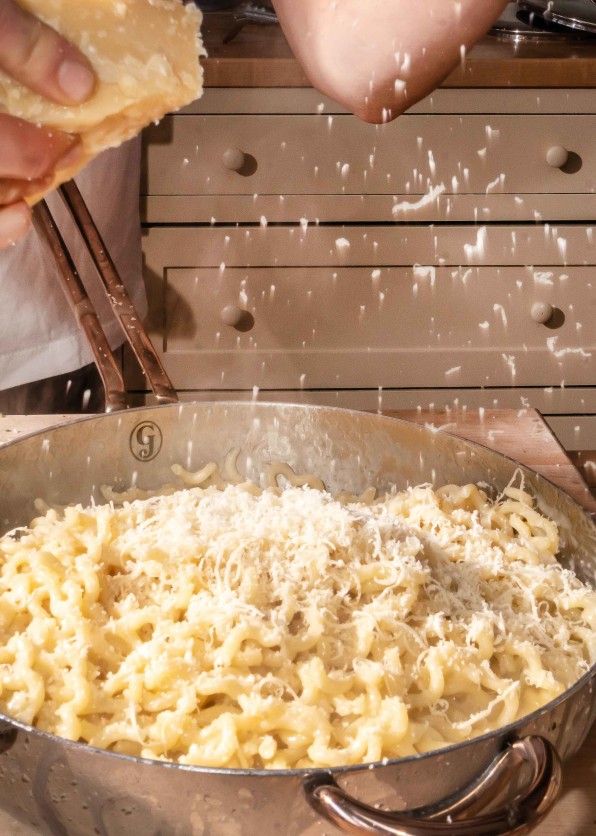 MIX THINGS UP
One of the first things you'll notice about Great Jones' Instagram feed is that it doesn't show the same style of image over and over again. "We share user-generated cooking photos, editorial shoots we produce, retro, nostalgic shots of kitchens and celebrities, and quote cards in equal measure," Tishgart says. "That's positioned us well for the long-term, as we can easily keep our feed fresh. If we only posted overhead cooking shots, people would likely tire of us quickly."
ADAPT WITH THE TIMES
Tishgart's background in food writing makes her a keen observer of food culture, which she puts to good use on the site. Audiences used to be interested primarily in the finished product; now they also want to see how a dish comes together. "We've seen the shift from Instagramming your avocado toast to Instagramming a meal that you cooked yourself," she says. "People really do want to show off their efforts in the kitchen, and that is something to take pride in—that you created something with your own hands. It speaks to a wider shift of people craving authenticity from social-media platforms."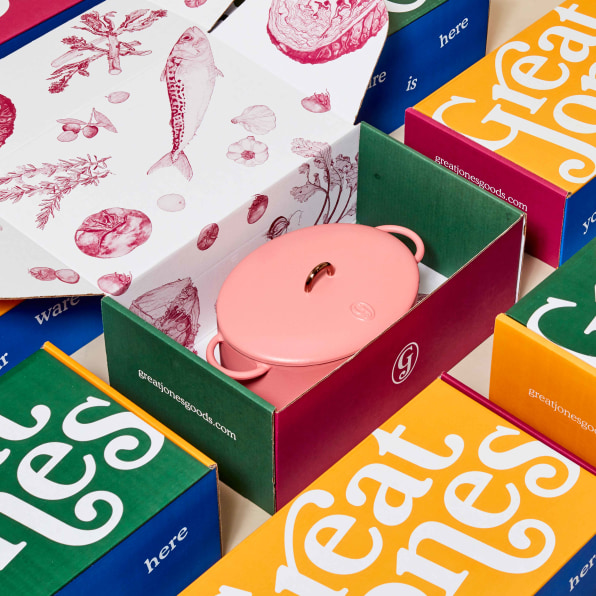 TAKE THE SOFT SELL APPROACH
Tishgart and Moelis understand that Instagram is not just for sharing photos and videos—for them, it's the very center of their company's business operations. Shopping tags are a central part of that strategy; they allow them to avoid overt sales pitches in captions. "We really believe that the Instagram feed should do far more than just selling and pushing product," Tishgart says. "The shopping tags actually do a lot of that work for us. It's great to have a photo where our product isn't at the forefront. Maybe a photo of someone's kitchen that has all kinds of beautiful things in it, but it's very easy for our customers to identify our product."
BUILD A COMMUNITY
By placing Instagram at the center of its operations, Great Jones has created a community on the platform—one that has grown by 30,000 in just over a year. Tishgart and Moelis regularly repost images from their followers. But they believe that fan engagement represents something beyond "content." "It also allows us to really forge relationships and identify our strongest customers, people who we've then interviewed and invited to our events and are great people to learn from," Tishgart says.
"Instagram is where the majority of our customers discover us," she continues. "But it doesn't stop there. "It's also where customers come for customer support through our DMs. It's where we tell our customers about new products, events, and press coverage. If it's not happening on Instagram, it doesn't exist in our universe. [Instagram] hasn't changed how we do business—it's how we do business."